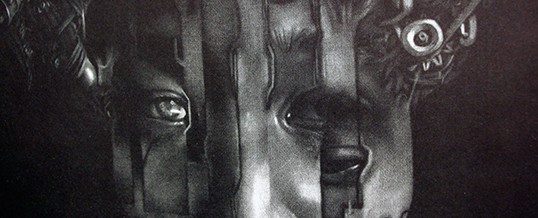 The Importance of Cultural Reflections in Printmaking.
We live in a period when the forces of globalization are profoundly impacting economic, social, political, and cultural development throughout the world. This phenomenon is complex and multifaceted with both positive and negative implications; however, it has become clear that globalization can flatten cultural diversity, reducing subtle and nuanced cultural perspectives into a kind of standardized, 'box-store' product. For example, the landscape, architecture, design and atmosphere of cities around the world, whether it is Antwerp, Bangkok, Edmonton, Knoxville, or Tokyo, are slowly becoming homologized, morphing into spaces that have a disturbing 'sameness' about them, and which can best be described as being nowhere and everywhere at once.
Artists play a vital role in countering this trend by producing cultural objects that reflect individual, diverse and critical vantage points that stand in harsh contrast to the images and products of multi-national corporations and popular media. Printmaking has an important place in this global discussion as prints have always been an art form that can communicate across boarders, while simultaneously retaining their cultural uniqueness because of the tendency of this medium to be strongly linked to very specific technical, formal, and historical, and by extension philosophical, traditions of a particular place. Alongside of this, printmaking is an art form that is truly interdisciplinary as it draws on multiple visual art traditions simultaneously including fine art, design, illustration, and book arts, among others. This multiplicity of influences enables artists working in the medium of print to produce art works that can sit 'between' disciplines and artistic practices so as to offer viewers a unique lens from which to examine cultural, social and political questions.
Standards, Ledgers, and Transoms – by Clif Riley
Push Her To The Brine – by Ashton Ludden
Cry for the Moon – by Kana Nemoto
It may seem like the small creative gestures of artists and art communities are of little significance in the face of the powerful commercial forces of globalization. However, the impact of creative gestures like the Print Resonance portfolio project can be profound, rippling through communities in unexpected and lasting ways. The importance of maintaining a diversity of cultural perspective in society cannot be underscored enough, as it is only though embracing this kind of pluralism that communities can remain flexible, open and responsive to the complex social, political, and environmental challenges facing the world today. Viewed from this perspective, cultural exchange projects such as this one undertaken by Professor Ryuta Endo from Musashino Art University, take on a greater significance, representing the important role visual art and printmaking has in maintaining innovative, creative, and culturally divers communities.
Website: www.seancaulfield.ca
UAlberta: Faculty Bio
Portrait of Sean Caulfield
Sean Caulfield is a Centennial Professor in the Department of Art and Design at the University of Alberta. He has exhibited his prints, drawings and book works extensively throughout Canada, the United States, Europe, and Japan. Recent exhibitions include: Perceptions of Promise: Biotechnology, Society and Art, Glenbow Musuem, Calgary, Alberta, Canada/ Chelsea Museum of Art, New York, NY, USA; Darkfire and the Waiting Room, Art League Houston, Houston, Texas, USA; Return to the Surface, Davidson Gallery, Seattle, WA, USA; Imagining Science, Art Gallery of Alberta, Edmonton, Alberta; among others.
Caulfield has received numerous grants and awards for his work including: Triennial Prize at the 2nd Bangkok Triennial International Print and Drawing Exhibition, Bangkok, Thailand; SSHRC Fine Arts Creation Grant; Canada Council Travel Grant; and a Visual Arts Fellowship, Illinois Arts Council, Illinois, USA. Caulfield's work is in various public and private collections including: Houghton Library, Harvard University, USA; Fitzwilliam Museum, Cambridge, England; Blanton Museum of Art, University of Texas, Austin, Texas, USA, among others.
Note: Sean's notes are the statement for a printmaking show running from October 1- 26th at FAB Gallery called PRINT Resonance.  The photos throughout the article are prints you can see in more detail at the show.
Previous articleMusic of the 21st Century for Saxophone, Electronics and PianoNext article
Pharmakon: Brad Necyk's Master of Fine Arts final presentation, 2013.