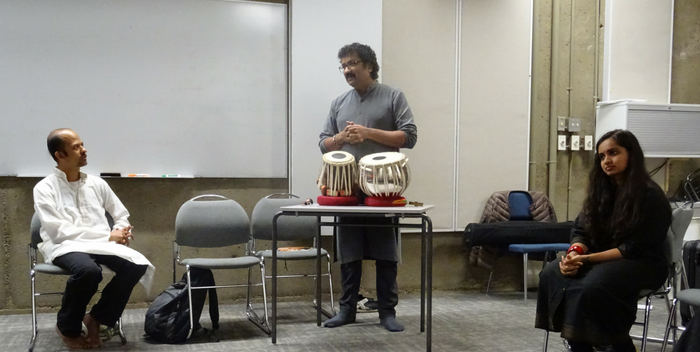 In May the Canadian Centre for Ethnomusicology invited two immensely talented musicians, Mr. Praveen D. Rao and Ms. Varijashree Venugopal, to teach a workshop here at the university. Eager to learn from these influential visiting artists, several students and faculty members gathered on May 31st to soak up as much information as possible.
Photo Credit: Shelby Carleton
Mr. Rao is currently one of the most sought after music directors and composers in India. He has composed for a variety of projects from movie scores to ballets. Along with being a fantastic composer, he has also acted in numerous TV shows and movies in India.
Ms. Venugopal has been considered an amazing musician since she was incredibly young. By the age of four she was able to identify around 200 ragas, which is very rare. Since then she has become a professional vocalist and flautist. She is also currently regarded as the face of Indian jazz music.
Photo Credit: Shelby Carleton
These two musicians joined forces to give our students and faculty members a workshop on composition and arrangement in Indian music. What made learning form this duo so unique was their familiarity with both Southern and Northern styles of classical Indian music.
They began their workshop with a wonderful performance of Jagadoddharana in Raag Kapi. Mr. Rao played the tabla and Ms. Venugopal alternated between the flute and vocals. They were also joined by U of A Ethnomusicology graduate student, Deepak Paramashivan.
In case you missed it, here's a short video of their performance so you can see for yourself just how amazing these musicians sounded together.
Throughout the workshop, both Mr. Rao and Ms. Venugopal encouraged participation from the audience. Everyone worked together to create and combine rhythm and melody. Both guests welcomed questions about anything, from the basics of Indian music to how Mr. Rao approaches a new composition.
This workshop also focused on the emotional impact of music and how it can be used to your advantage when composing. To demonstrate the connection between music and emotion, Mr. Rao and Ms. Venugopal performed the same melodies in different scales and openly discussed the differences.
Overall it was an awesome afternoon of engaging musical exercises and lots of learning!
Previous article2017/2018 U of A Concerto Competition Winners!Next article
Four Major Cultural Organizations Establish Cultures of Sound Network