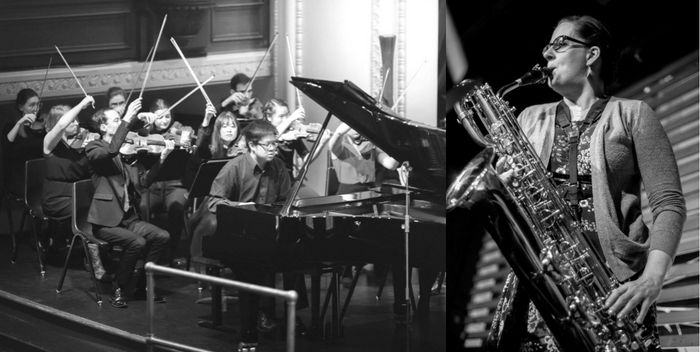 Each year the Department of Music's Concerto Competition attracts students with the amazing opportunity to perform with either the University Symphony Orchestra or the Symphonic Wind Ensemble.
The winners from the 2017/2018 Concerto Competition were pianist, Theodore Chow, and saxophonist, Holly deCaigny. Theodore has recently started a Master's Degree in photonics, while Holly is completing a Doctorate in saxophone performance.
Naturally we had a few questions for these incredibly talented musicians. For starters, how did they prepare for their winning auditions? What strategies do they have for overcoming those pre-concert jitters? Both Holly and Theodore were kind enough to share their experiences and even give some advice for those of you planning to audition for the Concerto Competition next year.
Theodore Chow
Theodore auditioned for the Concerto Competition last fall because it seemed like fun and would give him an excuse to him to practice the piano more frequently.
Having played the piano for the last 19 years, Theodore is no stranger to experiencing pre-concert nerves. However, he has come to realize his stress levels prior to a big performance are directly related to the amount of pressure he places on himself.
To combat this pressure, Theodore likes to focus on the aspects of auditioning he really enjoys. For example, playing the piano brings him a lot of happiness and competitions motivate him to practice more often. He also finds having a goal to work towards is incredibly rewarding.
Photo Credit: Nicholas Yee
Theodore's advice for anyone competing in next year's Concerto Competition is to start preparing as soon as possible and leave nothing to the last minute. Theodore finds preparing at a gradual pace and being able to take breaks really does result in a better audition. He also recommends maintaining a positive attitude while you prepare. Keep reminding yourself you're auditioning because you love music and the experience will be a lot of fun.
Theodore performed with the USO back in February and we are happy to report it was an absolute success!
Holly deCaigny
Holly was particularly drawn to this competition because having the opportunity to perform solo while accompanied by a large ensemble is rare for a student.
Even though Holly has extensive experience performing, she still gets nervous before a big concert or audition. Regardless, she never lets the stress prevent her from giving an excellent performance. Instead, she has developed strategies for overcoming the pre-performance jitters. She has found it helps to be aware of your nerves and pay attention to what makes them better or worse so you can develop healthy techniques for relaxing. For example, Holly finds stretching right before a performance really helps release any tension she might be feeling.
When preparing for an audition, Holly believes the first and most important step is carefully considering which piece you'd like to perform. You want to choose a piece that showcases your talent but is also interesting for an audience. The piece she chose for this competition was Ebert's Concertino da Camera because the first and third movements are flashy and exciting while the second movement is beautiful and slow, showcasing her talent in two distinctly different ways.
Holly's performance with SWE will be in November 2018 and is one concert you definitely won't want to miss!
Good luck to everyone auditioning for the 2018/2019 Concerto Competition! We hope the advice from Holly and Theodore help you prepare for your audition with minimal stress and maximum fun!
Previous articleExit the King – What gives your life meaning?