Todd Cherniawsky shares his experiences as a Production Designer.
I love the way a good movie transports you. For a few hours you forget about yourself and are swept along on a grand adventure. In harmony with the story, special effects play a big part in that feeling of being immersed in a different world. Good special effects take concepts that exist in a creative mind and make them real in the viewer's eye. As the tools for creating these effects become more and more advanced so does the level of believability. If the production team has done it's job right, the effects and digital landscape look effortless and dimensional. This means that most people won't end up putting too much thought into the massive amount of work that goes on behind the scenes in their favourite movies.
BFA graduate Todd Cherniawsky is one of the people that made it possible for you to travel to the planet of Pandora in the movie Avatar, The land of Oz in the recent Oz the Great and Powerful, and Wonderland in Alice in Wonderland among many others. Having worked in a wide range of production roles from set and production design to art direction, he credits his UAlberta education as playing a large role in getting his career to where it is now. The U of A encouraged Cherniawsky to explore subjects as they interested him. While an undergrad Cherniawsky took a very wide range of courses from traditional art to engineering and sciences. It is precisely this wide range of exploration that make him such a great fit for the role of art director and production designer.
Cherniawsky dropped by the University of Alberta campus last month to give a talk on his experiences in creating the effects that have been wowing us in the theatres. He shared concept art from all stages of the production for the movie Oz the Great and Powerful. Cherniawsky's role in Oz was Art Director, giving him an intimate knowledge of all points of creation on the movie. With all of these images of elaborate sets, 3d models, and vast background matte paintings, I was really excited to finally see Oz the Great and Powerful in the theatre. I was not only amazed by the lushness and dimension of the world of Oz, but also by how seamlessly the effects and digitally created landscapes meshed with the real-world sets the actors worked in.
I truly was transported.
If you are interested in learning more about theatre production check out the BFA Technical Theatre Production or the BFA Theatre Design programs at the University of Alberta.
You can check out Todd Cherniawsky's design studio website here: www.asylumdesignworks.com
Conceptartworld.com has a couple great galleries of work from Oz the Great and Powerful as well as many other movies.
The first album is art by Nicholas Hiatt (who also has his own site www.nickhiatt.com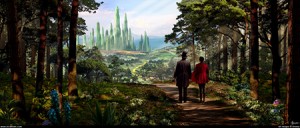 The second album is art by Dawn Brown (who also has her own site dawnbrown.net
Feature image (Todd Cherniawsky on the set of Oz the Great and Powerful) from www.montrealgazette.com
Previous articleAlma MaterNext article
How To Hang Art – By Blair Brennan