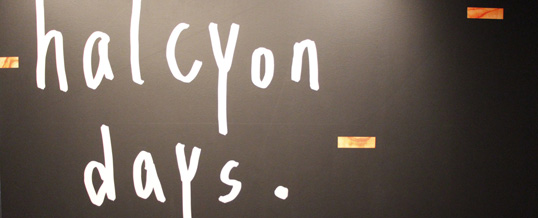 UAlberta Bachelor of Fine Arts 2013 Graduate show
Earlier this week I was treated to a private walk-through of Halcyon Days – the Bachelor of Fine Arts Graduate show going on right now in FAB Gallery. As Cara Seccafien, Erin Walker and Gillian McCarron talked about the pieces of art they gave me an intimate glimpse into the process of discussion and critique of artistic works. I came away in awe at the sheer amount of work and dedication these young artists have put into developing their skills, and articulating their visions of the changing world around them.
I had some questions for Cara:
What is Halcyon Days?
The title Halcyon Days was a perfect way to describe the feeling of finishing a fine arts degree. Halcyon Days is a term borrowed from Greek mythology meaning a period of seven days in winter when storm does not occur. It is often thought of as the "calm after the storm" and sometimes is associated with nostalgia and youth. Walt Whitman (1819 – 1892) wrote a poem titled "Halcyon Days" that basically sums up the experience of getting this degree:
Not from successful love alone,
Nor wealth, nor honor'd middle age, nor
victories of politics or war;
But as life wanes, and all the turbulent
passions calm,
As gorgeous, vapory, silent hues cover the
evening sky,
As softness, fulness, rest, suffuse the frame,
like freshier, balmier air,
As the days take on a mellower light, and
the apple at last hangs
really finish'd and indolent-ripe on the tree,
Then for the teeming quietest, happiest
days of all!
The brooding and blissful halcyon days!
Can you tell me a bit about why the name of "Halcyon Days" was chosen for the Grad show this year?
In the context of our degrees, Halcyon Days is open to interpretation. In the catalog, I refer to our degrees as the Halcyon Days: "We can take naps at noon, work all night long, use photoshop for free." But, from another perspective, we are entering our Halcyon Days. The storm is over, and we are entering a period of relief and probably some relaxation, but also enlightenment and maturity. We are all smarter, more knowledgeable, more skilled, and better at drawing than we were at the beginning of our degrees. We've also grown up. And we all have a very exciting few years ahead of us.
Can you tell me a bit about the symbolism/meaning behind this year's poster design?
The designer of this years' catalog and poster is Meiyi Wang. Meiyi has a degree in design and is pursuing a career in art. She is going to school for a masters in fine art next year. She is a fantastic designer and an even better artist. I won't want to speak to much to her concept, but I understand that she was heavily inspired by the definition of Halcyon Days mentioned earlier. In the beginning, Meiyi made imagery using a technique called painting on water, which creates shapes and rings out of a mixture of water and ink. The ink billows and the organic forms are captured on the paper by dipping it in the water. Meiyi had our entire grad class participate in the water painting. After creating these paintings together, she took the imagery and transformed it in to a design motif for the exhibition and catalog. The orange rectangles on the poster have elements of the painting on water in them.
Meiyi Wang had this to share about her design:
It was my great pleasure to be this years fine arts graduate show's graphic designer. By getting to know majority the artists in this class, I found out that all of them are very different in terms of their way of making art, which is also why this years show is so exciting and full of variety. They are also exceptionally industrial artists. A lot of people who are not familiar with the art world would not understand how disciplined artists are, they would not know the four years of art undergraduate education was almost like an exciting journey full of challenges and "happy accidence", however every single one of them has the faith that all the hard work is going to pay off at the end – just like the "halcyon days" after the storm. This reminded me of this art making method – "painting on water." I believe that this is a great visual demonstration about their four years of art education plus how it all boil down to this wonderful graduate show.
I would like to thank to Katrina Regino (also one of the participating artists in the show) for design idea discussions.
How many students are involved?
There are seventeen graduating students.
How many years have the students been in school?
The students graduating have been in school for up to five years. Most of the students in this years' grad class finished their degrees in four years. Some students will be coming back for one or two semesters to finish up a course or two.
What does a Fine Arts grad come away with?
A Fine Arts grad finishes with much more than a degree.
Fine Art grads are some of the most creative people in the world, a much needed skill set in a changing world.
We have the ability to solve problems creatively and think out side the box, which is imperative when facing world challenges such as climate change, over population, poverty, and more. In addition, we leave school with a solid grounding in a beautiful community of liberal minded people. In terms of career paths, BFA grads can become employed in a number of fields. Many of my friends are working for galleries or festivals, non profit organizations. I even know one recent grad who is an administrator for an MLA. There are so many opportunities to be had!
How long and how much work did it take to put together this final gallery show?
The Visual Art Student Association has been preparing for this exhibition since September. In the fall semester who focused on fundraising and outreach. We hosted many events to increase student involvement in the organization and were very successful. We held an enourmous fundraiser at the end of the first semester and raised enough money to have our exhibition. We began planning the details of our exhibition as soon as winter semester began. A team of fourteen executive members worked hard on the exhibition all year. We also had help from each member of the graduating class (17) and countless volunteers from design and fine arts who helped withe events and fundraisers throughout the year. We couldn't have done it without them!
Where do you hope to go with your career now that you've graduated / what are your plans now that you have graduated?
Cara Seccafien:
I am taking on the Curatorial Lead Supervisor role at the Works Art & Design Festival, where I have interned for three years. My position there is an administrative position where I hire and supervise a department of three staff besides myself. It is a fantastic job and great experience!
I'm also looking forward to an upcoming exhibition called Everything on Sale! that I am participating in in June. I will be organizing an exhibition for VASA that will also take plan in June.
After the summer, I will be leaving Edmonton for a bit. I recently was accepted into a program in Vancouver at Malaspina Printmakers Society. This program allows recent graduates from printmaking programs to make prints in their workshop for free. When you are in university, you are allowed to make prints at your school because you pay tuition and fees. But when you are finished, you have to pay fees to work at a shop. Life of an artist: you pay to work. Malaspina allows recent grads to make prints in their shop for free, but only two artists for eight months from September through April. It's like an artist residency but they call it a scholarship because it's geared to recent grads.
I'll be coming back to Edmonton after because my aunt and uncle and sister are here. I plan to continue working as an artist. In two years or so I will likely pursue my MFA.
Erin Walker:
I look forward to pursuing my interest in art conservation. I developed my interest in art conservation while working with the Strathcona County Art Gallery @501. I was hired to create a catalog and do condition reports for the permanent art collection. I currently am working as a framer and enjoy the technical process of framing. I am very excited to learn more about the technical side of art conservation. I have applied to a couple schools in the UK to Masters in Art Conservation; I should hear back soon.
My conversation with these three artists reminded me of how important the fine arts are in Alberta. The Fine Arts program gives us critical thinkers who will no doubt help shape the future of this province for the good in a myriad of ways. Their passion, and questioning spirits reflect our progress and innovation and give us a framework for moving forward.
Halcyon Days runs until May 4th, 2013 in FAB Gallery (1-1 Fine Arts Building, University of Alberta, 89 ave & 112 st.)
If you are interested in learning more about the Fine arts program, check out www.artdesign.ualberta.ca for more information on how to apply to the Art and Design programs at the University of Alberta.  You can also follow @UofAArtDesign on twitter for Art and Design news and updates.
~TJ
Previous articleHow To Hang Art – By Blair BrennanNext article
Poster Design Case Study: Saint Joan