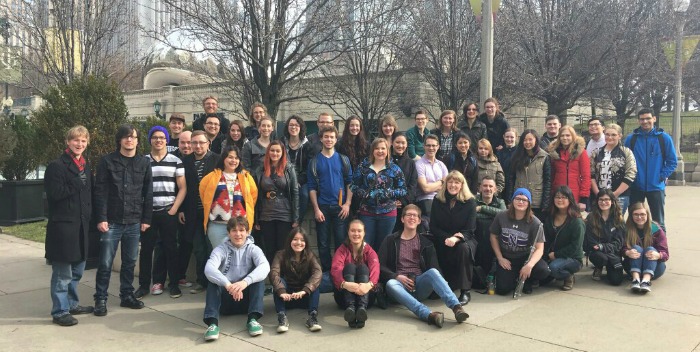 Hot on the heels of a whirlwind performance in Chicago, the U of A's Symphonic Wind Ensemble returns from the windy city to take Edmonton's Winspear Centre stage by storm this weekend.
by Salena Kitteringham with files by Angelique Rodrigues originally published on Arts Buzz
Forty-five elite U of A Department of Music students have just returned from an exciting trip to Chicago, March 9 to 13, with faculty conductors Angela Schroeder and Glenn Skelton. The Symphonic Wind Ensemble was invited to perform at the annual Percy Grainger Wind Band Festival in Chicago's Orchestra Hall. The group participated in a band clinic at Northwestern University and another clinic with Col. Arnald D. Gabriel at the festival – and of course, took in a few of the city sites – including the Art Institute of Chicago
Here are a collection of photos and tour tweets sent from the road by conductor Angela Schroeder aka @conductorange
U of A SWE is enroute to Chicago!
On our way to Northwestern University via historic Lakeshore Drive.
At Northwestern University.
A great visit to Northwestern University, thanks Mr. Farris!
Famous.
Percy Grainger Wind Band Festival, Col. Arnald Gabriel, clinician. Posy forever!
Greetings from Orchestra Hall!
Edmonton music lovers have the chance to hear the sought-after U of A Symphonic Wind Ensemble and Concert Band at their upcoming Traditions concert Sunday, March 20 at 3 p.m. in the Winspear Centre. From the Renaissance to electronica, they'll perform a musical history, exploring the progression that has formed the modern wind band today.
Presenters: University of Alberta Department of Music
Event Title:Traditions
Performed by: Symphonic Wind Ensemble & Concert Band
Conducted by: Angela Schroeder and Glenn Skelton
Date: Sunday, March 20, 2016 at 3 p.m.
Venue: Winspear Centre
Tickets: $10 student, $20 adult, $15 senior online at Yeglive and at the door.
For program details, see show page:https://uofa.ualberta.ca/events/traditions-symphonic-wind-ensemble-and-concert-band
Previous articleNow Hear This Festival 2016Next article
The Kaufman Kabaret: Birth control in Canada