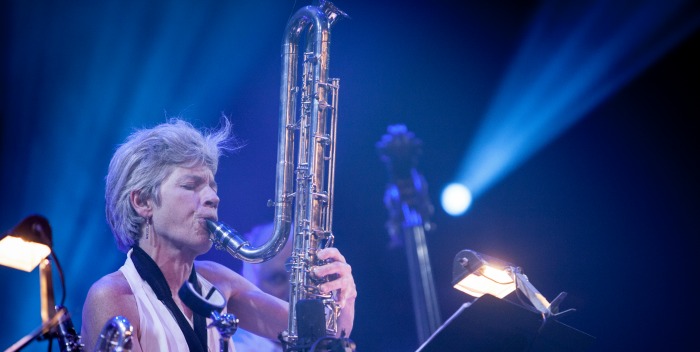 Edmonton has the Early Music Festival, the Chamber Music Festival, and many rock and pop music festivals; Now Hear This is the festival of contemporary music coming from living composers, reflecting the times that we all hear now together. Much of the music will be heard for the first time ever, and even more of it will be improvised and never to be heard again.
Now Hear This Festival of New Music  is hosted by New Music Edmonton (NME) at Holy Trinity Anglican Church in Edmonton. This year is especially significant with two anniversaries to celebrate: 30 years of NME and five years of festivals. Now Hear This makes an essential comment on why we need to continue to make new art, even it if it is strange to our ears and eyes.
Do you know what a contrabass clarinet is?
You will after hearing Lori Freedman's concert, The Virtuosity of Excess, Friday March 18th at 7 p.m. Lori Freedman is a badass wizard on clarinet and a specialist on the lowest two, the bass and contrabass clarinets. She is equal parts composer, improviser and virtuoso.
Lori will be performing works by the most renowned composers of our time: Brian Ferneyhough, Raphael Cendo, Paolo Perezzani. But before all that, come to a free reception at the Kick-Off Party from 4:30 p.m. to 6:30 p.m. with live music by the Dan Davis trio, featuring U of A alumnus Dan Davis (saxophone) with Chris Andrew (piano) and Jamie Cooper (drums).
Are you a tech geek?
Do you appreciate a nice home theatre system? How about an octophonic multi-channel concert, featuring gesture-capturing diffusion technology? Did I just blow your mind?
Come get immersed in the spectacle on March 18th at 8:30 p.m, featuring works by Darren Copeland and Nicolàs Arnaez, a sound artist, technician and graduate student studying composition at the U of A.
Are you a vintage nerd? "Give me vinyl or give me death!"
Vintage analog equipment like the Moog Minimoog Model D synth, the Yamaha Model E-1005 analog delay box, and other wonderful tools of the past are being lovingly resurrected and manipulated by local artists Gary James Joynes and Raylene Campbell on March 19th at 10 p.m.
Edmonton-based sound artist Gary James Joynes.
These are just some of the many concerts happening at the Now Hear This Festival, and I could delve into each one with just as much excitement and detail, but I really need to be practicing for this!
I'll be performing with the Edmonton Saxophone Quartet on March 19 at 2 p.m., The Damn Magpies with Lori Freedman later on March 19 at 7 p.m., the Violet Collective on March 20 at 2 p.m. and I'll be performing a beautifully strange piece for saxophone, guqin (a type of Chinese zither), and electronics written and co-performed by Jeff Roberts, professor in the U of A's Department of East Asian Studies on Friday, March 18 at 10 p.m.
Allison Balcetis.
I'm excited to draw attention to the many University of Alberta music students, faculty and alumni involved with this year's Now Hear This festival. Alumni include Dan Davis, King's University associate professor of Music Charles Stolte, Laura Kerslake, Justin Massey, Alyssa Baker, Dave Wall, Erin Rogers and Amy Nicholson. Current U of A music students featured include Mark Segger, Will Northlich-Redmond and Nicolàs Arnaez. There are also U of A faculty members and instructors performing including Jeffrey Roberts, Scott Smallwood, Yue Deng, and Adriy Talpash.
Jeffrey Roberts.
Now Hear This is music you've never heard before. Music that may never be heard again. Come expand your ears and minds, and hopefully you'll be impressed at the waves and multitudes of talent that exist in Edmonton. All events take place at Holy Trinity Anglican Church. With scarcity of live music venues being a hot topic this year in Edmonton, Holy Trinity must be commended for its years of commitment to being an artistic hub. In fact, it is their mandate to support the arts in Edmonton and they do so with a generosity of spirit (and space), and a total openness to artistic vision.
Photo credits: Feature image of Lori Freedman (playing the contrabass clarinet) – Martin Morissette. Gary James Joynes – Matt Leif Anderson. Allison Balcetis – Aleksandr Karjaka. Uncredited for Jeff Roberts on guqin.
Event title: Now Hear This Festival
Dates: March 18-20, 2016
Venue: Holy Trinity Anglican Church (10037 84 Ave.)
Tickets: Festival Passes $80 General, $65 students and seniors, $50 NME Members. Individual concert tickets available at the door and Tix on the Square: $20 general, $15 Student/Senior, $10 NME members.
Follow New Music Edmonton on Twitter for updates about the Now Hear This Festival.
For more information: http://www.newmusicedmonton.ca/now-hear-this/
Previous articleElsa Robinson: (Un) Masking SpiritNext article
Symphonic Wind Ensemble's trip to Chicago