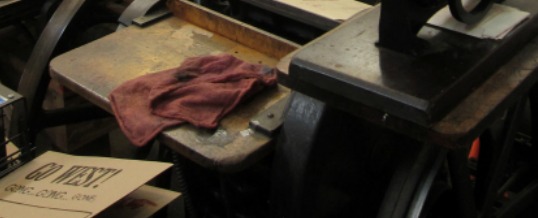 U of A printmakers stood out in San Francisco
Suzi Barlow and I recently attended the Southern Graphics Council International Conference 2014. This annual event is the largest printmaking conference in the world, and it was held in San Francisco this year. Far from alone, we were part of an entourage of past and present University of Alberta printmakers: BFA and MFA students, technicians and faculty members. We were admittedly nervous at the prospect of being amongst world leaders in the print community, but walked away confident, charged and ready to become members of this newfound international network of print artists.
Although this conference had over 1,800 people in attendance, our large group from the U of A stood out in the crowd for all of the right reasons. Every person we introduced ourselves to would reply with something like, "You all have such an amazing presence at this conference!" While looking around at the other student work and professional presenters, it was easy to see why there was such enthusiasm over our program.
All of our undergraduate and graduate printmakers received great acclaim during the Open Portfolio sessions, even garnering offers of graduate school scholarships, artist-in-residency posts, offers of sales and future exhibitions. This session, in which hundreds of students display their artwork for the passersby, was the highlight for Suzi. It was very constructive for her to engage in conversation with people from diverse backgrounds about her work. Opportunities for future residency and graduate school programs arose from these interactions that wouldn't have come any other way. We agreed that nothing beats meeting people face-to-face and discussing work that is physically present.
Sean Caulfield installing his work in their group show at the AAU Canary, SGCI 2014. Photo by Bernd Hildebrandt.
Our professors, Liz Ingram and Sean Caulfield, helped us network and build professional connections at SGCI. I was introduced to people I believe will play an integral part in my professional future—and I know I am not the only one. These connections would not have been possible if it weren't for the assistance of our faculty and their encouragement to attend this conference. After our Open Portfolio sessions, Liz and Sean let us know how professional we were and how our work truly stood out amongst the rest. I believe it is only through their guidance and support that we were able to shine during this immense event.
Compound gallery and print shop at Southern Graphics Council International Conference 2014. Photo by Bernd Hildebrandt.
Southern Graphics Council International Conference 2014. Photo by Suzi Barlow.
Southern Graphics Council International Conference 2014. Photo by Suzi Barlow.
The last one is at the opening reception of the AAU Canary show. Photo by Bernd Hildebrandt.
Further, the Panel Discussion headed by the staff and faculty from the University of Alberta on the topic of collaboration was impressive to say the least. I spoke with students from other universities who told me this was their favourite panel of the entire conference. Printmaking has a reputation of being inherently community oriented because we must come together to share printing presses and other facilities that are otherwise too expensive for private ownership. While working side-by-side in a studio, ideas are shared and relationships are built. Therefore, their Panel Discussion on collaboration upheld the ideals of printmaking and acted as a guide for other groups of artists to follow.
Suzi and I were astounded at how far the U of A Printmaking program's legacy of excellence and community reaches in the international print world. Our professors are recognized leaders in the technical pursuit of printmaking, collaboration, and teaching. Other schools spoke of their hopes to mimic different aspects of our program because of its success. We are so grateful to have the University of Alberta printmaking program as our foundation.
By Darian Goldin Stahl, second year MFA student in Printmaking with Suzi Barlow, '14 BFA
Darian Stahl
Suzi Barlow
Darian Goldin Stahl
Darian attended Indiana University Bloomington, where she received her Bachelor of Fine Arts in Printmaking with Highest Honoes in 2011. She decided to pursue printmaking after studying abroad in 2008 at the Scuola Internazionale di Grafica in Venice, Italy. Darian is currently working towards her Master of Fine Arts in Printmaking at the University of Alberta, Edmonton, where she is also a Primary Instructor. Darian has exhibited her work in Boston, Indiana, Canada, Scotland, Egypt, and Slovakia. www.dariansart.com
Suzi Barlow
Suzi Barlow is an emerging artist who recently graduated with a Bachelor of Fine Arts degree in Art and Design at the University of Alberta (2014). Throughout her undergraduate career, Barlow has worked as a full time mountaineering guide each summer in Greenland and the West coast mountain range of Canada. Her experience living and working in such intimacy with the land has a profound affect on her artistic practice. She strives to maintain an inquiry-based practice. Through visuality, Barlow explores the parameters of our relation to ecology, and furthermore, how shifts in this relationship impact identity and social behavior. She employs printmaking techniques, performance, video and installation in her practice. Barlow has exhibited in various group shows at the Society of Northern Alberta Print Artists, Timms Center, Ruterford Library, Telus Centre, and Fine Arts Building and the University of Alberta. She looks forward to a residency and exhibition at Museum Kloster Bentlage in Munster, Germany this coming summer. www.suzibarlow.ca
Previous articleConcert Choir Vancouver Tour 2014Next article
In the Studio with Rob Curtis