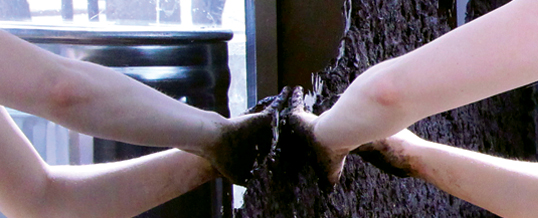 Art Talk
I've never been good at choosing titles for projects. That's why the 2014 Bachelor of Fine Arts graduating class's exhibition, titled Affinities, impressed me. By using the word affinities with art, the class places an emphasis on the connection between their artwork with viewers. Their title suggests an action, a behavior we partake in when we look at art. For me, their title is refreshing since it's not trying to legitimize their art or project its importance. The word affinities is inviting: it welcomes an opportunity to connect with their work on an individual level. I hope the relationship between viewer and art continues to be emphasized like it is in Affinities, because I would much rather foster my own relationship with art than listen to more 'art talk.'
By 'art talk,' I mean the obscure language people often use to talk about art. It's a lexicon I try to stay away from. If I ever wrote a book about art, it would probably be called "A Book about Art." The writing inside the book would most likely be as to the point as the title. Instead of nurturing an elegant writing style like most art history students, my writing tends to reflect the Western literary genre. As Western critic Jane Tompkins puts it, "doing, not talking, is what it values." For me, the 'doing' is the desire to understand why an artwork is created and what the artist is thinking I want to get a close look at the work, slowly taking in its idiosyncrasies that are purposefully or accidentally left by the artist.
Instead of legitimizing art with esoteric language, I think there is more value to the sensations we feel and the connections we establish with artworks. We feel and connect to art through the stories it tells us – that individual perception is diluted with exterior sources telling us to think it's 'bad' or 'good.' Our relationship with art is based in our affinity with it – a "spontaneous or natural liking." Our affinity to art helps us distinguish what matters and what doesn't, allowing us to connect with what we see on a personal level.
Feature image – Suzi Barlow working on her untitled performance, multi-media installation
The BFA 2014 grad show, Affinities, runs from April 22nd to May 3rd at the FAB Gallery. Join the Facebook event for more details.
Julie-Ann Mercer
Julie-Ann Mercer is a BA Art History 2014 graduate and will return this fall as an MA candidate in the History of Art, Design and Visual Culture at the University of Alberta. She feels most at home by the sea, she has an affection for macarons, and her favorite time of day is magic hour.
Previous articleIn the Studio with Megan GnanasihamanyNext article
A Kickstarter for your bright ideas