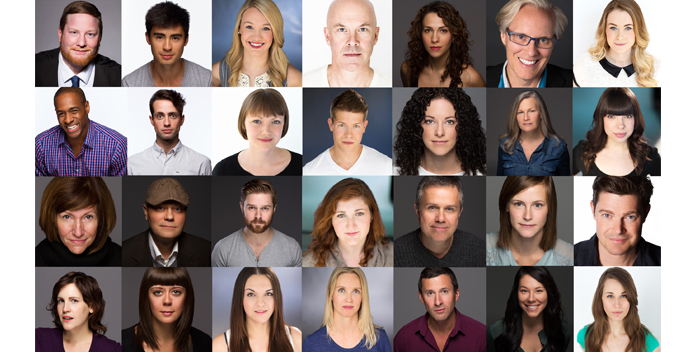 Anyone who works in theatre and film knows the importance of having a headshot.
It's your business card, your first contact, an image your family can point to and brag about in the lobby after coming to see your show. But having your headshots taken can be a stressful event. Even choosing a photographer can be overwhelming. In part two of my headshot series, I sat down with Ryan Parker ('08 BFA) to talk about the art of the headshot.
Ryan Parker is an Edmonton-based actor, writer, director and musician, with a Bachelor of Fine Arts degree from the University of Alberta and a Theatre Arts diploma from MacEwan University. In 2012, he converted his detached garage into a DIY studio and started PK Photography
Go with a headshot pro
John Ullyatt ('93 BFA). Photo by PK Photography.
Ryan stresses the importance of finding a photographer that actually specializes in headshots.
There are a lot of amazing photographers out there who take fabulous wedding photos or great editorials but they might not specialize in headshots. You don't go to your GP for brain surgery, and while headshots might not be brain surgery, you should still seek out a professional with expertise.
Frequency
How often should you have new photos taken?
Ryan Parker: Unless your look changes drastically, I would say every two to three years. It's a good thing. Your new photo becomes a means of connection —  being able to send out new shots to casting directors and directors. It is a great reminder that you are still here and working in the business.
Brenley Charkow: Absolutely. It's such a competitive industry. A reminder every now and then is incredibly important, especially in larger cities.
Cost
Headshot prices may range from $200 to $450 a session.
Ryan Parker: Every photographer is different. Another way to think about the cost is to divide the expense by the number of months you are planning to use the shot. In those terms it doesn't seem so costly….how much do spend a year in coffee?
Brenley Charkow: When I think about headshot cost, I try to remember, this is an investment in me. This is my brand. And as an artist, headshots are also a business write-off.
Michele Fleiger ('12 MFA). Photo by PK Photography.
Comfort zone
Ryan emphasized the importance of developing a relationship with your photographer before you get your photos taken. I'm not talking about going out to lunch or to the movies, but you must develop an open line of communication beforehand.
Brenley Charkow: I remember a few years ago, I had a photo session and I hadn't connected with the photographer first, and it was such a bad fit. As a result, I was very unhappy with the shots.
Ryan Parker: I meet with my clients by email first, though I am more than happy to meet with them in person. It's incredibly important to build a conversation before the photo shoot day. You have to know if it's a good fit. It has to feel right.
Prep for the session
Ryan Parker: I'll send out a list of questions in advance to help find out what my client is actually looking for in a photo. I also ask them to send me their old shots and tell me what they like or don't like about them. It's a great starting point in the conversation.
Brenley Charkow: Personally, as a director, I love what I call the 'neutral shot,' the photo that shows your personality, but also leaves you open to a range of casting options.
You need to articulate what you want. If you have an agent, have a conversation with them first. How do you and your agent want to market yourself?
What is your 'type'? If you are an ingénue, you probably aren't going to go for the glam shot.
The Look
Clothing
Bring clothing that you love, items that are comfortable and make you look and feel great.
Merran Carr-Wiggin ('14 BFA). Photo by PK Photography.
Ryan Parker: Form fitting clothes are always better. I tell people to stay away from overbearing patterns and avoid clothing with visible labels or branding.
Single tone colours are good Black or white can work but make sure that's not all you bring. Collars, jackets and layering can work really well as long as you make sure you have an option for a clean neck/shoulder line. Collars have a tendency to shorten the neck.
The main thing to remember is that the clothing should help us focus on the important stuff: your face and eyes.
Smize
Brenley Charkow: Speaking of eyes, I believe it was Tyra Banks in America's Next Top Model that coined the term Smize. Smiling with your eyes.
Ryan Parker: Yeah. All joking aside, the problem with that, is that it injects an emotional state into it. So a lot of times it turns out being creepy. But I understand what she's getting at and I'll go into a further explanation of this below with a couple examples.
Hair
Ryan Parker: I would suggest that if you are going to get your hair cut, do it the week before, not the day before, or even worse the day of. There have been too many instances when people have come for their session and they have their hair in a way they don't normally style it. So they don't look like themselves.
Make-up
Ryan Parker: I don't usually work with a make-up artist. I tell people to wear the same amount of make-up they would for an audition. I treat my retouching as digital make up.
Brenley Charkow: If you want to work with a make-up artist, I think it is really important to be as clear as possible about the look you are going for. If you don't tend to sport the smoky-eye look, then you probably shouldn't in your headshots either.
Come as you are
Current University of Alberta drama student, Jordan Buhat. Photo by PK Photography.
Ryan Parker: Don't bring someone with you to your photo session. It becomes a distraction, even if it's subtle. You are not allowing a true connection to be made with the camera or photographer and in turn, there's no connection with the person viewing your headshot.
Treat your photo session like an audition. You should go in and own your audition, and the photo shoot should be no different.
Be open and willing to play. Know what has worked and hasn't worked for you in the past. Really research what you want. The more knowledge you share with your photographer going in to the session, the better.
Brenley Charkow: I don't know many people who really love to get their photos taken. Any thoughts on how to handle nerves?
Ryan Parker: Your photographer should be able to help with that.
Brenley Charkow: A shot of Jack?
Ryan Parker: (laughs) No. The last thing you want are whiskey eyes. I always play music during the sessions, and if clients want to bring in their own, I am more than happy to play it.
Putting it all into focus
A headshot should put you as the strong focal point. The best headshot photographers will keep their headshot compositions simple, avoiding busy background that distract from their subject.
Ryan Parker: A busy frame says 'Look at anything but my eyes. Don't look at me, look at this streetcar in the frame.'
It's all in the eyes for me. In my mind, a head shot is confidence and approachability, and that starts with the eyes.
Good and Better
Here are two headshots of Ryan with great tips and commentary from him.
Ryan Parker: I've opted to give you a good headshot (Ryan2) and an even better one (Ryan1), because I think it's important to see and point out the subtle differences that YOU can make to turn a good headshot into a great one.
As you can see Ryan 1 has a confidence that Ryan2 does not. And while Ryan2 is still a good shot, it's open and approachable… it's missing something right? What's missing is the confidence and that confidence can be made with subtle shift of the eyes, more specifically a tiny isolation of lifting the lower eyelids. Tyra Banks calls this 'Smize' and like I said above, I don't completely agree with that word but what she's getting at holds a lot of truth. When a person smiles, their cheeks lift up, causing the lower eyelids to raise. Smiling is confident, and so, to get that perfect headshot where you are open, approachable and confident without having a full on smile, lifting your lower eyelids or putting tension in your lower eyelids is the key. It's a muscle that can be exercised, so get in front of the mirror and work that muscle. It's a very subtle shift, but it makes a world of a difference.
All images courtesy Ryan Parker, PK Photography.
Follow Ryan Parker on Twitter
Like PK Photography's Facebook page
Follow @ryanparkersphotos on Instagram
Previous articleJonathan Burrows and Matteo FargionNext article
Jane Kline's Skirt of Armour