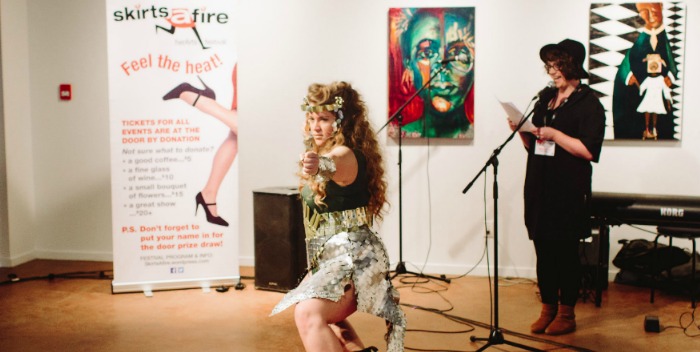 U of A Drama's props master wins 2016 SkirtsAFire wearable art design contest
Skirt of Armour made by Jane Kline, a glistening gold and silver construction fit for a Huntress Amazon Super Warrior Goddess, wins the title of 2016's Skirt for this year's SkirtsAFire Festival!
The skirt was constructed by the U of A props master with 151 cider cans, all reclaimed from the Timms Centre bar and neighbouring Devaney's Irish Pub. A few other bits of discarded aluminum products were also incorporated, including a set of window blinds.
Modeled by Lore Green ('15 BFA Technical Theatre Stage Management) at the SkirtsAFire festival media launch on Monday, Feb. 29, Jane's skirt will be on display for the duration of the festival, March 10 to 13, 2016 in the Cabaret Space located in the Alberta Avenue Community League.
Lore Green ('15 BFA) models Skirt of Armour by Jane Kline. Photo by Mat Simpson.
Jane took on the post of properties master at the U of A in 2012, coming to Edmonton from Young People's Theatre in Toronto, where she was Head of Props. Being relatively new to Edmonton, Jane says the design competition was an opportunity to become involved with the greater arts community.
The annual skirt design competition's challenge to use only up-cycled materials to make a skirt and this year's theme to make "A Skirt with a Story," also intrigued her.
As a visual artist and theatre practitioner with extensive background in prop building, scenic art and costume building, having also worked for Soulpepper Theatre, the National Ballet of Canada, Canadian Stage Company and various TV and film productions in Ontario, Jane is well-versed in bringing stories to the stage and conceptual ideas to fruition. With a background in textile, costume building, painting and sculpting, the skirt design contest was an opportunity for her to exercise her creative muscle by combining some of the things she loves the most: designing form with function in mind while working with non-traditional materials.
Jane Kline with her award-winning Skirt of Armour, modeled by Lore Green ('15 BFA). Photo by Mat Simpson.
"I'm a collector of pretty and practical bits of discarded materials … I'm always saying 'one day this will come in handy!'" she laughs. "Materials inspire ideas in me. While exploring with various tools and processes the material reveals to me what is possible. These discoveries have laid out the foundation of my skirt concept, where I tell the story of the materials, and the materials allow me to tell a story for all Women."
Working with the thin metal, she discovered it's contradictory working properties: malleability and rigidity, firmness and flexibility, strength and fragility, sharpness and smoothness. With this new knowledge, Jane transformed the familiar aluminum can and re-imagined it's purpose by weaving the long strands into textile to build her Skirt of Armour.
"I think a parallel can be drawn between the newly discovered contradictory properties inherent in the material, and the contradictions and challenges women delicately balance when confronted by their own strength; of body and mind, intelligence and independence, ability and endurance, resilience, bravery and courage, while admired, for our feminine patience, understanding, and grace."
Photos by Mat Simpson ('13 BFA).
In keeping with our celebration of 50 Reasons to Go See A Play, our reason number 21 is to go see Jane Kline's Skirt of Armour and catch a performance at the SkirtsAfire Festival!
About SkirtsAFire, herArts Festival
SkirtsAfire, herArts Festival celebrates its fourth year of sharing multi-disciplinary Edmonton talent, March 10-13, 2016 in venues across Alberta Avenue (118th Avenue). It is Edmonton's only multidisciplinary arts festival celebrating and elevating the work of women in theatre, music, dance, visual art, comedy and spoken word. Festival director Annette Loiselle ('89 BFA) is committed to bringing audiences and artists together to share in these powerful, moving, insightful and entertaining performances, exhibitions and workshops.
Entry to all festival events is at the door by donation; for more information, as well as a full schedule of events, please visit skirtsafire.com.
Previous articleRyan Parker: art of the headshotNext article
Michele Fleiger: the need for drama