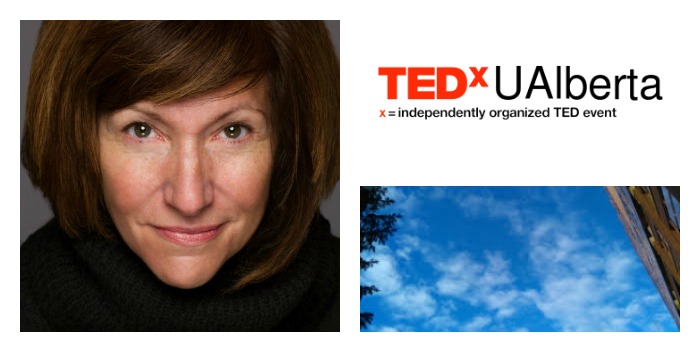 U of A Drama instructor presents at TEDxUAlberta
For its inaugural conference, TEDxUAlberta has pulled together a dynamic roster of inspiring speakers and performers. The theme is Looking Glass into the Future and there are many presenters with ties to the U of A's Faculty of Arts including 2016 Rhodes Scholar-elect Billy-Ray Belcourt and Navneet Khinda, President of the University of Alberta Students' Union. Michele Fleiger ('12 MFA)  is delivering a message on "The Need for Drama."
A theatre artist and educator, Michele trained as an actor and has performed across Canada, the Unitied States, Italy and Japan. She says the soft skills that Drama encourages and develops are translatable across disciplines and are becoming increasingly essential in a diverse world facing diverse challenges.
"My own practice and research is grounded in the principles of theatre and this has allowed me to work with distinct communities ranging from Education, Economics, Arts and Engineering undergraduate and graduate students, to scientific researchers, to medical students looking to enhance the dynamics of the doctor-patient relationship, to people with various mental health challenges and addiction issues who are keen to discover and enjoy a more engaged life. All are seeking to realize a more embodied experience which can lead them to uncovering their true potential no matter what they are hoping to pursue."
In the mid 80s, Michele began volunteering as an English-as-a-Second-Language teacher working with refugees and permanent residents helping them acclimate to their new cultural landscape.
"This experience opened my eyes to the way the techniques of the theatre can be translated to help people understand the power of narrative and the importance of a mindful presence and heightened awareness of oneself, others and one's surroundings".
What began as a compelling part-time job evolved over time to become a vocation. Michele currently teaches in the Department of Drama at the University of Alberta, facilitates workshops with the U of A's International Student Centre and the Department of Health and Humanities in Medicine and has an ongoing contract with Alberta Health Services.
For our reason number 22 in the 50 Reasons to Go See A Play series, let's flash back to March 2013, when Michele Fleiger was Theatre Alberta Board President. Read her stirring and powerful World Theatre Day message called People who practice theatre
TEDxUAlberta 2016 takes place on March 6, 2016 at the Citadel Theatre. For more information about the conference: http://tedxualberta.com/
Previous articleJane Kline's Skirt of ArmourNext article
Laura Kerslake: Saxophonist and people person