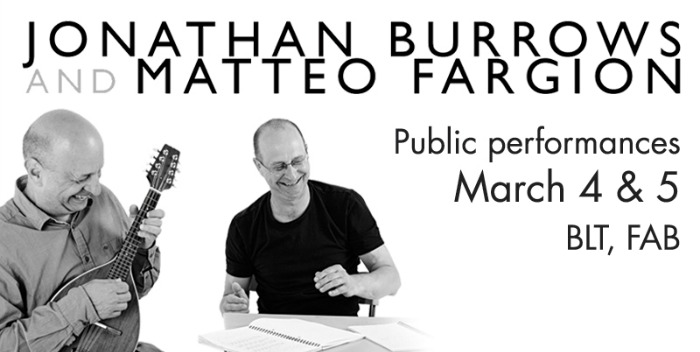 U of A welcomes international artists for their first public performances in Western Canada
The work of British choreographer Jonathan Burrows and Italian composer Matteo Fargion radiates delight even as it makes the audience think. Over the past 12 years, the two artists have built a body of duets that straddle the line between dance, music, performance art and comedy, earning them a worldwide following. The University of Alberta welcomes Burrows and Fargion for their first public performances in Western Canada, with two distinctively different sets in the Bleviss Laboratory Theatre (FAB) Friday, March 4 and Saturday, March 5, 2016.
Currently in-house artists at the Nightingale Brighton and are co-produced by Kaaitheatre Brussels, PACT Zollverein Essen, Sadler's Wells Theatre London and BIT Teatergarasjen Bergen, Burrows and Fargion's practice extends to collaborative workshops with other artists, students, writers and curators from dance and related mediums.
Throughout their time in Edmonton, Burrows and Fargion will be engaging with U of A students in all three fine arts departments. They will be working with music students in Dr. Howard Bashaw's composition class, getting the comedic juices flowing with Mike Kennard and his BA drama students in movement and physical theatre class, and attending graduate student seminars on the moving body in performance with Dr. Piet Defraeye and Lin Snelling in Drama and Dr. Natalie Loveless in Art & Design.
The Edmonton arts community is also invited to attend a Writing Dance workshop with Jonathan Burrows on Sunday, March 6 from 10 a.m. to 6 p.m. See the Facebook event page for details.
I caught up with Jonathan Burrows via email in advance to his arrival in Edmonton to find out more about his work with Matteo Fargion and what audiences and workshop participants can expect.
I understand you and Matteo have been creating together now for 20 years. Can you please tell me a little bit about how you first met and the early beginnings of your creative partnership?
Matteo and I met through a course for choreographers and composers, and I liked his music and how he thought about stuff. We started out working in our respective roles as choreographer and composer, but inevitably things got blurred and now we both perform, and it tends to be whoever has an idea or is competent about something that kind of gets on with it. There's a lot talk about collaboration, but we tend to avoid meetings and don't talk more than we have to, so everyone can get on with what they're doing.
You and Matteo are a choreographer and composer, so I suspect when most audiences imagine what they are about to see is a music player and a dancer moving to that music. But that's not what they can expect here, is it!? Can you please give our readers a description of what your duets are like?
I think most people nowadays are used to boundaries being blurred, so how we do things doesn't seem to confuse or bother people. And anyway we tend to see everything we do as being music.
If I was pressed I'd say Matteo and my performances are intellectual, so they invite you to think and figure stuff out which is something we like to do as human beings, but at the same time we treat the shows the way we treat the rest of the world, and laughter is not absent.
Each of the two public performances in Edmonton are different. I understand your philosophy is that all work is new at the point of performance but how much of these pieces is improvised each night? Are the pieces set works? Or a combination of scored improvisation?
Matteo and I both studied classical music composition, and remain interested in the way detailed decision making can throw up moments of unexpected sense. And the sense is to do with how one thing is placed next to another, so that ideas and images meet. And for this reason we've often worked with ways that physically memorise set material, until it becomes unconscious and you're flying. And this works beautifully when you're next to another person performing, and on the one hand you know what they're doing and then something happens that makes you think you don't.
In our own Fine Arts Building at the University of Alberta studio classes are housed for music, drama, art and design, and yet, it is rare for students in each distinctive areas to create together, across disciplines, or even have meaningful conversations across the hallway about the work they are doing.
Even your interactions with our students during your visit will be very segregated along disciplines – music composition with music students, physical comedy with theatre students, body in performance with art and design students.
How would you suggest art schools break down those barriers? Do you see your role as a "Guest Artist" to a university as conversation starter across those discipline lines?
Being a guest artist in a university is complicated, because our real job is to unravel the certainty of academic thinking, and at the same time it's cruel if you end up confusing students. And I think this relationship between artists and the academic will go on being explored in a fruitful way for years to come, so this is just early days.
Who is the Writing Dance workshop you are hosting intended for? Tell me a little bit about what participants can expect if they attend the workshop.
The Writing Dance workshop is intended for anyone at all who thinks it might be useful. The worst that can happen is that someone finds it isn't useful, but then that's useful because they can hang around figuring out why it's not useful.
I try to let the work grow out of my own daily practice of thinking and writing and doing stuff, so it depends what's bugging me that day. But I'm always interested to hear what people think performance is and what it can do, and where we fit in politically, and what really critiques and what just pretends to critique, and why to do it at all.
And sometimes I share a few compositional ideas coming from classical music, but I try to be careful or else people get the idea that's how Matteo and I work, but we hardly ever talk about structure and so forth anymore. But it can be useful to pass by that stuff, because in the end we're working with time and that takes some thought, and music has thought about it a lot.
In your book The Choreographer's Handbook, you've said: "Try breaking the rules on a need to break the rules basis." Can you elaborate on that line of thinking?

That line in my book was meant to reassure people that you don't have to start out by assuming that breaking whatever rules is the most creative thing you could do. I mean when you think that way you place too much emphasis on this notion of rules, and the construct of freedom from rules, and you ignore that part of yourself as a human being that is brilliantly and naturally smart to shape and organise self in relation to the world.
What advice would you give to a young artist who is curious about working in the blurry spaces between dance, music and performance art? Is collaboration with other artists the key?
I'd usually try to avoid suggesting any advice to anyone, but I could say that for myself I find it useful to remind myself why I started doing all this, and see what's there that might guide me through the confusing mass of artists and information that's out there.
In Edmonton, we have seen a resurgence in "living room" or house concerts, where artists perform in very intimate, domestic spaces. You and Matteo have been performing within a new framework called "Return of Salon" which takes place in living rooms and small halls. Why do you think audiences and artists are drawn to a more interactive experience like this?
Matteo and I used to play live music in house at one point, and we often end up performing now in situations that are more unusual and intimate, and we've just discovered that there's a level of listening that can happen in odd rooms, away from the pressure of the formal theatre space.
And for "Return Of The Salon" we invite other artists, including other composers, so that the audience that comes might find themselves questioning the boundaries between things and experiencing music in a way they don't usually.
Take a sneak peek of The Cheap Lecture and The Cow Piece on Youtube:https://www.youtube.com/view_play_list?p=F7799EE546B57778
Explore Jonathan Burrows and Matteo Fargion's pieces on the William Forsythe Motion bank website:http://scores.motionbank.org/jbmf/#/set/sets
Jonathan Burrows and Matteo Fargion Public Performances:
Friday, March 4 at 7:30 p.m. Bleviss Laboratory Theatre, FAB, University of Alberta
Both Sitting Duet and Body Not Fit For Purpose, 1 hour no interval.
Saturday, March 5 at 7:30 p.m. Bleviss Laboratory Theatre, FAB, University of Alberta
Cheap Lecture and The Cow Piece, 1 hour no interval.
General Admittance $20 pay at the door. Cash only.
Writing Dance workshop with Jonathan Burrows:
Sunday, March 6 at 10 a.m. to 6 p.m. Movement Studio, FAB 3-117, University of Alberta. $100 registration at the door. Light lunch provided.
Jonathan Burrows and Matteo Fargion's visit to the University of Alberta is supported by the U of A's President's Fund and Distinguished  Visitor's Fund.
Previous articleSean Caulfield's The Flood an epic adventure   Next article
Ryan Parker: art of the headshot