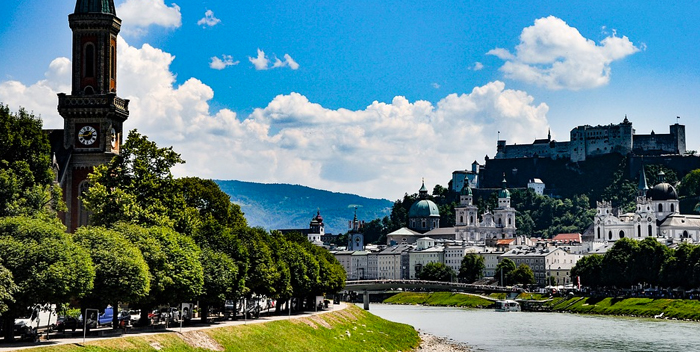 Three U of A music students have been awarded scholarships to study abroad at the Franz-Schubert-Institut (FSI) in Baden bei Wien, Austria.
Undergraduate Hilda Lam and graduate students Oliver Munar and Minghao Liu were awarded the three 2017 FSI scholarships to spend five weeks in Austria participating in the course Poetry and Performance of the German Lied: Master Course for Singers and Pianists
An annual partnership program with the U of A since 2009, the Franz-Schubert-Institut provides music students an opportunity to immerse themselves in a 5-week intensive study of the Lied, classical German romantic poetry set to music. Students at FSI are typically advanced voice and piano musicians, and are given extensive performance coaching and access to masterclasses from some of the world's top singers and pianists.
Curious Arts caught up with Oliver Munar, completing his Master in Music degree in vocal performance, to find out more about the Franz-Schubert-Institut.
Oliver Munar is one of three University of Alberta students to win the 2017 Franz-Schubert-Institut scholarship.
CURIOUS ARTS: What attracted you to the Franz-Schubert-Institut program?
OLIVER MUNAR: The Franz-Schubert-Institut attracts musicians who are interested in deepening their knowledge in some of the most beautiful music ever written, that of the German Romantic era. Ever since I started taking voice lessons, I have been a fan of songs from this era and I am most eager to perform them as often as I can. Songs from this era are incredibly rich in imagery and emotion; the institute offers a unique opportunity to study them with distinguished artists who have made their career performing this repertoire.
I feel very fortunate to have worked closely with Dr. Deen Larsen, founder and director of the Franz-Schubert-Institut. It is through his inspirational lectures and discussions that I feel inspired to deepen my own knowledge of this music and poetry.
CA: Tell us about where you're going and what you'll be studying in this program.
OM: The institute is located about 25 km southwest of Vienna in a place called Baden bei Wien, nestled in the famed Vienna Woods. For five weeks, I will undertake intensive studies of German art songs and poetry with leading interpreters of this genre. I was asked to prepare 24 different songs for the five weeks of study!
Baden bei Wien
CA: How was your experience with the U of A music program?
OM: I'm really grateful to the Voice Area and the Department of Music for allowing me to take this journey. The last two years in this tight-knit community have been wonderfully fulfilling, and I truly feel I'm on a path of greater discovery. Working with John Tessier and Shannon Hiebert so intensely has been challenging and immensely rewarding. I am eager to see where my voice wants to take me next.
CA: Anything else you'd like to say about the FSI or the music program?
OM: I'm truly humbled by the generosity of those who are making this opportunity possible. My deepest thanks to the Franz-Schubert-Institut for this opportunity, and my deepest gratitude to the Voice Area faculty for their support and encouragement.
For more information about the University of Alberta Franz-Schubert-Institut scholarship and more Study Music Abroad programs, visit the official webpage
Previous articleStudent Provides New Brand Identity to Canadian VIGOUR Centre