UAlberta alumni Jonathan Christenson & Bretta Gerecke reunite with Joey Tremblay for revival of Catalyst Theatre's first international hit
I had the opportunity to chat with the team behind Catalyst Theatre's Elephant Wake. Joey Tremblay is the performer in this one-person play, and co-authored it with Jonathan Christenson in 1996. Bretta Gerecke is the designer and director for this production. Jonathan ('96 MFA Directing) and Bretta ('96 MFA Theatre Design) are graduates of the University of Alberta's Department of Drama.
Q: Elephant Wake is known as one of Catalyst Theatre's seminal productions. What prompted you to revisit it, here and now?

Jonathan: Catalyst was started many years ago, and in 1995, Joey and I developed a one-act version of Elephant Wake for the Edmonton Fringe festival. It was well received at the time, and within a year, the two of us took over Catalyst as artistic co-directors. So we started creating original work to present here in Edmonton, tour across Canada and also hopefully build internationally. Elephant Wake became the centerpiece of that first year. We took it to the Globe Theatre in Regina. We also took it to the Edinburgh Fringe, where it got great critical response and we even earned some awards. That launched Catalyst on a path that we've been on ever since. It all started with Elephant Wake.
Also, Catalyst wasn't always housed in its current space. When we found this place, it was a teardown, and we thought this is perfect. Now, we have outgrown this space, and our shows and audiences are too big, so we are moving. We felt that it was beautiful way to end our time here by going back to this piece where we started. And Joey had worked with Bretta a few years ago to create a full-length version of Elephant Wake. So we approached them to see if they were interested and luckily they were. That's why it is here and now.
Joey: It's really nice to have symmetry in your career, to recognize where you started. For me, Elephant Wake is where I learned from Jonathan how to put on a play together. This play is a very original creation, and it has inspired me ever since in all the work that I have done. It's nice to come full circle, back to where it all began. There's such poetry to bringing back this piece. There has been so much growth since I left Catalyst, and it's wonderful to see how far they've gone. For me, it's nice to re-connect with an Edmonton audience.
Q: What are you doing differently with the show this time around?

Joey: There was quite a bit of narrative shift in that second revisiting (in 2008) and even this time around. That's how we work; we are restless. As soon as you give us some rehearsal, the show is going to change. The text is not a sacred entity, and we are not trying to remount it in the purest way. We want to allow the piece to speak in this space. The space has its own effect on the character, story and mood of the piece and we have to respond to that. The show changes all the time, which is funny because it is a play about evolution. It refuses to stay static. We've aged the character quite a bit, and that is the most significant difference this time.
Q: Jonathan and Bretta, how did your time at the University of Alberta shape your careers?

Bretta: I would say that one of the most valuable things about the U of A is that we got the opportunity to create new work, and put it out to the world. That creative spirit and passion is what I gained the most. I discovered the dynamic nature of being able to connect as people (working on a project together) and create a story. It blew my mind. Everything that I've ever done in the last 18 years has been about that collaborative connection. The seeds of learning, all that came from U of A, from the giant mixing bowl of creation, and the allowance of making mistakes and figuring out how to speak to an audience, and how to speak in every way, visual, aural, etc.
Jonathan: My relationships grew from working with Joey on my graduate directing projects. U of A allows directing students to work with members of the community, which I think is great and we carry on that collaborative spirit here at Catalyst. We also work with faculty on almost all our projects. They are constantly bringing their knowledge and experience into this company, and we in turn are giving back to the institution. The U of A is responsive to this exchange — what we are doing continues to inform the institution and vice versa.
Bretta and I have both gone back there and continue to go back there because we feel that support exists. I've always felt like they are proud of us and want to be part of a dialogue.
Q: Why should students come to watch Elephant Wake? What do you hope they will take away from it?
Jonathan: For theatre students, Elephant Wake will show you what you can aspire to do. Same for the designers — in this piece, the design is such an organic part of upholding the play, and works as a two-hour lesson in what your role is as a designer.
For the general student population, it's a beautiful and extraordinary story. If you want to hear a great story that has got everything from heartbreak to hysteria, this is it.
Bretta: This show is a beautiful reminder of how powerful our imaginations are. Audience members build their own environment in this show. It is not cynical. It is a play about living and loving and keeping your heart open. People are always saying, they want to "feel something." Well, if you want to feel something, you should come see Elephant Wake.
Joey: This show reminds me of the power of theatre: why it remains a part of our world, why we still gather in groups to see stories unfold live in front of us, and how we have a fully engaged experience with a work of art that is always ephemeral.
I use this piece to revitalize my love for the art form, to reconnect with believing that theatre is essential to society. I encourage students to take a break from their laptops and digital devices, and come see something beautiful, and share it with other people.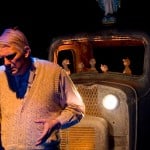 Presenter: Catalyst Theatre
Event Title: Elephant Wake
Dates: until November 29, 2014, Tuesday – Saturday, at 8 p.m. and Monday, November 24 at 7:30 p.m.
Venue: C103 (8529 103 St NW, Edmonton)
Tickets: Mon/Tues/Wed/Thurs tickets are $20 student/senior and $22 general audiences; Fri/Sat tickets are $22 student/senior and $26 general audiences. Tickets are available on-line and charge-by-phone 780-420-1757 at TIX on the Square.