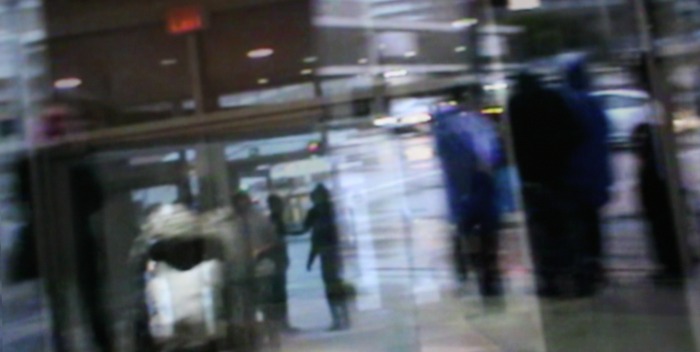 Design grad Megan Strickfaden curates 10 shorts from Edmonton and abroad for presentation at AGA Feb. 24 
Guest post by Helen Metella
With files from Salena Kitteringham
Making your way through a crowded mall, art gallery or gym is not just potentially aggravating, it can be treacherous if you're legally blind.
Yet how can the non-blind majority of citizens know exactly how alarming it feels, physically and emotionally — or conversely, how remarkably well people who are blind manage to cope?
To convey those sensations, Megan Strickfaden ('02 MDes), an associate professor of Design Studies and Material Culture in the Faculty of Agriculture, Life & Environmental Sciences at the U of A, and PhD student Adolfo Ruiz ('13 MDes) made a nine-and-a-half-minute film which follows three legally blind people through Edmonton City Centre Mall, the Art Gallery of Alberta and a gym in West Edmonton.
"The film ends up illustrating more about people's abilities and what they can see, rather than their disabilities," said Strickfaden. "It is quite surprising for most audiences."
Screen shot from Light in the Borderlands, a film shot by legally blind people.
Strickfaden included this 2012 film, titled Light in the Borderlands, in a 90-minute screening of short films from Canada and abroad that she's curated for the upcoming Design Matters Film Series. The one-night-only event runs February 24 at the Art Gallery of Alberta, and is sponsored by M.A.D.E. (Media Architecture Design Edmonton, a not-for-profit organization that allows local designers to showcase their work.)
Light in the Borderlands.
Each of the 10 films in the series illuminates perceptions about inclusive design, a discipline that suggests there's a way to make spaces and objects accessible to everyone regardless of their physical abilities.
"It's meant to provoke people into thinking more deeply about the role of 'things' in people's social relationships," said Strickfaden. "The films are relevant to all kinds of designers — architects, industrial designers, fashion designers —plus students and the general public."
In addition to Light in the Borderlands, there are six other locally made films, several of which are new.
We regret to inform you … is a 2015 National Film Board short by Edmontonians Eva Colmers and Arts alumna Heidi Janz ('03 PhD, English & Film Studies). It follows Janz, an academic and playwright who has cerebral palsy, as she discovers that her highly productive life disqualifies her from government benefits. To learn more about Heidi Janz, read the feature Forging her own page, blazing a trail for others on the Work of Arts blog.
Unusual editing eyegear. Editor Kody Davidson, co-writers and co-directors Eva Colmers and Heidi Janz, NFB producer Bonnie Thompson with special glasses to help them cut one version of We Regret to Inform You… for viewers with glaucoma.
Screen shot from We regret to inform you … a 2015 National Film Board short following Heidi Janz.
Screen shot from We regret to inform you …
Visitability #1, 2 and 3, are each 15-second shorts made in 2015 that highlight the need for homes to have accessible doors, hallways and bathrooms by spoofing well-known horror films. They were created by Edmonton's Open Sky Pictures
iCUP is a 2014 film examining how the standalone public bathrooms at the corner of Whyte Avenue and Gateway Boulevard sacrifice privacy for safety.
G.I.M.P. Bootcamp is a satirical sendup of stereotypes and expectations, made by former Paralympic bronze medallist Danielle Peers ('15 PhD, Physical Education and Recreation) and filmmaker Melisa Brittain ('06 PhD, English & Film Studies), and focusing on how Speers deals with social expectations ever since muscular dystrophy changed her from an able-bodied basketball star to an elite athlete in a wheelchair, an activist, artist and speaker.
The other three films in the series were sourced by Strickfaden from outside of Canada. They include:
Post Occupancy Evaluation, a 2011 Belgian film that humorously points out the successes and failures of a newly built movie theatre that features poor universal design.
Khoc Nguoc (Crying Inside Out), a 2014 film from Vietnam that illustrates how exclusive society and its built environment is.
Among the Giants, a 2009 documentary from New York, about a nonprofit organization that's striving to ensure all children with disabilities get the equipment they need to participate fully in their community.
This story was originally published on UAlberta Faculty of Agricultural, Life & Environmental Sciences website
Image credits: Feature image and stills from Light in the Borderlands supplied by Megan Strickfaden. Screen shots and photos from the post editing session for We Regret to Inform You … supplied by Eva Colmers.
Presented in partnership: Art Gallery of Alberta with Media Architecture Design Edmonton (M.A.D.E) and the University of Alberta
Event: Design Matters Film Series Part 2
Date: Wednesday, Feb. 24, 2016 at 7 p.m.
Venue: Ledcor Theatre, Art Gallery of Alberta
Admission is free.
See more at: http://www.youraga.ca/programs-events/talks-films-more/
Previous articleHeadshots: How to dazzle a casting directorNext article
Sean Caulfield's The Flood an epic adventure