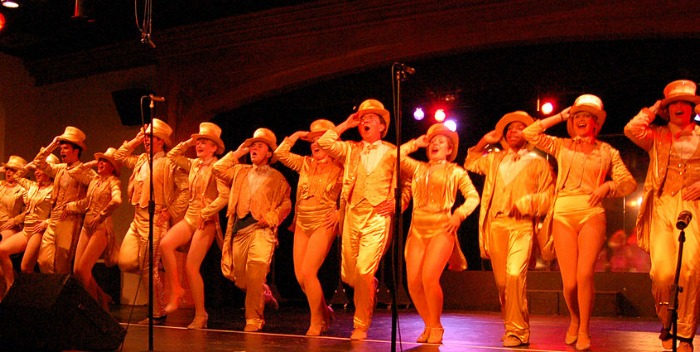 "Who am I anyway?
Am I my resume?
That is a picture of a person I don't know."
A Chorus Line
music by Marvin Hamlisch
lyrics by Edward Kleban
As we crawl towards the spring and audition season, I thought it might be interesting to reflect a bit on the business of acting. Hundreds of actors from college and university programs will enter the arts industry come May, with big dreams and a desire and hunger for work. Not to be bleak my friends, but competition is fierce.
How do you stand out? What gets you in the audition room, especially as a young artist, when you are virtually an unknown to the community? Let's begin with the headshot. This is your business card, your brand. It's also your first line of contact.
As a director, when my company holds auditions, we receive literally hundreds of submissions, and I am always shocked when actors submit their CV with a poor quality photocopied picture of themselves attached. There have been times when I've gone to see a play, and looking at the bio boards I'm amazed to see those same photocopied images posted in the theatre lobby. These represent YOU, the artist. Your headshots are the first image casting, agents, directors and sometimes the audience see of you.
In part one of a two part series about headshots, I reach out to North American casting directors Michael Walters and Sherry Dayton of Dayton/Walters casting for their thoughts on the headshot.
As casting directors, how important is the headshot? What do you look for?
The headshot is often the first impression we get.  We look for a simple photo which captures the essence of the performer. The photo should be an accurate representation of how the performer actually looks and should capture the performer's type.
Be honest… Does the quality of a headshot play a factor in determining if you'll bring in an artist to an audition?
Yes… If it comes down to having one slot left and the resumes are fairly equal, we might look to the headshot to determine who we bring in. If one headshot is poor quality (grainy photo, regular paper vs photo paper, bent, etc) it may give the impression that someone is not as serious about themselves as a performer.
Is there a right or wrong way to format your photo?
No right or wrong, just personal preference. We prefer vertical as this is often the way resumes are formatted so it's nice to have everything lined up when organizing stacks of headshots and we have to sort through hundreds of them quickly.
I feel that headshots are an investment. To me they are part of the "package". What would you say is the best advice you can give to a young artist starting out in the business regarding their photos from a casting directors' point of view?
Make sure you find a reputable photographer who is experienced with portrait style photography. Artistic photos have their place, but the focal point of a headshot should be the actor front and centre. We don't want to have to search for the actor posing in a historic building or in front of a streetcar for instance (we have seen both of these!!) The photo should be representative of the actor and should reflect who we see when you walk into the room
What are your thoughts on the photocopied headshot?
We know they are expensive, but a good quality headshot is an investment an actor is making in themselves. As a self-employed business person, the actor should use the best quality materials they can afford. If all they can afford is a photocopy at this particular time, it's better than not having a photo at all.
Michael Walters and Sherry Dayton of Dayton/Walters Casting.
Sherry Dayton (CSA) and Michael Walters (CSA) created Dayton/Walters Casting, Inc. after enjoying a successful career together as part of the in-house casting team at the theatrical production company juggernaut that was 'Livent'. Since creating their partnership, Dayton/Walters have cast dozens of projects for the commercial theatre and for film/television including The Jersey Boys, Hairspray, Once, The National Touring production of The Book of Mormon, and The Producers. In addition to theatre they are currently casting directors for Nelvana, one of the world's leading international producers and distributors of children's animation. Based in Toronto, Sherry and Michael are well-known in the acting community as being extremely actor-friendly and tireless in uncovering new and emerging talent.
Follow Dayton/Walters on Facebook and Twitter
Feature image credit: User:Dcdjdrew [GFDL (http://www.gnu.org/copyleft/fdl.html), CC-BY-SA-3.0 (http://creativecommons.org/licenses/by-sa/3.0/) or CC BY 2.5 (http://creativecommons.org/licenses/by/2.5)], via Wikimedia Commons
Previous articleNoon Hour Organ Concert: Rheinberger for LunchNext article
Design Matters film series on inclusive design