After centuries of queer life being hidden in the closet and the loss of almost an entire generation of gay men to HIV/AIDS, The Gay Heritage Project is an important step in the excavation, preservation and promotion of a community's cultural history.
The tour brings an essential conversation about history and identity from the world's largest queer theatre, Buddies in Bad Times (Toronto), to cities across Canada. In this way The Gay Heritage Project acts as an important catalyst for a national discussion on contemporary queer life.
I had the opportunity to speak with Andrew Kushnir ('02 BFA), one of the three creators of The Gay Heritage Project, and a graduate of the University of Alberta's Acting program, about some of his experiences working on the show.
Kushnir is an award-winning actor, playwright and creative director for Project Humanity: a not-for-profit theatre company devoted to raising social awareness through the arts. The expanse of his work has investigated those who have experienced both racism and homophobia in Jamaica (Small Axe); a verbatim theatre piece about youth homelessness (The Middle Place); and the complex aftermath of the Orange Revolution in Ukraine from the perspective of a young Canadian (Wormwood).
Kushnir identifies as a verbatim theatre practitioner. His latest play, Wormwood, which completed a successful run at Toronto's Tarragon Theatre in December 2015, was a more traditionally penned piece, yet also contained a verbatim aesthetic to it. For more background on Verbatim Theatre, see previous Curious Arts post A Conversation with Andrew Kushnir.
"I interview people. It's through encounter that I form a lot of understanding, or at least flesh out the questions I have about my being in the world. Verbatim theatre is such a transparent communication of encounter. There's a magic to it. It activates the conscious and imagination. There's something about that tap on the shoulder that's reminding you that this came from the world, that you might be sitting next to somebody who contributed to what you're hearing." Andrew Kushnir
Let's talk a bit about The Gay Heritage Project. How would you categorize the show? Is it a play? Cabaret? Documentary-style theatre?
It's more like a play than any other genre I could think of. It's a highly dramaturgically organized theatrical experience but is not conventionally linear. It doesn't have a single story, yet contains a five-act structure, and a very clear emotional arc for us as we engage with whether a queer or gay heritage exists. The scenes themselves are constructed with a lot of rigor.
How did the project come into being?
Paul Dunn was inspired by the book The Men with the Pink Triangle by Heinz Heger. It is a testimony by a gay survivor of the Nazi concentration camps.
It really had Paul wondering about how little he knew about it and that this could have happened to him. He was thinking about all of the identification that happens around finding someone in the past that has same sex desire (a very identifiable way of being in the world), and seeing the persecution that person faced.
Paul came to Damian Atkins and me and we thought there might be a vocal masque piece in this concept of gay heritage. What else are we not aware of? What made our community what it is? Damian articulates it beautifully in the play that the AIDS crisis in the 80s and 90s really created a kind of chasm in terms of transferring a queer heritage to this generation or subsequent generations. The AIDS crisis really created this devastation of knowledge. And the piece grapples with that.
You mentioned earlier about Vocal Masque. Can you speak a bit about the creation process?
Paul and Damian teach vocal masque, a form they learned through Ken Brown years ago at MacEwan. They were versed in this physical, on your feet process. It's very athletic with quick character shifts, extreme physicality, bold vocal choices. The hope is that you can construct a community through the body, creating a broad range. I mean, we must have at least 100 characters in The Gay Heritage Project.
Why Heritage? Why not History?
That's a great question. Gay heritage is a found heritage. It's not passed on through your parents.
The biggest distinction for us, is that heritage is a practice. That heritage is curated. Things are chosen, other things are not. Heritage is also a communal decision about what gets passed on, what gets drawn from the past, through the present and into the future. In terms of engagement and action with the audience, heritage is much more of a verb for us than the concept of history. History is a complicated thing. Queer people have been excluded from history a lot.
In your research, I am sure you unearthed a lot of material. How did you pick and choose essentially what makes the cut?
We each chose a point of focus that was personal for us, and that we can take responsibility for why something is there, because not only do we feel passionately about it, but it's important to us. We always go back to the personal in this play.
We have to acknowledge certain values that we find really important: the value of inclusion, the value of acknowledging privilege, the value of diversity. How do we make space for those things? I can't change the colour of my skin or my gender, yet I want to create an inclusive space for people who may be of a different gender or ethnicity or race. So we asked ourselves, 'how do we write scenes that may not be able to change the artists on stage but could change the conversation in the room?' We are always looking for ways to expand the dialogue while also acknowledging the limits of our personhood.
How involved was director Ashlie Corcoran in the process?
Very! Particularly when it came to structuring the play. We had over four hours of material in what ended up being a 90-minute show. Ashlie was really instrumental in helping us craft an arc. I am so proud of the transitions and flow to the piece, and that's Ashlie taking in the totality of it. She's a formidable director.
One of the key words in the title is Project. Can you speak to that as well?
It's three guys that, through their personal experience, are engaging with this question. It's by no means a comprehensive idea of what gay heritage might be. If nothing else it's a clear communication of the idea that we're all entitled to heritage and to curate whatever version of heritage we see fit.
Has the project evolved since it's first inception last year?
Yeah, it has. The initial production was at Buddies in Bad Times Theatre, North America's largest queer theatre. This time around, not only were we taking it outside of Buddies, we were also taking it to Edmonton, and that place is a very noteworthy stop on the tour, in that all three of us have very close ties to the community. We became artists in that community; we came out in that community. I was reminded, in terms of adversity, that Alberta was the context of a lot homophobia I encountered in my 20s, but it was also where I found a lot of ways of dealing with that homophobia.
How do you think a conservative Edmonton audience will react to the show?
Well, you're not conservative anymore. (laughs)
True. We've got an orange crush.
There was a moment in the play last time that was eluding to the fact that Alberta was a monolith, a kind of conservative, less tolerant idea. And that was drawn from some of our personal experiences. That's something we've changed in this version of the play because Alberta has changed. We had to examine that and ask, "Is that Alberta anymore? Was that the Alberta of our coming out?' We needed to create space for that possibility.
Who is The Gay Heritage Project for?
By virtue of it being a sort of practice of heritage and invitation to imagine a heritage, I firmly believe it's for everybody. Whether they are straight, gay, lesbian, individuals of colour… there's lots of space in the play for everyone. I think those feelings of being orphaned… Are queer people orphaned in history? Do we have as many dots to connect as we should? Do we long for more dots? That's not exclusive to queer people. It should be engaging to everybody.
We are three white guys in our mid-thirties. The optics of the piece would suggest a dangerous proposal: that we could capture the idea of gay heritage. And I hope that the piece communicates that's not what we are trying to do.
We are three friends that felt this communal ache, and we wanted to do some healing around that ache. And that healing gets shared with audiences and that audience is invited to participate in that healing. It's getting in a room together with people and going, 'Okay, where do we come from?'
What are you hoping the audience experiences?
Something we are keen on is that the audience feels seen by the play. We greet people on the way into the theatre. We are connecting with people from the get-go. We want to make sure that people feel acknowledged for who they ar and where they are at.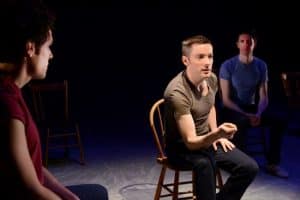 What's been most surprising?
That you discover that you have created something that has the capacity to inspire community.
May I ask what's next?
I have been collaborating with Dr Kathleen Gallagher on a trilogy of plays, focusing on education and 'radical hope' amongst young people. Right after The Gay Heritage Project tour closes, I'm heading to Lucknow (India) to a school for girls in that region, and will construct a series of verbatim plays that examine young people through the lens of drama. That project will take me to India, Athens, Coventry, Taiwan and Toronto.
How do we perceive the personhood of youth as a population that doesn't need to be spoken down to, or require a simplification of the world?
There's an expanse and capacity within them around complex questions of justice. There's meaning to be made about what drama does and what conversations can be made in the drama classroom that are not necessarily welcome, or possible in other educational contexts. We are crafting this verbatim theatre epic. It's really exciting.
We are in dangerous times, and there's a lot of global unrest. There's a lot of anxiety among parents about what kind of world their kids will be inheriting. I think we need to find new ways of listening to young people. The ideal outcome for this play is that we platform voices in a way that's new and could potentially shift the narratives people hang around young people.
In keeping with our celebration of 50 Reasons to Go and See a Play, can you tell us why Edmontonians should come and see The Gay Heritage Project?
I don't have to give 50? Do I? (laughs)
(laughing) No, you don't. Just give us one! Give me reason #20 in our 50 Reason to Go See A Play Series.
It's an invitation to celebrate with other human beings in one room. A chance to engage with heritage on a human scale, and that's what theatre always does. The reason to see the Gay Heritage Project is you will have an experience with fellow Edmontonians around a celebratory practice: the idea of where you come from and where you might be headed as a community. Come to laugh and to celebrate.
Presenter: The Citadel Theatre
Event Title: A Buddies in Bad Times Theatre Production of The Gay Heritage Project
Created and Performed by: Damien Atkins, Paul Dunn and Andrew Kushnir
Directed by: Ashlie Corcoran
Dates: Until Feb. 27, 2016
Venue: The Club, Citadel Theatre