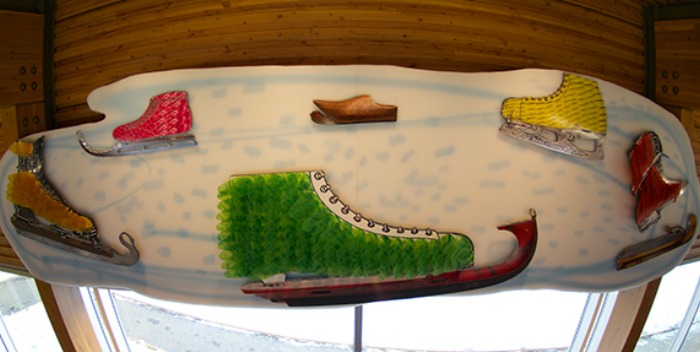 Marc Siegner's new public art at Victoria Park Pavilion
This bas relief mural celebrates a beloved winter tradition – ice skating. The imagery suggests a pond where ice skates have come to race each other. Inspired by period skates as well as historical artistic imagery, the artist employs bright hues and detailing to instill as sense of motion with this playful triptych.
Detail of Exotic Beasts by Marc Siegner.
Observing speed skaters in action reminded artist Marc Siegner of large birds such as owls, eagles, geese, and falcons. Their large wings and grace inspired the feathers and scales that adorn the skates. The result is a recognizable but fantastical artwork that the artist hopes will inspire the many people who use the Victoria Park Pavilion.
This post was originally published on the Edmonton Public Art website by the Edmonton Arts Council and circulated widely via the EAC Public Art Monthly e-newsletter in January, 2016. Subscribe to receive this e-newsletter to stay in the loop about public art in Edmonton. Images supplied by the Edmonton Arts Council.

About Marc Siegner
Marc Siegner is a printmaker and artist living and working in Edmonton. He has been the Technician Demonstrator for the Printmaking program at the University of Alberta since 1982.
Marc completed his Masters of Visual Arts at Norwich University, Vermont College. He has exhibited across Canada, as well as internationally in Germany, Thailand, Mexico, Brazil, Slovenia, Poland, Japan, London and China.
The Alberta Foundation for the Arts collects his work as well as the Canada Council Art Bank and several corporate collections both in Canada and internationally.
Marc has been developing his most recent work during residencies in Beijing since 2009. The focus of his artistic practice is on the place where cultural anthropology meets narrative journalism, specifically addressing notions of cultural adaptation utilizing images from encroached communities. Read more about Marc's creative process in our Curious Arts story Art & Design 2.0
The Edmonton Arts Council is a not for profit society and charitable organization that supports and promotes the arts community in Edmonton through a range of grant programs. The EAC works to increase the profile and involvement of arts and culture in all aspects of our community.
Follow @artsedmonton on Twitter
Like on Facebook
Follow @yegarts on Instagram
The City of Edmonton Public Art Collection is a collection of artworks that the City has acquired in various ways over its history: some may have commemorated a special event, some may have been gifts to the City. Many of the artworks acquired in recent years have been generated by the City's Percent for Art to Provide and Encourage Art in Public Areas Policy.
The proliferation of uniquely designed municipal buildings in Edmonton goes hand-in-hand with a blossoming of public art. Recently, the City of Edmonton released a driving tour of iconic architecture within the city limits. Each building, through the City's Percent for Art Policy, is also a platform for public art, created specifically for that space.
As you tour the buildings, take a moment to check out a vivid diversity of artwork from local, Canadian, and international visual artists.
Click here to read about the facilities that house these artworks.
Previous articleAndrew Kushnir on The Gay Heritage ProjectNext article
Noon Hour Organ Concert: Rheinberger for Lunch