UAlberta artist investigates industrial uses of landscape as it relates to oil production in Alberta
Throughout Aaron Veldstra's MFA show Our Anaerobic Future, up in the FAB Gallery until July 11, he is drawing and erasing map data pertaining to the human impact on the boreal forest of Northern Alberta.
I was struck by Aaron's easy-going nature when talking about his work and how his demeanor stands in contrast to the gravity of his show's themes: oil usage, dependency and environmental destruction. It is this contrast, pervasive throughout the show, that allows the depth of the artwork to stand out and sink in.
The antithesis between destruction caused by oil and lumber industries and the artistic beauty Aaron has pulled from the destruction related data is so effective that you can't help but be drawn into a deep meditation on the nature of our province's reliance on these industries.
The enigmatic quality of Aaron's work immediately engages the viewer. I was immediately curious about how the production works. Encountering first his street clothes, then his dripping ink images, buckets, trees and box of sand, you witness a full procedure of water use and reclamation through gravity filtration and ultimately renewal through the watering of trees.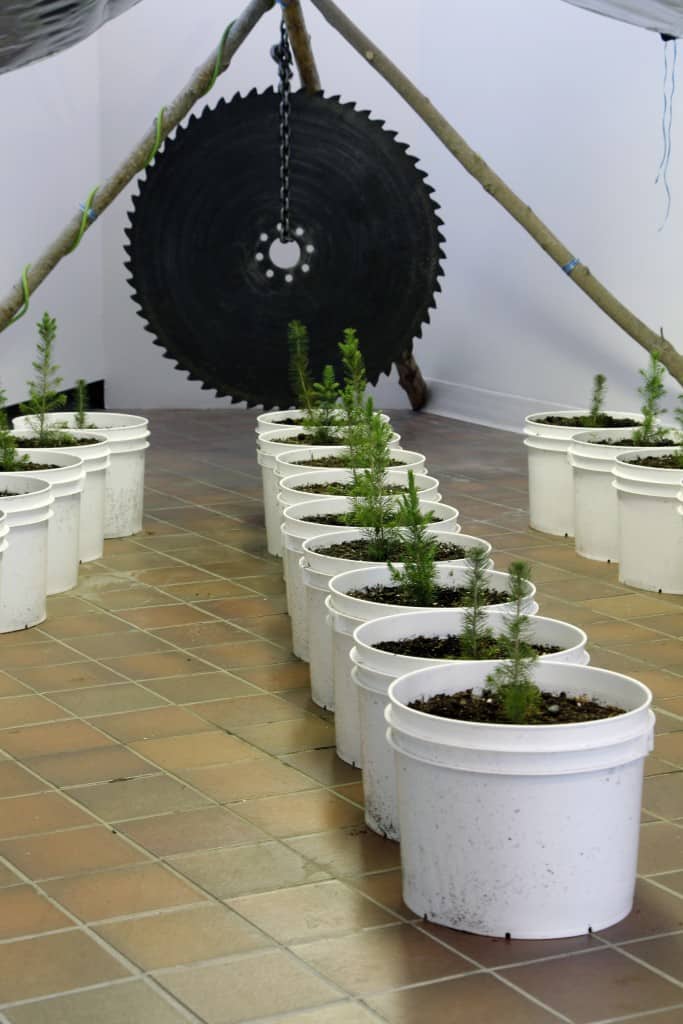 The other point that I found to be interesting about Aaron's work is that it doesn't come across as accusatory or preachy. He merely offers a visual presentation of the nature of the industry. In fact, Aaron pulls a lot of his art process from the work he did as a tree planter. He doesn't seek to separate himself, instead his work justs asks us to think about our usages.
His personal approachability adds to the ease with which you immerse yourself in the show. Throughout his performance of adding ink water to a canvas and subsequent erasing and moving of water through filtration, he remains open to questions and discussions on related topics.
v
Discussions on oil usage and environmental stewardship are essential to creating a sustainable future in Alberta and the world at large. There are no black and white answers and the arising issues can seem enormous and insurmountable. Art that makes us look at the larger problems with respect paid to beauty arising from problem solving is invaluable in creating a future worth fighting towards.
Event title: Our Anaerobic Future by Aaron Veldstra, MFA drawing & intermedia final visual presentation
Exhibition dates:  June 16 – July 11, 2015.
Closing Reception: Thursday, July 9 at 7 p.m. to 10 p.m.
Venue: FAB Gallery (1-1 Fine Arts Building, University of Alberta)
FAB Gallery Hours: Tuesday to Friday: 10 a.m. – 5 p.m. Saturday: 2 p.m. – 5 p.m.
Closed Monday and Canada Day
Admission: Free.