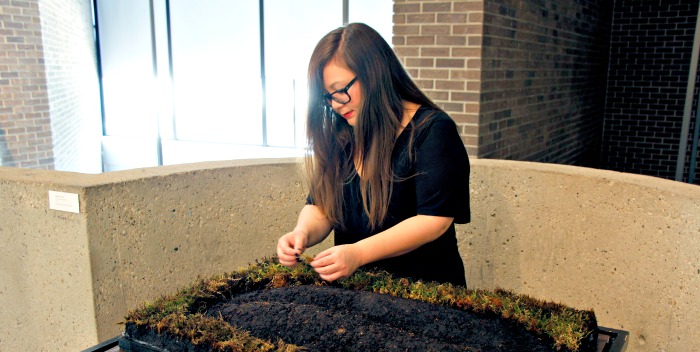 MFA printmaker's lush artwork will leave you feeling breathless
Feature image: Amanda Forrest-Chan plants moss on tiny graves, strand by strand, over the course of her exhibition felt breathless all day. Photo by TJ Jans.
Amanda Forrest-Chan is a sharp-eyed storyteller. As she talks about her work and describes the various influences and stories behind each piece, you can see where the lush depth of her prints comes from: an intensely observant mind.
The prints have a dreamy quality that evoke a feeling of recalling distant memories. One of my favourite prints is a shot of wool coats and sweaters hanging in a closet. For me, the image brings back memories of my own parent's closet with it's smell of cedar, dust and the diesel from my Dad's uniform.
Amanda Forrest-Chan's felt breathless all day. June 2015. FAB Gallery. Photos by TJ Jans.


Lest my description of the elusive, ethereal, memory-like quality of Amanda's prints lead you to believe they are not substantial, the prints have a gravity to them that holds you captive as you are enveloped in their sumptuousness. A number of the pieces are digital woodcut prints, the woodcut adding a layer of warmth and depth that draws you in. Your eyes explore not only the imagery, but the very texture of the prints themselves.
Prints by Amanda Forrest-Chan in felt breathless all day. June 2015. FAB Gallery. Photo by TJ Jans.
In describing her work, Amanda talks about separation, healing, loss, death and decay…the wood grain of the print a metaphor in itself for the history, life and decay of a tree itself. These explorations and the personal depth from which they've emerged can be summed up in the explanation of the show's title. Felt breathless all day came from her Grandfather's journals. His passing profoundly affected Amanda and her healing from his passing is tied into all of the work. This short evocative line, chosen as the title, was the last thing he wrote before passing away.
Amanda Forrest-Chan's felt breathless all day. FAB Gallery. June 2015. Photos by TJ Jans.
Event title: felt breathless all day by Amanda Forrest-Chan, MFA printmaking final visual presentation
Exhibition dates:  June 16 – July 11, 2015. Performances daily from 1 p.m. to 3 p.m.
Closing Reception: Thursday, July 9 at 7 p.m. to 10 p.m. Performance from 7 p.m. to 8 p.m.
Venue: FAB Gallery (1-1 Fine Arts Building, University of Alberta)
FAB Gallery Hours: Tuesday to Friday: 10 a.m. – 5 p.m. Saturday: 2 p.m. – 5 p.m.
Closed Monday and Canada Day
Admission: Free.
For more information see the UAlberta show page: http://uofa.ualberta.ca/events/felt-breathless-all-day
Previous articleCanadian ConstellationsNext article
Aaron Veldstra: Our Anaerobic Future