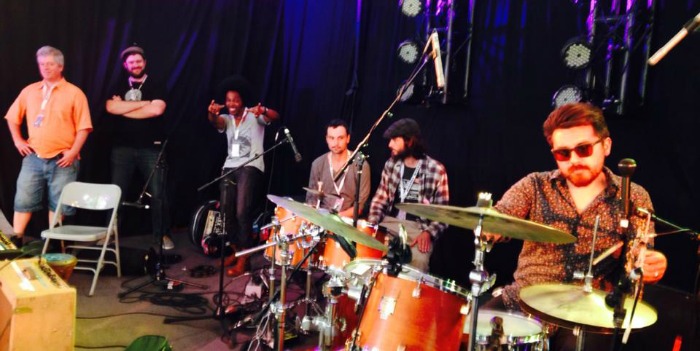 My favourite Curious Arts stories of the year
Happy New Year! There's a great deal to look forward to in 2015 as we celebrate the 50th anniversary of the three fine arts departments at the University of Alberta, but before we mark that milestone, let's give 2014 a proper send-off with a toast to our favourite Curious Arts stories of 2014.
Amritha Vaz: Film Composer
This Hollywood film composer and UAlberta alumna ('97 BA, '02 LLB) was one of the most fascinating people I interviewed in 2014. She's also featured in the December 2014 New Trail Magazine's 100 Faces issue
My Faculty of Arts communications colleague Angelique Rodrigues, a fantastic photographer, took her camera back stage to capture a wardrobe fitting for the Studio Theatre season opener, The Violet Hour. What a beautiful post!
I was thrilled when Sarah Polkinghorne, a Drama alumna now UAlberta librarian in Rutherford, agreed to contribute to our Off the Shelf series. Her first post featured the amazing design installations our students created to mark Open Access Week with beautiful photos by Hanne Pearce. The story was also highlighted on the popular blog, the Library as Incubator
The video profile on Emmanuel Osahor ('14 BFA) by TJ Jans was particularly popular and 2014 proved to be a big break out year for Emmanuel as he took home the $5K regional prize at the 12th annual BMO 1st Art! Invitational Student Art Competition. His artwork was featured with all 13 winners from across Canada in a show at Toronto's MOCCA in October, 2014.
In late January 2014, the Department of Art & Design sent 20 student designersto Toronto's Interior Design Show to showcase eight chairs designed and constructed with Beetle Kill Pine wood. Jillian Richards ('14 B Des) and Max Hurd ('14 B Des) contributed this post and their Blue Denim Pine project was picked up extensively by external media and featured as part of a top 2014 University of Alberta institutional story on the attack of the pine beetle
My favourite UAlberta fine arts news stories of 2014
Colleen Murphy aims to provoke theatre audiences and students as university's next Lee Playwright in Residence.
U of A grad pours art and soul into award-winning sculpture
Fine Arts alumna Tiffany Adair nabs coveted international student achievement award in sculpting
Vanier scholar's research exploring the intersections between popular music, religion and politics recognized at Celebrate!
It truly was a banner year for the Faculty of Arts. For the most popular Faculty of Arts stories see the WoA's Year in Review and the University of Alberta's Top Stories of 2014
Previous articleUAlberta kicks off 2015 concert season with What Boundaries: nOwAge pneUmasNext article
Carson Tarnasky's Influence