Design student's installation at Franconia Sculpture Park a mix of natural and forged elements
The rustic vessel stands in a grassy sculpture park in Minnesota – a memorial to BDes/Industrial Design student Carson Tarnasky's grandfather. Built of wood, concrete and steel, the sculpture is a mix of natural materials and forged elements, symbolizing a lineal progression of paternal influences. Tarnasky's grandfather was both a carpenter and latterly, a farmer, and the structure is emblematic of those earthy pursuits: roughly hewn, and yet elegantly designed. Chopped wood tumbles from one side, while at its sheltered core, a mechanical configuration of intertwining metal legs and receptacle-like forms; a beating heart – enclosed, but dynamic. An exterior wall carries the symbol his grandfather used to brand cattle. The sculpture is called, simply, Influence.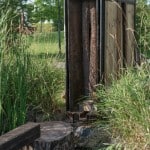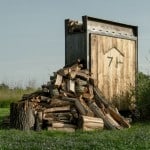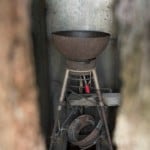 Carson Tarnasky was awarded one of 18 competitive residential summer internships at the esteemed Franconia Sculpture Park in east central Minnesota. Selected on the basis of his portfolio (and not a specific proposal), Tarnasky allowed the concept to evolve 'under the blazing sun' while working with the materials, interacting with his fellow interns, and putting in volunteer hours at the facility. "It was a big challenge," says Tarnasky. "I knew it was going to be hard, but I didn't know it was going to be as hard as it actually was to bring the work to a level of completion with the quality I wanted. I learned a lot by going through the experience of having an idea and making it real. In Design, planning is really emphasized. I think I kind of broke away from that and found faith in the process of making."
Installed for one year, Influence seems part of the landscape, perhaps the remnants of an old shed, or homestead.
"It's really rewarding," says Tarnasky. "Seeing people, children, coming up to it and trying to interpret it. Just being curious about it. The experience made me value art as a more tangible career. Something valuable to society."