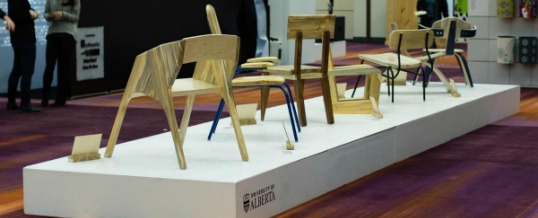 U of A Designers' Blue Denim Pine Chairs
Over the past
10 years, students from the University of Alberta's Industrial Design program have attended the Interior Design Show (IDS) in Toronto for their educational and professional development. As a part of this enhanced learning and out-of-classroom activity, not only do students design, build and transport their own designs to Toronto, they construct a cohesive exhibit and directly engage with over 30,000 consumers and industry professionals over a three day period.
In late January 2014, the Department of Art & Design sent 20 designers training in industrial as well as visual communication design to IDS14. One of the primary goals of our trip was to promote Beetle Kill Pine as a viable resource for design and manufacturing as well as raising awareness about the crisis.
Beetle Kill Pine wood comes from trees that have been killed by the Mountain Pine Beetle. The Mountain Pine Beetle kills pine trees by introducing a blue-stain fungi when attacking the tree and its larvae feed in the phloem of the tree. The action of blue-stain fungi and larval feeding can kill the tree within one month of the attack. The Mountain Pine Beetle is a serious threat to Western Canada's forests, with 6 million hectares of trees at risk.
However, once the wood dies, it is still a viable resource that can be used once kiln dried. The blue funghi leaves a beautiful blue stain on the wood, and it has adopted the name "blue de
nim pine." The wood is sturdy enough for construction and even furniture, which we decided to try.
Using Beetle Kill Pine is also sustainable because it is a dead resource that would otherwise be burnt down. There is so much of this kind of pine that they are forced to burn it. With our project, we aimed to show how the wood can be used in a positive way.
We did so by working with the wood to create a suite of eight chairs to display to members of the design industry that are always looking for new materials and opportunities at trade shows like this. While we know that this is no solution to the larger problem and merely a drop in the ocean, we would encourage others to get involved with the material and hopefully create a domino effect.
~ Text by Jillian Richards. Photographs by Max Hurd.
Jillian Richards
Jillian is a fourth year student studying Visual Communication and Industrial Design at the University of Alberta. She's a font nerd, crazy cat lady and soon-to-be graduate that enjoys making things that delight and fascinate.
Website: www.jillianrichards.com
Twitter: @jillmrichards
Instagram: @jillymarierichards
Previous articleDesigning Blood WeddingNext article
Aaron Veldstra's Experiments in Artistic Hydrology