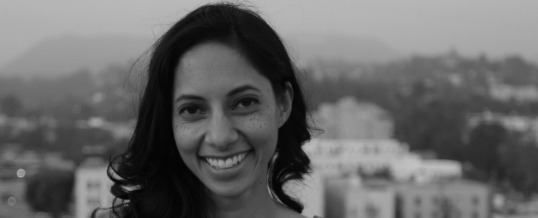 Film Composer
For film composer and University of Alberta arts alumna Amritha Vaz ('97 BA, '02 LLB), the journey from Edmonton to Hollywood has been like an epic, silver screen score of its own.
It began on the violin, with Vaz as a promising B Mus student at the U of A in the early '90s. But when tendinitis set in painfully after her first year of study, Vaz jetted off to India hoping to give her overworked arm a break.
She says her experience abroad in India "is a perfect example of how you don't necessarily plan for how things are going to work out for you in life." It completely changed how she thought of music and her role as a performer.
All the music she'd been exposed to up to that point in her life was music that had already been composed.
"As someone aspiring to become a professional violinist, you have this reverence for composers like Brahms, that you could never just sit down and write notes because that is just such a completely different skill and mindset. That was something you could never encroach on."
But in India, Vaz not only studied classical Indian compositions; she was also encouraged to improvise. And through the process of improvisation, she began to step away from the idea that she could only perform set pieces, realizing much to her delight that she could, in fact, create music of her own.
Vaz returned to the U of A, head over heels in love with classical Indian music but even more discouraged about her prospects as a professional musician.
"If I thought making it in the world of classical violin was going to be tough, it seemed even more daunting to try to take on classical Indian music and try to make it in that world…This is when I thought, I'm never going to do music again. It's over. My idea of performing is over."
At that point, Vaz cued up her other passion: social justice.
Her undergraduate degree in political science from the University of Alberta remains Vaz's favourite degree, even after going on to graduate studies in International Studies at the University of Guelph, coming back to the U of A to do a law degree, and completing further graduate studies in the UK on international conflict resolution.
She admits to jamming with some pop rock bands in Edmonton during her U of A law school days, "maybe unwittingly developing my abilities to create and compose," she chuckles, but explains, "My mind was still firmly set on a law career with the United Nations."
She eagerly took on international development work in Sierra Leone and South Africa, only to become cynical about her bureaucratic role there.
"I saw some theatre groups making a great deal more progress with AIDS prevention than the more conventional policy-makers. I saw these creative people making more of an impact through their art than the traditional bureaucratic systems."
She returned to Canada, hoping to put down some roots in Vancouver, but even with an impressive international resume in hand, the law job market she faced in 2001 was fiercely competitive. When a friend suggested she get involved with creating the music for a small, independent film project, a chord was struck. She became intrigued with going back to music and trying to make an impact on the world in a different way, through film and story.
Film composer and University of Alberta alumna Amritha Vaz at the computer. Photo by Max Topplin.
"It all seemed very lofty and so out there," she laughs, recounting how she didn't know a thing about using computer software to compose music, but how a past part-time job at the University of Alberta technology help-desk made the learning curve less intimidating.
After co-scoring a CBC documentary about Hungarian refugees with Canadian composer Tim McCauley, Vaz met another Canadian composer, Mychael Danna, and was invited to move to Los Angeles to begin working with the Oscar and Golden Globe winner (Life of Pi) and Emmy award winner (World Without End) as his assistant.
Vaz's collaborations with Danna now span 11 feature films and two television shows, including the Oscar-nominated score for The Imaginarium of Dr. Parnassus, Marc Webb's (500) Days of Summer, Cannes winner Adoration and The Time Traveler's Wife
For the most part, her work as a film composer begins at the top of the post-production phase, when the script has already been written, the actors have already had a go on-set and put their vision into it, the lighting is done, and the moving pictures have already been captured.
Amritha Vaz in the studio.
"By the time the film comes to me, probably the most limits are being placed on it. Up until then, there's all these great ideas about what it should look like, but now all of that has been filtered through and we've come out the other side. Maybe they didn't get all the shots they needed. Or it didn't quite look the way they hoped. Sometimes your job as a composer is to be someone to help scenes along."
Vaz says what directors seek in a good film composer is flexibility and openness along with artistic and technical capability, and she's found great artistic freedom by not being pinned down by any one label or style.
"Every time I sit down to work on a new project, I'm excited by the opportunity to explore and discover the relationship of music, emotions and narrative at play. I try to write music that pushes the narrative and best serves the film," Vaz says. "As film composers, we don't really have a style as much as an approach. So while I have written some scores that are exclusively electronic and others that are mostly live musicians, in many different genres like classical, world music or quirky indie pop, what I write isn't my style necessarily; it just depends on what is needed.
You have to become an expert in every style, except your own…and you always go on a journey whenever you start on a composition."
Black and white feature image credit: Photo by Max Topplin
Discover Amritha Vaz
IMBd
Soundcloud
@battlegirl on Twitter
The Educated Reel:
Film composer and U of A alumna Amritha Vaz ('97 BA, '02 LLB) will be speaking at a University of Alberta Alumni event, The Educated Reel: Pomegranates and Myrrh (Al Mor wa Al Rumman), Thursday, March 27, 2014, 7 p.m. to 10 p.m. at Metro Cinema at the Garneau (8712 109 Street, Edmonton). She will share her experiences of composing the music for this film and working in the film industry.
$6 in advance / register here
$8 for students / seniors at the door
$10 adults at the door
Metro will honour all passes / member entitlements.
About Pomegranates and Myrrh:
Pomegranates and Myrrh (Al Mor wa al Rumman) Official Trailer from Amr Abdelhadi on Vimeo
Previous articleThink-TankNext article
Blood Wedding: from design concept to stage product