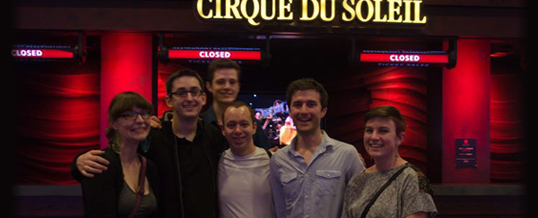 BFA Technical Theatre Production class tours Cirque du Soleil
This past weekend, the graduating BFA Technical Theatre  Production class took a trip to Las Vegas, Nevada to tour and attend Cirque du Soleil productions, as an opportunity to see world-class technical elements at work.
The six of us – Joel Adria, Laura Campbell, Devin Lavigne, Finn McConnell, Jonathan Reid, and Audra Stevenson, are a tight-knit group who has attended the same classes and worked on
productions together for the past four years. We work on the technical aspects of almost every Media Room and Studio Theatre production, from lighting and sound to wardrobe and paint. We initially wanted to plan a holiday graduation trip, but decided it would be even better if we could apply the trip to our studies from the past four years.
We applied for and received The Green and Gold Student Leadership and Professional Development Grant, which covered the travel expenses for the entire group.
Thanks to former Cirque du Soleil employee and UAlberta Production Manager Gerry van Hezewyk, we made contact with Kim Scott, Director of Show Support in Las Vegas, who graciously offered backstage tours of the major productions in Las Vegas.
In four action-packed days in Las Vegas, we saw O, Ka, and Love, with in-depth backstage tours of each, plus a tour of the newest Cirque show in Vegas, Zarkana. We spent close to three hours backstage at each theatre, where Cirque staff members welcomed us as if we were their own.
O features a world-renowned pool that converts into a stage, combined with high-flying acts and incredible fire effects. Highlights from our tour included a look underneath the massive pool and custom-built stage lifts, and a great chat with the Head of Wardrobe, who shared with us the evolution of costumes used in the chlorinated water. The latter was a great industry application of the knowledge we gained in our Costume Construction course we took last semester.
Ka is one of Cirque's biggest shows, incorporating more than 200 axes of computer-controlled automation. In large productions, winches and hydraulics control the movement of set pieces and performers onstage, something we do not always get the chance to experiment with in a university setting. Having the opportunity to experience the largest hydraulic cylinder on the planet lift the stage of the theatre vertically and spin 360 degrees was positively jaw dropping.
Love is a unique celebration of The Beatles' music, and naturally wowed us with its monster sound system. With more than 6000 speakers in the theatre, we were surprised to learn that the Head of Sound for Love chose Ableton Live for the playback of $400 million worth of Beatles recordings. The University of Alberta uses the same software back home in the Department of Drama. We studied every detail of the sound system, and also learned about the 30+ projectors used for video content on the show.
Overall, the trip was packed with mind-blowing glimpses at how full-scale productions incorporate technical elements into their shows. We got an excellent sense of how Cirque du Soleil supports its family of employees as they recreate magical experiences 700 times a year at every show. We took home some great lessons on creating world-leading productions, and most importantly had the chance to think and dream big, as we begin our careers in technical production.
Written by Joel Adria, BFA 2013

If you are interested in what it takes to become a Theatre Tech and the work that goes on behind-the-scenes check out the University of Alberta Department of Drama
APR
  Related Posts
Blood Wedding: from design concept to stage product
The Coming Out Monologues