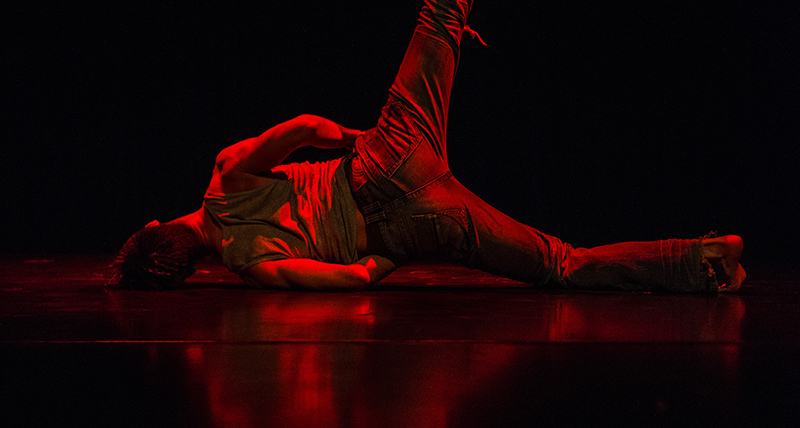 Q & A with Richard Lee ('08 BFA Acting)
Curious Arts had a chance to speak with Richard Lee about The Shallows his solo piece performed at Good Women Dance Collective's Convergence 2013.  Convergence 2013 runs from December 5 to 7, 8 p.m. at L'Uni Theatre (8627 91 Street, Edmonton)
Richard Lee. Photo by Tim Nguyen, courtesy Dancers' Studio West
Quoted from Good Women Dance Collective
"Good Women Dance Collective returns with the third annual independent production of Convergence. A showcase of inspiring, athletic and thoughtful contemporary dance, Convergence highlights works created and performed by Edmonton's emerging dance artists. This year's lineup features the premiere of three new works including Withheld by Alida Nyquist-Shultz, Being Here and Not There by Bridget Jessome, and The Shallows by Richard Lee.
Richard Lee's The Shallows is a solo dance work inspired by two very different but intersecting subjects: neuroplasticity, the brain's ability to create new synaptic pathways; and the tradition of Songlines, songs passed from generation to generation in Australian Aboriginal culture used to navigate sacred pathways across Australia. From this intersection emerges the portrait of a man haunted by loss finding his way home."
When did you graduate?
I graduated from the University of Alberta's BFA Acting program in 2008.
Tell us a bit about your journey from the UAlberta BFA Acting program to working as a dancer and performing a solo contemporary dance piece with Convergence 2013.
Prior to theatre school I had trained in martial arts throughout my teens, so it was no surprise to me that I loved all of the movement training in the BFA, especially stage combat and Linda Rubin's modern classes. After graduating, I started taking drop-in classes in contemporary dance between acting gigs. Eventually, some of the artists teaching those classes (such as Ainsley Hillyard of the Good Women Dance Collective and Gerry Morita of Mile Zero Dance)  took notice and started hiring me for some of my first dance gigs.
Richard Lee. Photo by Tim Nguyen, courtesy Dancers' Studio West
It's been a humbling and exciting path: since male dancers are a somewhat rare commodity in the dance scene in Alberta, I've been lucky enough to pick up a decent amount of professional work. However, I'm often dancing alongside performers with 10 plus years of dance training on me even though we're the same age, and so the pressure to keep up and keep learning is omnipresent. I've trained with EDAM in Vancouver, Peggy Baker Dance Projects, Heidi Bunting, Leviathan Studios in B.C, and I still try to go to Good Women Company classes three times a week. Like so many disciplines, the deeper you get into it, the more you see how much there is to learn.
I've danced in two Good Women pieces before (This Displace by Ainsley Hillyard, and Withheld by Alida Nyquist Schultz). And now I'm lucky enough to be presenting my own choreography, The Shallows, for Good Women's Convergence program December 5 to 7th.
You first presented The Shallows at Nextfest earlier this year.  Has the piece evolved or changed since that debut?
The Shallows has evolved in a few ways for me. After Nextfest, for scheduling reasons, was unable to keep working with an accompanist and so naturally my relationship with the music has changed– I do more accapella singing. It's also made me focus more on the absence/grieving  theme that a lot viewers picked up on at Nextfest. Since reworking the piece for Dancers Studio West in September and for Convergence, the piece has also become even more athletic.
What lessons did you learn in the BFA Acting program that continue to nurture your artistic process and work today?
The BFA Acting program created a solid base for me as a performer. Not only did I get a lot of instruction on the nuts and bolts of acting – text, scene work, voice work, movement – I also learned a lot about the discipline of being an intelligent performer. An intelligent performer – whether an actor, dancer, musician, what have you – does more than follow directions, memorize what needs to be memorized. They mindfully contribute their own vision of their role; they gauge the director/choreographer's way of working, and how to best work within the room. They know how to play nice; and they know how to challenge without being dangerous. They know how to take a note. They show up to rehearsal on time, homework done, ready to play, ready to wrestle.
In short, the BFA taught me how to be a professional.
Do you remember your audition for the BFA Acting program? Tell us about that time.
I auditioned for the BFA when I was 19 years old, in my second year of the BA Drama program at the U of A. My Shakespeare – Benedict from Much Ado – was alright, whatever. But I was absolutely in love with my modern monologue, Edmond from Long Day's Journey into Night – his passage about sitting in the crow's nest of a ship, connecting with the sea, with death. In retrospect, I was maybe a bit too in love with the beauty of it – I remember that Sandy Nicholls coached me out of a lot 'poetry-speaking' at my call-back. Still that passion obviously worked for me in some sort of way – I got in, didn't I?
What were some of your best experiences during your BFA Acting degree?
– The final movement improv we did for Linda Rubin's class. It was an open class/performance held in the Media Room, open to the public. At that time, it was the most powerful and vulnerable I'd ever felt onstage.
– Clown in my final year with Mike Kennard. Kennard is such an articulate, passionate, and no-bull teacher. Some clown explorations found me scream-crying/snotting into my mouth one second, ab-paralysis-laughing the next.
Please complete the following sentence: "The most unexpected way my theatre and acting education has benefited me is…"
…getting to connect with people I never would have expected to even meet. I've gone to tiny towns across Alberta with Theatre for Young Audience tours; danced in a piece choreographed by an Australian with dancers from Australia, France, Montreal, and London; taken part in smudging ceremonies with a Blackfoot choreographer before every performance of his work; been in a b-boy circle with a Maori dancer who vogued and did the Haka at the same time; portrayed a street kid living in Calgary and met him immediately after the performance. It is such an incredible gift to meet people from so many different cultures and walks of life.
What do you think is the value of an Arts, or specifically a Fine Arts degree?
An Arts degree can open up your mind and world in so many ways you didn't think possible. You don't just get a new set of skills; you get a new set of lenses on the world. And when you get new ways of seeing the world, you also see new options, ways of behaving, acting, being.
Why, as a performing artist, have you made Edmonton your home? What is it about the Edmonton arts scene that keeps you here?
Since graduating, I've worked mostly in Edmonton, some gigs in Calgary, and a little bit of out of province touring. I suppose I keep coming back because it still feels like home; I was born and raised here. I love the arts scene and its people, and I keep getting work here.
What/who inspires you?
Life sciences like biology, psychology, and kinesiology are always fascinating to me. A good storyteller or comedian like Louis CK. My Dad. My artistic colleagues in Edmonton. The 605 Collective from Vancouver. Wen Wei Dance. Crystal Pite
Who do you follow on Twitter that you think more people should be following?
A bear @A_single_bear. Tweets written from the point of view of a bear. Most of the tweets end with "I am a bear." They're hilariously inane. Perfect for twitter.
What is a skill or talent you wish you were better at?
Rapping/freestyling.
What are your favourite karaoke songs?
I Believe in a Thing Called Love, The Darkness. I can consistently hit all of the screaming falsetto notes, even if I've had a few. It's my standby.
and
Scenes from an Italian Restaurant, Billy Joel, because I love Billy Joel, and because I think it's funny to sing a seven and half minute song with a two minute instrumental interlude at karaoke.
~ By Joanna Manchur
Joanna is the Fine Arts Recruitment Coordinator for the Faculty of Arts. With a BA Honors Drama degree from the University of Alberta she's definitely familiar with the Drama department, and is learning more and more about the departments of Art & Design and Music.  This knowledge and experience makes her a great resource for students considering taking one of the many degree programs offered by our three Fine Arts Departments.
Richard Lee. Photo by Tim Nguyen, courtesy Dancers' Studio West
Richard Lee is an Alberta-based performer-creator who works in theatre and contemporary dance. He has a BFA in Acting from the University of Alberta, and is a recent recipient of the Enbridge Emerging Artist Award.
As a dancer, he has worked for the Brian Webb Dance Company, the Good Women Dance Collective, Mile Zero Dance, Dancers' Studio West, and the Untitled Collective. In 2012, he was fortunate enough to tour across Canada with Alberta Aboriginal Arts' They Shoot Buffalo Don't They? for Dancing on the Edge in Vancouver, the Banff Centre, and the Prismatic Festival in Halifax. His own choreography has been presented at Dancers' Studio West, The Expanse Festival, Mile Zero Dance's Salon Series, The Nextfest Arts Company, Sage Theatre's Ignite Festival, Rapid Fire Theatre's Improvoganza, and Winnipeg and Calgary Fringes.
As an actor he has worked for the Banff Centre, Northern Light Theatre, Concrete Theatre, The Canadian Centre for Theatre Creation, and The Alberta Workers' Health Centre. He is also the co-writer of two full length plays: 8-Bit with Mark Ikeda for Winnipeg and Calgary Fringes; and The Antyssey, with Joel Crichton, currently in development for Concrete Theatre.
Upcoming work includes acting in the world premiere of Linda Griffiths' Games at Alberta Theatre Projects, and in Jason Chinn's Murderers Confess at Christmastime for The Serial Collective/Roxy Performance Series.
Follow Richard Lee on Twitter: @ManDance_AB
Good Women Dance Collective's Convergence 2013 Runs from December 5 – 7, 2013 at 8pm. Matinee performance at 2pm on Saturday December 7th. Performances are held at L'Uni Theatre. Tickets $20 General | $15 Student | $10 CADA Member.
Previous articleCharles Pachter: National Symbols and CelebritiesNext article
Three Sisters: A Theatre Family