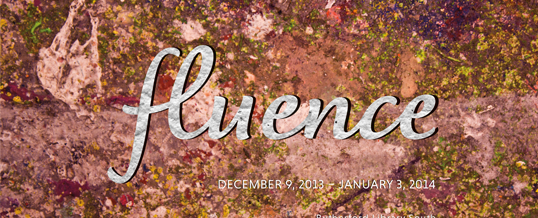 Artists and historians talk about confluence and influence with fluency
A collaborative show between UAlberta Art & Design visual art and art history students. Presented by VASA, The Undergraduate Research Initiative and Rutherford Library
Fluence is showing until January 3, 2014 in the atrium of Rutherford Library South at the University of Alberta.
I had a chance to ask a few of the students participating in Fluence about what this exhibit is all about.
~TJ
Emmanuel Osahor
My Name is Emmanuel Osahor and I am in my 4th year of the BFA Art and Design degree with a focus on Painting and Printmaking. I am an international student who moved here from Nigeria to go to university and this has been a terrific experience because I get to learn about a whole new culture and see how diverse artistic practice can be across the world. I am currently the vice-president external for VASA(Visual Arts Students Association) and one of my interests is connecting the University community with the wider, Edmonton community through the artistic practice that is going on in the UofA's Visual Arts department.
Fluence began out of the desire to collaborate more with art history students who are in the same department as we are. I have a few art history friends who have graduated and haven't known how to continue with their interests in art because their degree had just been purely academic and they were not really engaged with contemporary art practice and could not see its relationships with historic art.
Things That Bind Us – Emmanuel Osahor
Also, I'm about to graduate and people keep saying "in order to have a solid career, you need to leave Edmonton. Edmonton doesn't have a good arts scene." I think that's a big lie. Anyone who stays in Edmonton in the summer and visits the Fringe Festival or Nextfest or The Works, will see how diverse and challenging the art scene here is. The only thing I feel we could improve on is engaging in more critical discourse about the art we are making and collaborating more with the critics, curators and historians. Because of this, I contacted Micheal May (UAlberta Librarian) in search of a venue for the show and for ideas on how to push forward. He suggested mailing the head of Honours undergraduate art history, which i did. He responded by sending me a list of fourth year art history students whom I emailed asking if they would be interested in a collaboration. Five of them got back to me. Together we came up with the idea of titling the show Fluence, which was the connecting word (or half word) in "confluence", "influence", and "fluency".
These three themes were themes the art historians were each interested in. Micheal took "Confluence": how ideas merge to inform an artists practice. Brittany – "Influence": the relationship artists have to past experiences and how that informs their work. Julie-Ann – "Fluency": the sense of narrative that artists aspire to give their work in order to convey an idea or story to viewers.
Fluence was the umbrella theme that focused on the ideas and processes that inform artistic practice and discourse. that was what we wanted to showcase. How is art made and how is art discussed. the three themes that developed under Fluence were in line with what each art historian was interested in in their personal research.
There are 23 students involved: 20 visual arts students and 3 HADVC (History of art, design and visual culture) students.  All the students in the show are either in the fourth or fifth year at university and they will all be graduating this spring or next.
The poster was designed by Charlie Poon (B Des '13). It is a photograph of a a section of the paint splattered floor of the painting studio. Charlie was interested in the history of art making at the U of A and the legacy that has been left behind by many artists and the legacy we are leaving behind. The painting studio is characterized by numerous colorful paint splatters on the floor. Some of the splatters are a day old, and some are 20 years old, one cannot tell the difference. What is constant however is that artistic practice still goes on, and students keep pushing the boundaries of what it is to be an art student or art history student. The font used is very fluid and looks almost hand-written. This was a homage to the history of critical writing that goes alongside artistic creation. These two processes feed each other.
We hope viewers will leave Fluence with a new understanding of what it means to be engaged with art. The essays and paintings are only 50 percent of the show. The viewer brings the other 50. Through the essays and work, we hope to invite viewers to see the thought process behind making art and we hope what they see will be a springboard from which they let their own experiences and influences take over in their experience of the work.
Art making is a very personal process but it is also a conversation. It is a conversation between artist/writer, the work(art piece or essay) and the viewer. We do not want to make work in isolation, we want to make work that impacts our community by representing our shared lives, stories and ideas.
Tiffany Robertson
Falling – By Tiffany Robertson.
My name is Tiffany Robertson and I am in my fourth year of my bachelor of fine arts degree in art and design.
I jumped aboard this project because it was a chance to make an opportunity for ourselves that didn't rely on the university entirely. It is filling some holes that us artists and art historians are thinking about nearing the end of our degrees such as what to do to start off our careers, finding and making ways to work with other people that also need colleagues to work with, and to build a community of our own as the next generation of professionals in the arts.
I thought it was a wonderful idea to bring the art historians and the artists together….We need each other to work with in the future and help each other out. It is also a wonderful initiative that is small first step in demonstrating our personal commitment  to the field.
Our hope is that we will engage viewers with both the writing and art and hope to inform them with some of what we are enthused about and passionate about in a way that is a bit fresher or more immediate than having to work through the formalities of a course. It is like an experiment in a sense, in that we are more raw with everything but also professional and demonstrating commitment to our work. We are hoping for viewer feedback and thoughts about this to help us see where we need to go to give back even more to the community in Edmonton.
Julie-Ann Mercer
I'm in my fourth year studying the History of Art, Design and Visual Culture.
Fluence is a collaboration between artists and art historians. It combines their interest in telling stories. I was responsible for writing about the theme Fluency. I composed short descriptions about each artwork's narrative along with an essay about the theme. I hope the different forms of dialogue we present are engaging for viewers – whether through the art, writing, or both.
Marie Winters
mariewinters.weebly.com
I am a fourth year BFA major specializing in painting.
I hope that the show will be a wonderfully sonderous experience for the viewers. The realization that everyone is living their individual life just as complicated as their own and the artwork within the show is a reflection of that. Personally, I  work largely with the concept of rumination and collaging memories together to convey a traumatic experience.
I hope that viewers will see how deeply entwined personal narrative becomes attached to the work. Although sometimes this is a negative aspect of art production, I think it is imperative to creating authentic art. It was quite challenging for my historian, Julie-Ann to separate the personal story and what she truly saw when discussing my work and the work of fellow colleges. But I find, especially the narrative section, to contain such an emotional charged work that it would be almost impossible not to relate on a humanistic level and I hope others feel the same way.
I hope that the viewers see the collaboration between artists and how we feed off of each other. Fluence is a particularly interesting group show because it was not pulled together from people who have never met but comprised of artists who have helped all of us grow in our artistic journey (corny!).
These emotional connections is what Fluence is about, and I would even argue is what producing artwork should be about.
Susanna Barlow
My involvement in this show was unlike any other I have been in. I was in correspondence through email, and studio visits with a fellow student in the Art History Honours program for a couple weeks. We spoke about my process and the content of my work. The Art Historian's questions were helpful for me to think about. He presented me with a different set of questions than what I am used to encountering in my program, because he comes from a different discipline and sphere of influence within the study of Fine Art.
I would hope that viewers are challenged in some way. I hope they are prompted to re-consider their relationship to the Earth, the Other, Art, or mundane moments of life.
Quoted from the show write-up:
Beginning a final year of an undergraduate arts degree stirs up many different emotions, expectations, and questions.  Students devote three or more years of their lives to intense study and focus; as a result, many other concerns in their lives take a back seat. Those students tradition from their programs immediately find themselves engaged in vocations and callings that speak to their passions.  But, where do other students take their first steps in building a new life outside of school and finding a career doing something they love?
The 2013/14 school year began with these questions, prompted by the looming prospects of graduation and independence.  Considering this, we have noticed a void on our otherwise full and challenging educational careers:  a previously unbridged gap between the students in the Visual Arts and the History of Art, Design and Visual Culture (HADVC) programs in the Faculty of Art and Design, here at the University of Alberta.  We decided this disconnect needed to be rectified, and so the idea for Fluence was conceived.
Emerging artists need to build a professional reputation, supported by quality work that engages both with people and contemporary issues. Likewise, emerging art historians must engage with the local, bourgeoning contemporary artistic community; find opportunities to continue their research; and seek vehicles through which they can contribute to the critical discourse on contemporary art.
The Visual Arts Students Association (VASA) has partnered with the Rutherford Library – with particular gratitude to Michael May – to provide the space and other resources necessary to host Fluence in the atrium of Rutherford South. Brittany Snellen, Julie-Ann Mercer, and Michael Woolley – fourth year HADVC majors – have collaborated with the artists in the final year of their BFA degrees to curate an exhibition of their selected works and develop an accompanying catalogue featuring essays relating to the themes of the show.
Fluence aims to showcase the diversity of the artistic practice of current University of Alberta students. The essays and artworks in this exhibition examine the experiences that inform artistic production and discourse, and reflect the impact these practices hope to have on today's society. The ideas discussed establish grounds for our future practices as well as begin a tradition of future collaboration between students in these divisions. It is our hope that Fluence will engage the public, inviting them into conversations with the art pieces guided by the critical writing in essays, and ignite positive thought and further engagement in the artistic practice of this city.
Previous articleMusic Alumni completes residency at The Banff CentreNext article
The Book as Weapon of Change