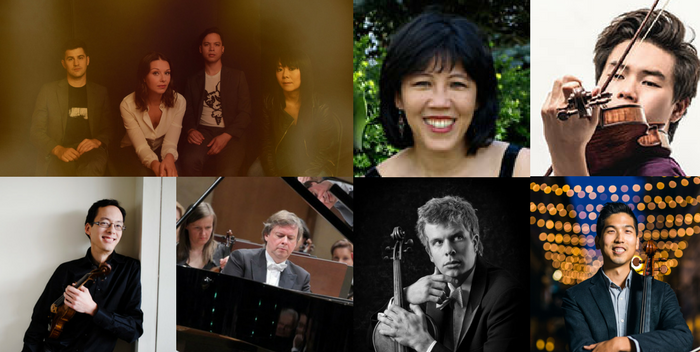 The Summer Solstice Music Festival, hosted by the Edmonton Chamber Music Society, was created as a response to the absence of classical music festivals throughout the summer. This festival wanted to offer something more offbeat than traditional classical music events so they could acquire a more diverse audience. In the past they have brought together both well-known international musicians as well as young musicians to participate in the festival.
(Left to Right) – Brian Yoon, Marcin Swoboda and Timothy Chooi.
This year Krzysztof Jablonski, a fantastic Polish-Canadian pianist, performed Wednesday evening at Convocation Hall. Several of the pieces he played were what you would call "finger busters!" His repertoire was impressive as pieces this challenging are not usually performed in a single concert.
Polish-Canadian pianist Krzysztof Jablonski
Another highlight from the festival were the performances by the Attacca Quartet. Their first concert was extremely unique taking place at the Yellowhead Brewery! People had the luxury of enjoying food and drinks during the performance in an intimate concert setting, while listening to an unconventional assortment of songs. Their second performance was a spectacular traditional chamber music concert at Convocation Hall.
The Attacca Quartet
Musicians as young as 12 performed pre-concerts prior to some of the mainstage events. The Edmonton Chamber Music Society is passionate about including these younger musicians in the festival to showcase up and coming talents. Also, it provides these young performers with the experience of playing for a larger audience.
Two of our U of A music professors performed in last weekend's festival. Dr. Patricia Tao and Robert Uchida played piano and violin, respectively, in the final performance "Summer Passion." Dr. Tao, who has been involved with the festival since it began, absolutely adores bringing together amazing musicians to perform for the community. However, her favorite part of being involved in the Summer Solstice Music Festival is getting the opportunity to perform and pass what she learns from the experience on to her students.
Dr. Patricia Tao and Robert Uchida
Previous articleHow art affects the different parts of the brainNext article
Kathleen de Caen: Working in the World of Music