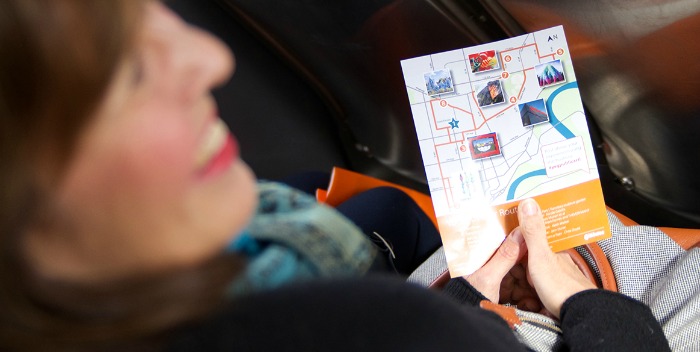 It takes 50 people, 19 artworks, five tour guides, three hours, two buses, two performers, and one artist studio to create a fabulous Public Art Bus Tour.
The Cityscapes and Parkscapes Bus Tour on October 3 was a huge success despite less than balmy conditions. Public Art Director Katherine Kerr and Public Art Conservator David Turnbull each guided a busload of art enthusiasts to diverse locations around Edmonton's core and north side.
Starting from the Prince of Wales Armouries Heritage Centre, the two Edmonton Transit Service buses journeyed to Capital Boulevard – formerly known as 108 street in Downtown Edmonton. The street forms a "ceremonial link" that runs from MacEwan University on 104 avenue to the Alberta Legislature. Along the pedestrian friendly road, are light standards adorned with hand-crafted blown glass finials created by Edmonton's Keith Walker. Created over a two year period in his North side studio, more than 250 components were assembled into 86 finials. Students from Highlands Junior High School assisted with the final assembly and packaging of the artworks. Public Art Officer Dawn Saunders-Dahl shared fun facts about the art through the EAC's trusty megaphone.
As the bus traveled to the newly opened MacEwan LRT Station, the passengers enjoyed, and participated in, a live performance by Zimbabwean musician Chakanaka Zinyemba who performed traditional Shona folksongs and original compositions on the mbira
The stop at MacEwan LRT Station encompassed a visit to Still Life by Canadian artist collective Studio F Minus. Public Art Officer Robert Harpin and Conservator David Turnbull spoke about conservation challenges at the interactive sculpture, while many enjoyed taking pictures with the whimsical fruit bowl. A discussion about the student-designed bike racks followed. Created by emerging artists and designers from NAIT and MacEwan University, the bike racks are fully functional while offering a note of whimsy to early morning commutes and classes. Beaver, designed by Morgan Wellborn and Chunyu Qi was a crowd pleaser.
Traveling to Keith Walker's Blow in the Dark glass studio in the Alberta Avenue / Parkdale area, the bus drove by Soleil de Nuit by Laurent Grasso at Commonwealth Community Recreation Centre. Details of the planned public art for Rogers Place Arena were also shared, and the bus was excited to hear how public art in the downtown core is becoming more and more of a presence!
Edmonton Youth Poet Laureate Charlotte Cranston is a current UAlberta Arts student majoring in Sociology.
Youth Poet Laureate Charlotte Cranston serenaded the bus with her love poems that evoke all things Edmonton – bitter winters, gentle springs, hot summers, shopping malls, artists, and…potholes. Luckily there weren't any in evidence as the tourists enjoyed a two block walk to the studio… where Keith introduced everyone to the mysteries of glass blowing.
After demonstrating the intricacies of creating a feather and an embellished tumbler, Keith walked the crowd through his process for creating Transitions, the art glass finials on Capital Boulevard, the challenges of being an independent artist, and posed for pictures. It was tough to leave the warm studio for the blustery autumn day, but Borden Park and its many artworks waited.
The entire public art team including Public Art Officers Andrea Bowes, Dawn Saunders-Dahl, and Robert Harpin, with Public Art Director Katherine Ker and Conservator David Turnbull were on-hand to keep everyone engaged with stories about the art.
Borden Park is home to the Temporary Sculpture Loan Program, a revolving exhibition of sculpture by Edmonton artists. It will change every two years; for the first iteration, artists Peter Hide, Royden Mills,Clay Ellis, and Ken Macklin (whose Hopping John is above) were selected to exhibit. Each is a world-renowned artist and educator who has profoundly influenced Edmonton's visual art community. A new set of sculptures is scheduled to be installed in 2016.
Two major Percent for Art commissions grace Borden Park. In 2014, a multi-year revitalization of the 100 year old green space was completed. Park planners were enthusiastic about the inclusion of quality art and design in the park. Canadian architects gh3 designed a mirror-glass, carousel-inspired pavilion for the park, and Edmonton artist Nicole Galellis was commissioned to create a mural for the interior, cylindrical wall. Her piece, Carousel, evokes Borden Park's playful past as a former fairground, zoo, gathering place, and recreation site through layered abstract imagery. The mural was painted on-site over the course of a month in 2014.
No trip to Borden Park is complete without an opportunity to play with Vaulted Willow. Created by Marc Fornes & THEVERYMANY, the architectural folly is Edmonton's most viral artwork and an art fan favourite. By the numbers, the work is impressive – it is comprised of 721 aluminum stripes, 14,043 connectors (1/4" aluminum rivets) and 60 epoxy concrete anchors. The aluminum (5052 type) is used in three different thicknesses: 1/8" (3mm) stripes, 1/4" (6mm) at the feet, and 1/2" (10mm) for the 24 base plates that are anchored to a concrete pad of 240 cubic feet. It took four days, and a crew of 4 to assemble the prefabricated parts. The result is graceful, organic artwork that sits comfortably within its natural setting. Its construction allows the sun to cast a delicate tracery of shadow and light on the concrete pad, and even on a cloudy day, the vibrant colours invite the viewer to come in and play.
Many thanks to everyone who braved the cold to participate. The tour was a wonderful experience for all – and the Edmonton Arts Council plans to present more! Keep an eye out for more information in 2016.
All images by Doyle C. Marko/DCM Photography
The Edmonton Arts Council is a not for profit society and charitable organization that supports and promotes the arts community in Edmonton through a range of grant programs. The EAC works to increase the profile and involvement of arts and culture in all aspects of our community.
Follow @artsedmonton on Twitter
Like on Facebook
Follow @yegarts on Instagram
The City of Edmonton Public Art Collection is a collection of artworks that the City has acquired in various ways over its history: some may have commemorated a special event, some may have been gifts to the City. Many of the artworks acquired in recent years have been generated by the City's Percent for Art to Provide and Encourage Art in Public Areas Policy.
For more information about Edmonton's Youth Poet Laureate Charlotte Cranston, see the feature article on the UAlberta Sociology Department's website here
Previous articleFull And ByNext article
The Voice of the Whale and Other Creatures