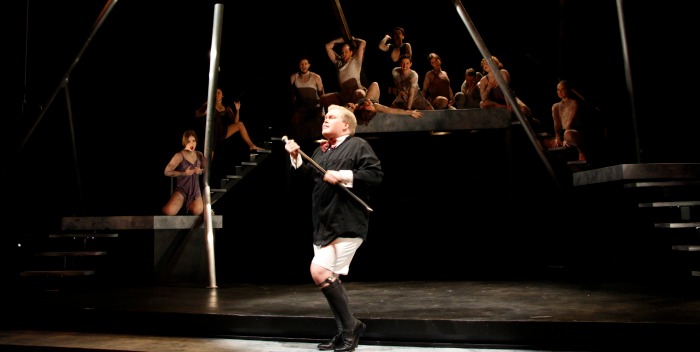 Infamous for providing both seductive entertainment and political commentary in Weimar Germany, the cabaret was a place outside everyday society where people could express themselves more freely and indulge their vulgar fantasies. Naturally, playwright Hannah Moscovitch found it was the perfect way to explore Canada's sexual past in her new play The Kaufman Kabaret (March 24 – April 2, 2016). Read on for reason number 26 in our 50 Reasons to Go See A Play series:
The Kaufman Kabaret is Canadian history, presented in all its obscure, obscene glory.
Corben Kushneryk and Kristen Padayas in The Kaufman Kabaret. Photo by TJ Jans.
Before the mid 1930's in Canada (and even long after), women had several children within short periods of time, resulting in harm to their own bodies and a high mortality rate among the children. Since the use of birth control was forbidden both legally and socially, these women had no choice but to keep having children. The working class population was the most severely affected, with endemic poverty, health problems, birth defects, and malnutrition weakening the population. Society was sick; it needed a cure.
Ensemble of The Kaufman Kabaret. Photo by TJ Jans.
This cure came in the form of A. R. Kaufman and his commitment to legalizing birth control. Thanks to his legal challenge, the sale and distribution of contraceptives became decriminalized starting 1936 (it was not fully legalized until 1969). But while Kaufman has become synonymous with birth control in Canada, his motives behind promoting it so passionately are less often discussed. It is this aspect that Moscovitch is most interested in: exposing Kaufman's real intentions behind creating a Canadian society that would be more fit, able, and pure.
Corben Kushneryk and Jessy Ardern in The Kaufman Kabaret. Photo by Ed Ellis.
Director Kathleen Weiss was particularly drawn to this 'hidden-ness' present throughout the play. She brings everything that is repressed and chastised in society– be it sexuality, poverty, deformity, or sickness, out of the shadows and into the plain, shocking view of the audience. Weiss stays true to the political commitments and entertainment value of cabaret performance, but pushes genre boundaries and expectations. This is particularly evident in MFA designer Hannah Matiachuk's production aesthetic, which goes against the seedy glamour of cabaret and reveals the darker, more dangerous aspects of human desire.
Ensemble of The Kaufman Kabaret. Photo by Ed Ellis.
Through Grotowski-inspired movement and character explorations, Weiss and the actors found new bodily vocabulary to communicate these desires and, very importantly, their repression. In a play that is about birth control and the role of social norms in regulating sex, the actors embrace the violent conflict between power, gender, sexuality, and freedom. The result is an eerie, vulgar, even grotesque, combination of bodily movements and actions designed to invoke feelings of discomfort in the audience.
The Kaufman Kabaret promises to entertain, excite, provoke and perhaps even make you look away.
Presenter: U of A Studio Theatre
Event Title: The Kaufman Kabaret
Dates: Mar. 24 – Apr. 2, 2016 at 7:30 p.m.
Matinee Thursday, Mar. 31  at 12:30 p.m.
No show on Sunday, Mar. 27.
Venue: Timms Centre for the Arts, University of Alberta
Single show tickets: $12 student, $25 adult, $22 senior, available online now at TIX on the Square and at the Timms Centre box office one hour before each performance.
For more details see: https://uofa.ualberta.ca/events/the-kaufman-kabaret
Previous articleQ & A with AGA curator Kristy TrinierNext article
Video: Morgan Grau and Stuart McDougall