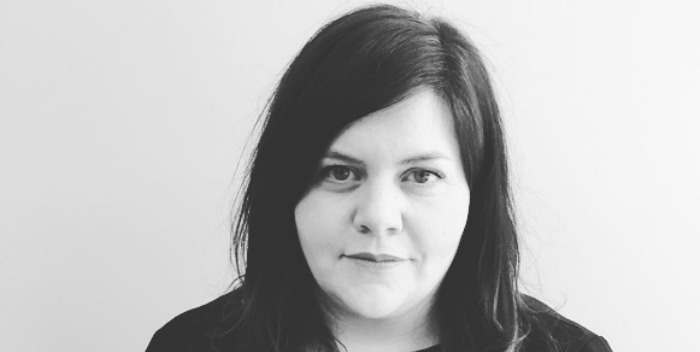 Art Gallery of Alberta curator Kristy Trinier initiates and facilitates a multi-voiced conversation about art that extends well beyond the gallery and into studios and classrooms.
Recently, Trinier  provided a guest critique to Royden Mill's Contemporary Figurative Sculpture class in the U of A's Department of Art & Design. I caught up with Trinier to talk about the AGA's current show, Sean Caulfield: The Flood an exhibition that not only represents the U of A printmaker's most accomplished work to date, but is also a major career milestone for the curator as she navigates her dual roles as artistic collaborator and community connector.
Kristy Trinier in conversation with U of A sculpture student. Photo by TJ Jans.
What is your journey to becoming curator at the AGA?
It began with my own practice as an artist, working in sound art and installation. I trained at the University of Victoria and at the Dutch Art Institute, which gave me a good understanding of practices and discourse both regionally and internationally.
Professionally I began as a grant writer, working for arts organizations like The Banff Centre.
I moved to Edmonton in 2007 for a new role as the Public Art Director at the Edmonton Arts Council, managing the City of Edmonton's Civic Art Collection. These experiences as a culture worker all related to the role I have currently as a curator: understanding how to foster the conditions for an artist to make work, and how communities can connect with an artwork or an artist's practice over time.
What does it mean to be a curator?
Curating means to care for an artwork, but the artworks I encounter and the artists I'm lucky to work with give me rich new insights about my world every day.
It's important for me to be able to be a conduit for any opportunities that are in alignment with the artist's concept and yet make sure that nothing obscures the core of the work's intent.
I've had some excellent mentors for this role across Canada and internationally, but especially Catherine Crowston, the Executive Director and Chief Curator at the AGA.
What are the typical challenges you face mounting exhibitions?
Exhibitions involve a lot of project management and collaboration between the artist and my colleagues at the AGA. An entire team of amazing art preparators, designers and communications staff supports the realization of each exhibition.
Coming from the field of public art, the technical aspects such as ensuring the artwork fits through the door, attaches to the wall properly and the installation process using lifts and equipment are familiar to me, so in the case of curating Sean Caulfield's The Flood, it was about supporting Sean in making the artistic choices that each of these 'problems' brings to the work.
How did Sean Caulfield:The Flood come to fruition?
Sean was exploring some really interesting ideas that had to do with exteriority and what was happening in nature and the environment. I was wondering what that would be like if he was given complete freedom in terms of the scale.
As a curator, you try not to push someone completely into a terrain or medium that isn't in natural alignment with what their trajectory is, but in this case, Sean was very open to the idea and recognized that despite the obvious challenges, the risk of doing the work could give immense benefits: liberating the scope of his compositions and also presenting the wood block carving as a medium in and of itself.
Sean Caulfield: The Flood, shot from the stairs at the AGA by TJ Jans.
Why woodblocks and not the print?
Three years ago, when I was talking with Sean, he was collaborating with other artists including Royden Mills, and they were doing projects on the intersection of sculpture and printmaking. I think that might have been an opening to the way Sean was conceiving these as artworks and the potentiality of wood as a medium; to see printmaking in this new way, essentially separating those parts of the process into autonomous artworks.
It's especially interesting for the general public who may not have a strong awareness of the process of printmaking.
Yes, and the amount of labour that goes into printmaking: the gesture, workmanship and craftsmanship in the carving. The piece took at least two years of solid hard work and a lot of testing. It's neat because of Sean's unique training—he's working with traditional Japanese hand-carving tools. At the end, Sean was up on a boom-lift doing carving. It's not very often in the field of printmaking you'll see someone 20 feet in the air hand carving a woodblock panel!
Why did it take two years?
With large-scale commissions, there are all types of tricky things about the space. The technical part of making a commission of this size meant that Sean had to take the original composition and break it down into individual panels. The challenge is that he wasn't able to see the full work himself until it was actually finished and complete on the wall.
Manning Hall in the Art Gallery of Alberta is a very public place; it's a site for weddings and education classes, corporate events and parties, so it had to be durable. It had to have the relief depth of a mural because it could only stick out a certain distance. It had to accommodate the features of the wall. Sean is amazing to figure out all those challenges so that it doesn't interrupt anything visually.
Detail of The Flood by Sean Caulfield. Photo by TJ Jans.
What does The Flood mean to you personally?
I have a background as an artist so I know that it's hard sometimes to make those big shifts, but when an artist is ready, it's really natural. I had no problems envisioning that he would realize something this amazing. Still, to see it in person is an incredible thing for me too, and the realization of its depth and what it means as a mural. The Flood is a very important work for our community because it demonstrates the potential of what printmaking can be. I was very glad to be a part of it and to proximally learn about Sean's practice. The Flood is one of those major pieces in an artist's career, and I just feel lucky to be part of it too, in some small way.
Feature image of Kristy Trinier supplied by the curator.
Exhibition Title:Sean Caulfield: The Flood
Dates: Until August 14, 2016
Venue: Art Gallery of Alberta (2 Sir Winston Churchill Square, Edmonton)
Hours: Tuesday – Sunday: 11 a.m. – 5 p.m.; Wednesday: 11 a.m.- 9 p.m.; Monday: Closed
Admission: Adults: $12.50. Children 6 and under: Free. Seniors (65+)/Students: $8.50. Family (2 adults + up to 4 minors): $26.50. AGA Members: Free with membership card.
For more details see: http://www.youraga.ca/exhibit/sean-caulfield-the-flood
Upcoming Conversation with the Artist
Sean Caulfield: The Flood
April 10 at 2 p.m.
Art Gallery of Alberta
For more information see: http://www.youraga.ca/sean-caulfield
Previous articleDirector's Notes: The Kaufman KabaretNext article
Reason 26 to Go See A Play: Sex, Lies, and Kabaret