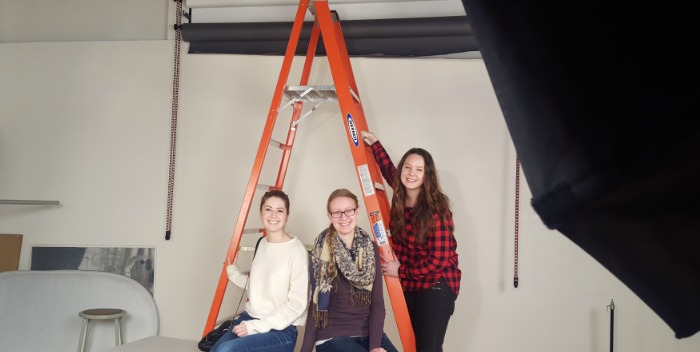 Grad Show Art Auction Friday, Nov. 27, 2015
VASA (Visual Arts Student Association) and the 2016 Design Grad Committee from the Students' Design Association would like to invite you to their annual student art auction this Friday, November 27 at 7 p.m. in the University of Alberta's Telus Centre atrium. I caught up with organizers Agata Garbowska (VASA president), Adaire Beatty (co-chair of the Design Grad Commitee) and Giselle Boehm (Social media lead) to get the scoop on what you need to know to snap up your favourite pieces tonight.
Admiral Purrington VII by Jonathan Tieh.
A one-night-only event featuring one-of-a-kind original student creations
Art will be displayed salon-style, and guests will enjoy hors d'oeuvres, cocktails and live music while perusing the artwork.
More than 350 pieces were submitted and the organizing committee has pared it down to showcase 250 of the most stunning pieces. At least 100 students from all years of the BFA and BDes programs in the Department of Art & Design are volunteering to make it an unforgettable night.
"There will be a huge variety of work on display," says Giselle Boehm, the design student who has been promoting the auction splendidly as @OutburstAuction these past weeks on Instagram and Twitter
Giselle Boehm's "Tiger Nightshock" is one of the pieces up on the auction block at the Outburst Art Auction.
Expect the offerings to be diverse and unique, including everything from original furniture by industrial design students, to large and small scale oil and acrylic paintings, sculpture, custom illustrations and prints from our internationally recognized printmaking studios, photographs and handcrafted ornaments.
Support the BDes and BFA classes of 2016
Profits from the auction fund the Bachelor of Design 2016 and Bachelor of Fine Arts 2016 graduation shows in the FAB Gallery in April, 2016.
"A huge part of the BFA grad show is that we get to publish a printed catalogue containing images of our graduating class's artwork with artist's statements and headshots. Proceeds from this auction go towards paying for the design and printing of this catalogue," explains Agata Garbowska.
Illustration by Adaire Beatty.
Bid High or Buy Now
Guests have the option of taking their chances by placing a silent auction bid at a minimum listed price or snagging the work right off the top at the "buy now" listed price.
"Art will be coming off the walls as people purchase it at the "buy now" price and bids will close at 10:45 p.m. I suggest you arrive right at 7 p.m. for the best selection," says Adaire Beatty.
Plastic Accepted
You can pay for your selections with cash and cheque. A Square will also be there to accept credit card transactions.
Feature photo by Salena Kitteringham: Giselle Boehm, Agata Garbowska and Adaire Beatty inside the Visual Communication Design Studios, FAB.
Event title: Outburst Art Auction
Date: Friday, November 27, 2015
Time: 7 p.m. to 10:45 p.m.
Venue: Telus Centre Atrium (University of Alberta)
Admission: Free.
Previous articleThe Pleasures and Perils of Public ArtNext article
Reason 10/50 to go see a play: Theatre mashes up the literal and metaphorical