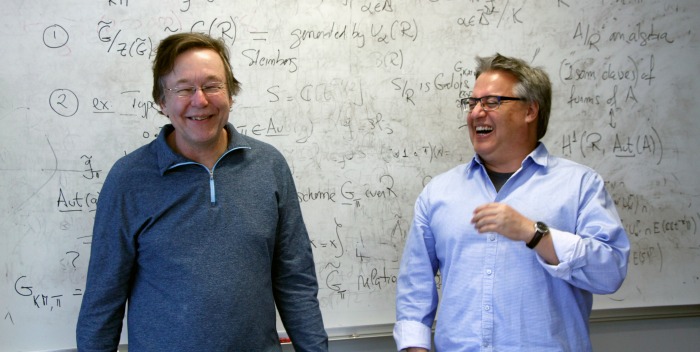 Collaboration with Workshop West Theatre embeds playwright in an unlikely U of A community
Guest post by Jennifer Pascoe
This story was originally published on the University of Alberta's Faculty of Science website
Workshop West Playwrights' Theatre is embedding eight playwrights in distinct Edmonton communities for This Is YEG: New Plays for a Changing City. One of those communities is none other than the University of Alberta's Department of Mathematical and Statistical Sciences. This seemingly unlikely pairing makes perfect sense in the eyes of both the playwright and the subjects in question.
Why math?
"Math fascinates me," says playwright Kenneth T. Williams ('90 BA, '92 MFA Playwriting) who for the next month will have an office in the math department and plans to sit in on discussions, meetings, and seminars with faculty members and students. "I'm a complete outsider. There's obviously a dynamic at play with how mathematicians think about and view the world that we would all think and do if we had the ability. It's like a different language. If there's a different language, there's got to be a different culture. In the short amount of time I'm going to be here, I'm going to get a taste of what that culture is and construct a story out of it. Playwriting is storytelling."
Williams—the first Indigenous person to earn an MFA in playwriting from the U of A—had carte blanche to select his community anywhere in the city. He knew immediately he wanted to embed himself in the university's math department.
It didn't take much convincing on the part of the department to get him here. "We just jumped in," says chair Arturo Pianzola. "This could be an interesting experience for students, researchers, and instructors."
"Math isn't in plays or books or popular culture a lot," says professor Gerda de Vries. "Whether the play is about mathematics or about the people in the department or a combination of both, this is an opportunity to have somebody tell our story."
Pushing past stereotypes
Looking at the portrayals of mathematicians in popular culture—Good Will Hunting, John Nash portrayed by Russell Crowe in A Beautiful Mind, Alan Turing as depicted by Benedict Cumberbatch in The Imitation Game—it's not hard to see why people may have preconceived notions about the real-life scientists who study numbers, quantity, and space.
"Mathematicians are not often understood," says professor Vincent Bouchard. "Mathematics is more like an art. It's hard to explain what we do, and this kind of experience might make mathematicians more acceptable and accessible to the public."
This Is YEG: New Plays for a Changing City will culminate in a public reading in April at La Cité Francophone where professional actors will read the play inspired by the math department alongside seven other plays, inspired by other communities around the city, written by Jason Chinn ('07 BA), Megan Dart, Minister Faust (former U of A English and Film Studies Writer in Residence), Heidi Janz ('93 BA, '95 MA, '03 PhD), Conni Massing ('80 BA, '83 MFA), Nicole Moeller and Cat Walsh.
The project is designed to share the untold stories of underserved and sometimes forgotten communities—including the public transit system, City Hall, the zoo, a funeral home, and the Glenrose rehab facility—that represent both the present and future of Edmonton.
About Kenneth T. Williams
Kenneth T. Williams is a Cree playwright from the George Gordon First Nation in Saskatchewan, and is the first Indigenous person to earn an M.F.A. in playwriting from the University of Alberta. His plays Café Daughter, Gordon Winter, Thunderstick, Bannock Republic, Suicide Notes and Three Little Birds have been professionally produced across Canada. Thunderstick is being developed into a feature film. He splits his time between Edmonton and Saskatoon.
Previous articleRutherford Library: three exhibits in two dimensionsNext article
Trio Voce at the Pinnacle