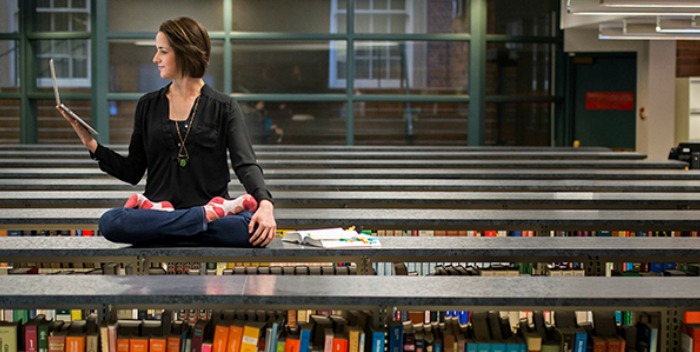 UAlberta Arts alumna talks politics, poetry and passion for Shakespeare
To celebrate the 50th anniversary of the University of Alberta's Department of Drama, the Curious Arts blog is sharing50 Reasons to Go See A Playthroughout the 2015-16 season. Shakespeare, and all the many ways his works live on, is reason number 12/50.
Ahead of U of A Studio Theatre's production of Shakespeare's A Midsummer Night's Dream, we pondered the great bard's enduring relevancy, 425 years after he last put quill to paper. We sat down with a bit of a UAlberta expert on the topic, to chat about it.
"Shakespeare is the past, the present, and the future
it is so far back it is foreign and new again
it is so accurately human, like whoa, who is this guy."

– Blue Knox, We Are All Shakespeare
Blue Knox
Recent Arts grad, Blue Knox (BA '15), focused much of her undergrad research on Shakespeare, but in a context not often explored: Shakespeare and contemporary Canadian political leadership.
"One of the reasons I chose to study Shakespeare and politics is because I got asked all the time what English has to do with Political Science," said Knox, who double majored in those two subjects.  "But I could see the link very clearly in my head when I was debating – whether it was in political science class or English class."
Knox was just getting back from a semester abroad, studying language and international relations in France, when she was selected from 97 applicants for UAlberta's Undergraduate Research Initiative in 2014. The accompanying stipend meant she could pursue a project she'd been dreaming about for a long time – researching Shakespeare and contemporary Canadian political leadership to show the connections between literature and leadership.
"Shakespeare was incredible, like a psychologist and sociologist – he was exceptionally good at relaying human emotion and why people do the things they do, through literature and theatre," she said.
Knox spent the next five months studying Shakespeare's political masterpiece Julius Caesar and building comparisons between Julius Caesar and Brutus to Pierre Elliot Trudeau and Michael Ignatieff, and produced a research paper on the topic titled "Climbing the Ladder to the Clouds: What Contemporary Political Leaders Can Learn From Shakespeare."
Then, with true dramatic flair, she shared that research at the Festival of Undergraduate Research & Creative Activities (FURCA) 2014, in a spoken word performance.
"…if you think Shakespeare sucks,
read into it your own present, not a stranger's past
and if you feel not moved by poetry,
read people, because they are poetry reflected
and if you feel not moved by my words,
read my emotions for my intention was to blur the lines between my politics and my prose
and if you think I cannot be a good leader through Shakespeare
Just watch me."

– Blue Knox, We Are All Shakespeare
Knox says the kind of tensions you feel in a political or literary discussion, are the same – and she hoped her research could build a bridge for others to see that connection more clearly.
"Shakespeare is a great lens to look at contemporary leadership – and times have changed but you can see the same problems, emotionally and rationally, people still work through now," she explains.
Knox says the whole project was a way of looking at how literature and readership will always have a place in politics, and Shakespeare – a place in the pursuit of knowledge.
"I think the amazing thing about Shakespeare is that his work always finds new ways of being relevant," she said. "It's most productive to read his work or watch his work and interpret it through your own perspective and that's what will make it relevant 50 years from now."
Check out the video and full text of "We Are All Shakespeare," the spoken word poem Blue performed for her research presentation on the Work of Arts blog.
For more information and tickets to U of A Studio Theatre's production of A Midsummer Night's Dream (Feb. 4 – 13, 2016) see the show page: https://uofa.ualberta.ca/events/a-midsummer-nights-dream
Feature photo shot in Rutherford library as part of the President's Legacy project. Photos supplied by University of Alberta, Marketing and Communications.
Previous articleColleen Murphy: Travelling with a ClownNext article
Rutherford Library: three exhibits in two dimensions