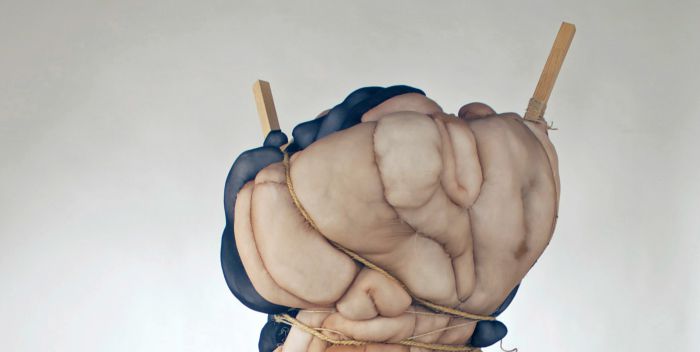 Sculpture alumna the second UAlberta artist in two years to win prestigious award from the International Sculpture Centre
Kasie Campbell ('15 BFA) explores the paradoxical attraction and simultaneous tension between what we think is beautiful and what is grotesque. Campbell's sculptures demand consideration. They are fleshy, sexual, tactile, grotesque, and utterly compelling. No one walks by without a second look. Campbell's work is turning heads and garnering international accolades.
For the second time in two years, a UAlberta student has won the prestigious Outstanding Student Achievement in Contemporary Sculpture award from the International Sculpture Centre (ISC). Kasie Campbell's winning sculpture, entitled Scopophilia, was selected out of 428 art students nominated from 158 universities, colleges and art school programs worldwide. "Kasie won as an undergraduate over graduate students from all of the most famous art programs all over the world," says Royden Mills, Campbell's sculpture instructor. "It's a wonderful, almost unbelievable event!"
Scopophilia is a Greek word meaning 'to derive pleasure from looking', but Campbell is reluctant to impose a narrow reading of her sculptures, inviting and even challenging the viewers to engage with her art. It is this act of looking – observing and being observed, that most interests her.
"Each day we all experience self-consciousness to a certain degree," she says. "I think some people feel really powerful and strong when being leered at, but others retract. Maybe they feel like the very work I make – with all the vulnerabilities and anxieties that surface when we become the object of someone's gaze. Through the pinching and the binding of the sculptures, I hope to magnify that psychological charge and generate a conversation about the thoughts we all have but are often not spoken of."
ISC winning sculpture Scopophilia
Campbell works with nylon, cotton batten, thread, wire, wood, found objects, and second hand fabrics to create her sculptures. Nylon, synonymous with classic female attire, plays a significant role. "Nylons are made to make us feel beautiful – to hide imperfections and to highlight the contours of our legs," she says. "They make us more confident, but at the end of the day when you take those nylons off, you have imprints on your skin. They're constrictive, they're not very comfortable, which ties into my whole idea of the paradoxical attraction and simultaneous tension between what we think is beautiful and what is grotesque."
At eight feet tall, Scopophilia is a looming presence intentionally designed to mimic human scale. Though built of similar materials, it is unlike her other sculptures in that it is suspended on wooden legs and bound with rope, creating an almost visceral surface tension. "A lot of my work deals with contrast, so soft vs hard material, but the wood also acts as a kind of embrace, like it's holding the piece back. If the wood wasn't there it would run away! It's sort of provocative and the wood offsets that."
Conceptually, Campbell draws upon personal experience to inform her work, describing herself as anxious and 'super vulnerable' when she feels she is being watched, but the Grande Prairie born artist also considers the experience of her audience, aiming to instill a sense of unease, or self-consciousness as they view the piece.
Schaulust, a multi-media sculpture conceptually linked to Scopophilia, was presented as a performance piece for the 2015 BFA Graduation Show. Spectators were encouraged to look at the moving sculpture through a peephole, effectively turning them into voyeurs. Like Scopophilia, Schaulust is compelling viewing, tapping directly into that disturbed sense of self that people, and women in particular, feel about their bodies.
"I think there are moments of beauty and moments of grotesquery in my sculptures and it's a fine line between each of those perceptions."
Initially frustrated by the two-dimensional limits of painting and drawing, Campbell came to sculpture in the second year of her BFA program. "I wanted to push boundaries, like how can I make this a painting but have it not be a painting," she laughs. According to her, sculpture provided the creative freedom she desired, and the collaborative atmosphere has been essential to her growth as an artist. "I give so much credit to John McGee, the technician, who helped me do anything I could think of," she says. "If I couldn't figure it out, he would stay and help me after hours. And Royden Mills has been the best mentor and instructor I've had in my life. He's provided me with such amazing opportunities, and he's been really open and honest about being an artist and sharing all of his knowledge with me."
Campbell views the ISC honour as a first step into life after school. "It feels surreal," she says. "I've explored a lot of new mediums this year, and I plan to keep working and applying for shows. I have a few goals set for myself before I launch my master's degree. It's a really exciting time!"
Kasie Campbell's Scopophilia will be on display at the renowned Grounds for Sculpture in New Jersey from October to March 2016, and her work will be featured in the October 2015 issue of Sculpture.
Previous articleNicolás Arnáez: Kitchen bellsNext article
Andrea Murphy: stage manager on social media