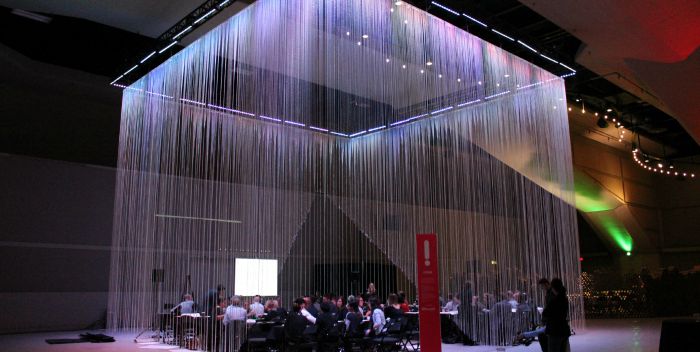 UAlberta students inspired by mainstage speakers at Edmonton conference connecting entrepreneurs and change makers
A few weeks ago, four University of Alberta students had the good fortune of receiving free passes (worth $400 each!) to attend Ignite Festival on Sept. 9 and 10, 2015. Hosted by the Edmonton Economic Development Corporation, and supported by the U of A's Faculty of Arts, this two-day conference was billed as "the ultimate gathering of entrepreneurs, creatives and change makers."
I caught up with Michael Parillas, membership coordinator with the U of A's Student Design Association, and his fellow design students Deprise Hutton and Jillan Watts, as well as engineering student and entrepreneur Geoffrey Bekavac (absent from photo), for a recap of what they found most stimulating at Ignite Edmonton Festival 2015.
UAlberta design students Jillan Watts, Deprise Hutton, Michael Parillas attended Ignite Edmonton Festival 2015.
Everyone agreed that what excited them most at the conference was hearing the mainstage speakers. Eliza Rosenbaum stood out as a favourite speaker across the board for our students.
Rosenbaum (@elizaros43) is the Business Development and Partnerships lead for OpenIDEO, an open innovation platform that enables people everywhere to use IDEO's human-centered design methodology to collaborate in tackling pressing global issues. As an OpenIDEO ambassador, Rosenbaum works with organizations across all sectors to support its community of innovators and drive real world impact through challenges, events and educational experiences.
"One of the reasons I'm most interested in entrepreneurship is that you have the ability to define your business' own corporate culture, and IDEO has a really unique and innovative culture," said Watts. "I was excited to hear Eliza Rosenbaum speak to that, as well as touch on 'design thinking,' a concept we are introduced to in our own classes and projects."
What is design thinking? Michael Parrilas filled me in.
"The point Rosenbaum made was that we should create in order to make others successful," explained Parillas. "It resonated with me as a design student because it reflects the value of being empathetic and ensuring that whatever I produce is a solution to a user's needs."
The Ignite Edmonton Festival 2015 featured stunning exhibitions.
"Eliza Rosenbaum was such an amazing speaker, so creative and so informative," Deprise Hutton agreed wholeheartedly. "After just one day of the festival, I had never felt more driven and inspired to succeed."
All our Arts students in attendance were inspired by Rosenbaum's mantra of "leading with empathy, making it happen and making it matter."
The workshops also proved popular. "My favourite workshop was the LEGO Serious Play, led by Ben Weinlick," said Parillas.
Ben Weinlick (@weinbenlick) is founder of Think Jar Collective, which explores creativity and how people and organizations can enhance it.
"I never thought I could use LEGO as a form of communication to describe issues, thoughts and solutions. We were given a handful of LEGO pieces to build objects that reflect different topics such as 'how do you creatively solve problems at your workplace,' or 'use your object to describe the government or marriage,' and 'build an object that diminishes the idea of entrepreneurship.' It was a tactile and insightful workshop," said Parillas.
Engineering student Geoffrey Bekavac was also enthusiastic about attending Ignite Edmonton Festival  2015. "I learned a lot of new concepts that challenged me to think outside of the box I was previously operating in. I discovered many new products and management skills that will greatly progress my own startup company."
All photos by Michael Parrilas.
For more information about Ignite Edmonton 2015, explore the website: http://www.igniteedmontonfestival.com/ . Watch for the conference again in 2016!.
Previous articleDerek Jagodzinsky: I am an artistNext article
At the Table with Leanne Brown