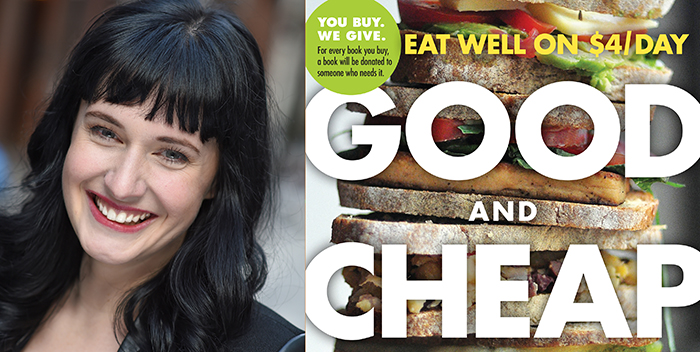 Most cookbooks have recipes that look and taste scrumptious, but it's not always about being a good chef. Sometimes it's about identifying a need, and acting on it.
Publishing phenom Leanne Brown ('07 BA, Religious Studies) will be presenting her book Good and Cheap: Eat Well on $4/Day at the PCL Lounge on campus on Friday, October 2 from 5:30 p.m. to 8 p.m. At the Table with Leanne Brown is a free event, although in lieu of an entrance fee, participants are asked to bring a healthy food donation for the Campus Food Bank
A stint in local government working as a campaign manager and executive assistant to Don Iveson sensitized Leanne to the issues around urban poverty and food insecurity, inspiring her to pursue a master's degree in food policy at New York University.
She was struck by the lack of healthy, palate-pleasing cookbooks for low-income families, particularly those on food stamps. With an eye for social justice and a knack for problem solving, not to mention a looming thesis project, Leanne created Good and Cheap as a free PDF, which went viral almost immediately. Since then, it has been downloaded more than 800,000 times.
Leanne Brown, photo by Jordan Matter
To address the needs of those who might not have access to a computer, she produced a print version thanks to a wildly successful Kickstarter campaign. Using a "get one, give one" format, more than 14,500 copies were donated to families in need. Good and Cheap has also been distributed through organizations across the US and Canada that work with low-income families, and the 2nd edition has become a New York Times bestseller.
Good and Cheap (in print form) was published in July, but due to an extensive promotional tour, this will be the first time Leanne has introduced her book to a hometown crowd.
"I'm super-excited that I get to come back to the U of A to talk about Good and Cheap," she says. "After all, the university is where I started thinking about social justice and where I met all my closest friends! Actually, when I was in my first year, I once sat through a talk at the Myer Horowitz Theatre while holding a crockpot of jambalaya that my future husband and I just made but hadn't had time to eat. It wasn't very good. The jambalaya in Good and Cheap is much better!"
At every Good and Cheap event, Leanne looks for ways to maximize the impact of her book, partnering with local food banks and/or community organizations. For this event, she will be offering a donation of the book to the Campus Food Bank for every book soldNerd Nite host Adam Rozenhart ('04 BA), will be on hand to engage Leanne in a Q & A following the reading, and a sampling of Good and Cheap-themed appetizers and cocktails from her book will be provided.
Good and Cheap is about affordable meal planning, but Leanne takes it a step further. "Cooking," she says "changes lives for the better".
Event Title: At the Table with Leanne Brown
Presenter: Leanne Brown
Date: Friday, Oct 2nd, 6 p.m. to 9 p.m. (doors open at 5:30 p.m.)
Venue: PCL Lounge, Centennial Centre for Interdisciplinary Science (CCIS), 114 Street & Saskatchewan Drive, University of Alberta
Tickets: The event is free, but space is limited so please RSVP
Related Story on the Work of Arts blog: Healthy Eating with a Dash of Social Justice
Leanne Brown's Good and Cheap website
Previous articleIgnite Edmonton Festival 2015 RecapNext article
Bone Cage draws out UAlberta talent