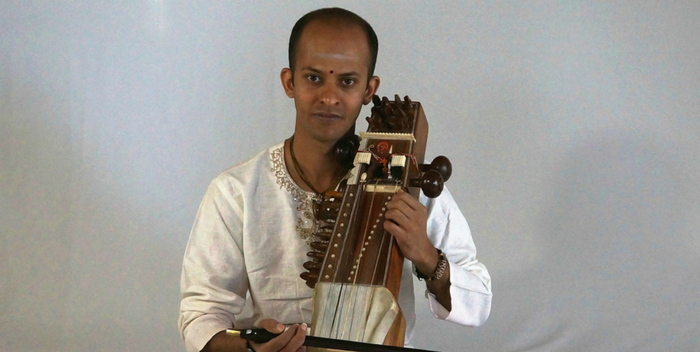 Deepak Paramashivan, a doctoral student at the U of A, was the recipient of the Edmonton Arts Council's Cultural Diversity in Arts Award in 2017!
Currently, Deepak is pursuing a doctorate in ethnomusicology, with a specific focus on South Indian theatre music. However, before beginning a PhD in Music, he completed a degree in mechanical engineering and worked as a climate scientist.
Not only is Deepak an engineering graduate and music enthusiast, he's also one of two sarangi performers in North America. Because Deepak plays such an incredibly rare instrument, he became interested in documenting the different traditions of sarangi playing. It was through this documentation process he uncovered an appreciation for theatre music and decided to pursue a doctorate in ethnomusicology.
Deepak's proposal for the Edmonton Cultural Diversity in Arts Award initially began as a project for his one of his classes. He was further inspired by his performance with Dr. Michael Frishkopf during the World Music Festival in Edmonton. For this festival, Dr. Frishkopf and Deepak performed a collaboration with the sarangi and jazz piano; this sparked Deepak's interest i  n merging two distinctly different sounds. When required to come up with a proposal for school, he chose to create a CD that explored the combination of Indian and Western style music. So far, Deepak has composed majority of the music for this CD and is thrilled to start discovering new ways of blending Western and Indian sounds.
Deepak's CD will be titled Blue Line, which was inspired by the Edmonton LRT line. During the composition process, he became drawn to the LRT as a symbol of connection within the Edmonton community. Deepak considers Edmonton to be an extremely multicultural environment and wanted to create a product embodying the sense of unity and life he has experienced here.
Stay tuned for Blue Line's release date, which will be sometime in July or August of 2018!
For more information about the Edmonton Cultural Diversity in Art's Award, visit the Edmonton Arts Council's website:
Previous articleSue Colberg Appointed to International Book JuryNext article
Behind the Scenes at the 2018 New Works Festival