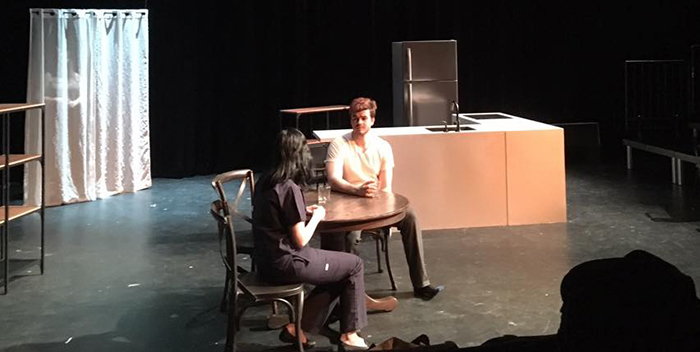 The University of Alberta Department of Drama presents the 2018 New Works Festival from February 6-11 in the Second Playing Space at the Timms Centre for the Arts.
An entirely student-run production, the New Works Festival features exciting one-act plays from emerging playwrights. Each playwright has the opportunity to connect and develop their work with directors, dramaturges, designers, and actors.
This year's festival promises two back-to-back nights of theatrical entertainment from playwrights Savanna Harvey and Ashleigh Hicks on Night A and Morgan Grau and Sara Knourek on Night B.
Here's a behind-the-scenes look at the making of this year's festival:
The cast and directorial team at their first-read for POL, with playwright Morgan Grau.

The cast of Shadowlands by Savanna Harvey, in early rehearsals.

The directorial team of Sin Caves by Sara Knourek in rehearsal.

Production Manager Piper Rempel and volunteers set up risers in the theatre.

Artistic Director Alexander Donovan looks on as Lighting Designer Amanda Storwick (not pictured) sets lighting levels for the shows.

Cue-to-cue for POL with an in-progress set construction designed by Kelsi Kalmer

Some of the voice actors for Shadowlands recording for the show

Technical dress rehearsal for fawn by Ashleigh Hicks.
Costume Design by Kathryn Lukey
Set Design by Aria Kraushar

Actors of fawn in tech dress.
Props design by Claudia Kulay

Cue-to-cue for Sin Caves with set designer Kelsi Kalmer (far right).
Dates & Times:
Night A: Shadowlands by Savanna Harvey and fawn Ashleigh Hicks is: February 6, 8, + 10 all at 8:00 PM, and February 11 at 2:00 PM
Night B: POL by Morgan Grau & Sin Caves by Sara Knourek is: February 7, 9, + 11 at 8:00 PM, and February 10 at 2:00 PM
Tickets are $15 regular and $10 for students. On sale now at Tix on the Square or with cash at the doors.
For more information, visit the New Works Festival Facebook page.
Previous articleDeepak Paramashivan: 2017 Edmonton Cultural Diversity in Arts Award Recipient