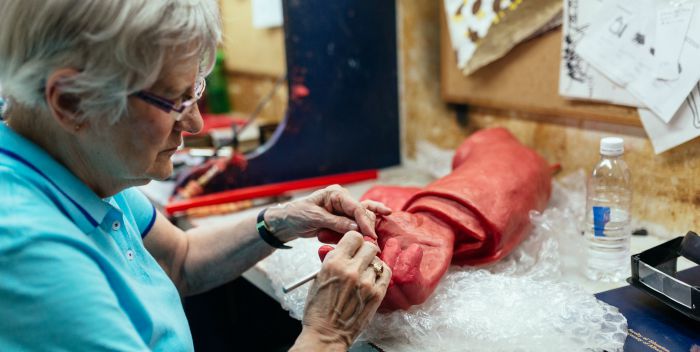 UAlberta Arts alumna and acclaimed artist Barbara Paterson shares her advice on taking on commissioned work
Barbara Paterson, '57 BA (SpecCert), '88 BFA is an acclaimed Canadian artist, primarily known for her bronze, figurative works. In the course of her career, Barbara has sculpted numerous public commissions, including some of the most celebrated Canadian monuments—like the Famous Five on Parliament Hill in Ottawa and Lois Hole in St. Albert.
Her most recent commissioned piece – The Visionaries – is a new sculpture depicting University of Alberta founders Alexander Rutherford and Henry Marshall Tory.
The larger-than-life bronze piece will be the focus of the new Presidents' Circle, an outdoor space in the heart of the U of A campus. It's set to be unveiled in a public ceremony Thursday, September. 24. In the meantime, I caught up with Barbara to ask her to share advice with young artists hoping to take on commissioned work.
Here are Barbara Paterson's tips, in her own words, on how to approach commissions and what to expect when commissioned to create art:
Apply. You can't get a commission if you don't apply.
Until you have enough work out there, you don't really establish a name – you can only do so much, so it's a slow struggle. Apply, apply, apply would be my advice. Large commissions are difficult – there aren't a lot of them around. For me, I got into it through doing a smaller piece for a school. So, take on commissions of any size and hopefully doors will open.
Be sure funding is intact – before you begin work.
You should never start something before it's funded. I did that with a commission in Victoria.  It was a well-meaning group and they were hoping to fundraise. The money did finally come through but I had pretty well finished the project by that time. They were lovely and very kind, but it was difficult – I just kept on working while waiting to see if I'd ever get paid. It was risky, and a lesson learned.
Check your contract with a lawyer.
A handshake isn't really good enough, though I'd love to work that way. Whether it's a small or big commission, a lawyer is a good thing to have. You need to build things into the clause – like what happens if you're not able to finish the piece.
If you believe in your project, you fight for it.
I'm not a fighter, and I don't like controversy. But, if there's something that really bothers me, I'll put it sternly because I believe in it. Someone once asked me to create statues in colour and I said that wasn't my thing. I held my ground, and I was glad in the end. It wouldn't have worked for the piece.
There's always a way to find a common ground.
Sticking to your guns is great and I admire it, but you have to be careful. If you want to be in public art, you have to be willing to bend. After all, someone else is paying for it. It is always a give and take. A thick skin is important but you have to be wary – you could fight yourself out of a commission.
There will be criticism – no matter what.
A commission is a hard nut to crack, it's yours but it's not yours. It belongs to a client and a committee, and they all have opinions and criticisms. You have to balance the initial idea with your creative vision, and keep in mind the scope of the work you took on. The discussions around what they originally want as a concept is what you must work within.
You can only do your best.
The hard part is that art is subjective and everybody has a different vision. You can only do your best. Commission work is a struggle, and no two projects are the same. The best part is when you finish the piece, and the client is happy and you can be proud of your art. That's the reward.
To read more about Barbara Paterson's many commissioned works, click here. To find out more about The Visionaries and the upcoming unveiling, visit the Faculty of Arts website
Photo credits: The image of Barbara Paterson creating Lois Hole was supplied by the artist.
The two images of Barbara Paterson working on The Visionaries are by Ryan Whitefield.
Previous articleMake Good: Anson WongNext article
Jacques Després and Andrew Wan: Moving On