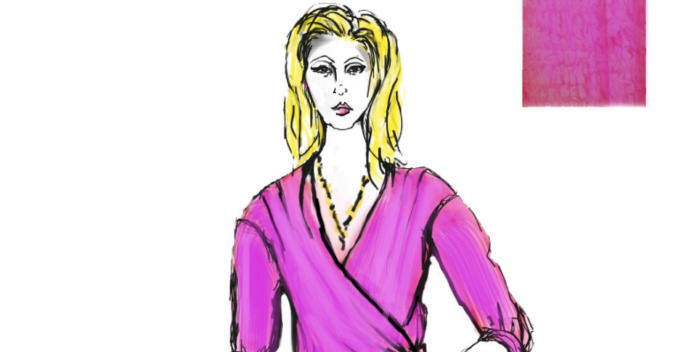 Reason 3/50 to Go See A Play:
Go Back in Time with Beyond Therapy Costume designs by Alison Yanota
Alison Yanota ('15 BFA) is taking her theatre design training to the next level as an MFA candidate this year. For her first grad school project, Alison is designing costumes and lighting for U of A Studio Theatre's Beyond Therapy
Set in the 1980s, well before the invention of online dating or hook-up apps like Tinder, Beyond Therapy follows two singles looking for love as they pen personal ads with the help of their wacky psychiatrists.
Paired with guest director and UAlberta Drama alumna Glenda Stirling ('97 BA), Alison says the challenge with designing costumes for Beyond Therapy has been to tap into the 1980s aesthetic without going too wild.
"Glenda didn't want the designs to get too far away from a younger audience to the point where they wouldn't be able to relate to it," explains Alison. "Since some of the silhouettes of '80s fashion were so outrageous, we didn't want the comedy to be the costumes. We wanted the comedy to be found in the actual piece itself."
I caught up with Alison before the show opens Oct. 15 for a Q & A interview about her Beyond Therapy design inspirations and processes.
Brenley: We tend to think of Shakespeare and Restoration dramas as period plays. Would you consider Beyond Therapy a period piece?
Alison: Yes, I would.
I know at this point in time, we are still very close to the 1980s. A lot of people have lived through that time, so it is hard to perceive a play set in that time period as a period piece.
Brenley: It is hard to believe the 1980s were more than thirty years ago.
Alison: Yeah. When you look back at Shakespeare and Restoration pieces it's easier to place them as period plays because we see a defined silhouette and we see a defined time. Whereas at this point in time, we still see 80s clothing and apparel being worn and being re-shaped to suit a modern silhouette.
For designing Beyond Therapy, for me, it was largely about channeling a 1980s aesthetic. There are a lot of things in the 80s that we don't see anymore, in either the way we dress and how we decorate our homes, or with design in general.
I think a lot of what makes Beyond Therapy a period piece is the context in which the play was written. That's where we all start from. It starts with the play. And in a play like this when there are so many references to popular culture, either from that time or before that time, it's kind of hard to ignore all that.


Brenley: Who were some of the iconic designers of the 1980s?
Alison: There were so many during that period. I don't think I could list them all. It was a big moment of fashion.
Definitely Norma Kamali.
Jean Paul Gaultier was big as well. He was at the heart of the big Madonna-craze.
There was also the Memphis group, which was actually an Italian design and architectural  firm. That's where we kind of see a lot of the pop colours, crazy shapes and patterns.
Brenley: What were your sources of inspiration for Beyond Therapy
Alison: I'll bring up the Memphis group again because that's where we got our colour palette for the show: bright, punchy colours.
In terms of a silhouette, I looked at street wear catalogues as well as fashion magazines from the time.


Brenley: Can you talk a bit about your process in coming up with your designs?
Alison: For me it always starts with the play.
I read the script two or three times to get a feel for what it's about and who the characters are. And then from that we get into discussions about where we want to go as far as the aesthetics of the show, and who these people are because that's the most important part when it comes to costuming. It is about knowing who the character is and what they are all about because if you don't know that, then you're just putting clothes on people. It has to make sense character-wise. The costumes have to suit who that person is.
From there we get to dive into their personalities a little bit. I try to look at a character as a three dimensional person. Once I know who these people are, that's when I start doing my research, and then from there, and I shape what I've found into the show and play around with things.


Brenley: Do your designs change throughout the process?
Alison: Sometimes. Because sometimes you think you're on the same page and then you re-read it again, and you think, 'So-and-so wouldn't be wearing glasses' or 'This skirt is too long for this character.'
For this play, it was fairly intuitive. The director and I were pretty much on the same page from the start. There were a few small changes from the first draft but we didn't have to go back to square one.
Brenley: Playwright Christopher Durang is notorious for writing very specific notes in his plays about character and direction. Did he set parameters for the design in Beyond Therapy
Alison: (Laughs) Yes. Yes he did.
For this show, since all of the characters were larger-than-life in terms of how the script is written, Durang was very specific about how the costumes and acting had to be quite naturalistic in order for the comedy to be relatable. This is why we also tried to balance the period that we are pulling from with modern day.
He was very specific about it staying in the 80s, which is one of the reasons why we kept it there. The costumes are definitely suggestive of the 1980s but we didn't go full on. We do have shoulder pads, but they aren't as large as they once were.


Brenley: Were you a fan of the 80s before you were assigned to design this show?
Alison: I was fan of parts of the 80s. It has definitely grown on me since I started the show. I definitely had some preconceptions about it going in that made me a bit worried, especially when it comes to hair. (laughs) Yeah. It has definitely grown on me.
Brenley: If there was one fashion trend from the 80s you do not want to see make a come back, what would it be?
Alison: There are a few. (laughs)
I think the biggest thing was men's slouchy suits. That was probably the worst thing. The pleating in all of the men's pants in that period and shoulder pads in these huge bulky suits. It was bad.


Also hair. Hair was a worrying thing in the 80s.
Brenley: I know you can't really play favorites but which character was the most fun to design?
Alison: All of them. (laughs)
Brenley: You have to say that.
Alison: (laughs) The most fun I'd have to say was Charlotte who is the female therapist in the show. Just because she's a bit more zany than the rest of the characters. The script kind of eludes to her being more of a children's therapist-gone into the world of adult therapy. She's a pretty fun character so we could play a lot more with colour, patterns and crazy shapes on her, whereas everyone else is a bit more grounded than she is.


Brenley: What's up next for you?
Alison:  I'm working on my thesis which is A Midsummer Night's Dream directed by Marti Maraden. I will be designing the set, lighting and costumes.
About Alison Yanota
Alison Yanota
Alison Yanota is currently in her thesis year of her MFA in Theatre Design at the University of Alberta. She is also a graduate from the Mount Royal University Diploma in Technical Theatre and a graduate of the University of Alberta BFA in Theatre Design.
Recent design credits include: The Suburban Motel Series (Punctuate Theatre – Lighting Design), A Dream Play (U of A, Studio Theatre – Lighting Design Assistant), Miss Julie (U of A, Bleviss Laboratory Theatre – Costume Design), Salome (U of A, Bleviss Laboratory Theatre – Set and Lighting Design), Loveplay (U of A, Studio Theatre – Set Design Assistant), Beware, Beware (Duckrabbit, Edmonton Fringe – Production Design), The Grey Zone (Theatre Virus,Calgary/Edmonton Fringe – Production Design), Control (Major Matt Mason – Production Design), La Nuit, La Raison Dort (L'UniThéâtre – Production Design), Ironmistress (U of A, Bleviss Laboratory Theatre – Costume Design), Dirt (Punctuate Theatre – Lighting Design), Richard III (U of A, Bleviss Laboratory Theatre – Lighting Design), Girls! Girls! Girls! (Major Matt Mason – Production Design), Vice Re-Versa (Punctuate Theatre – Costume Designer), Air (Major Matt Mason – Production Design).
Upcoming Credits include: Beyond Therapy (U of A, Studio Theatre – Lighting and Costume Design), A Midsummer Night's Dream (U of A, Studio Theatre – Production Design)
Presenter: U of A Studio Theatre
Event Title:Beyond Therapy by Christopher Durang
Dates: Oct. 15 – 24 at 7:30 p.m.
Matinee Thursday, Oct. 22  at 12:30 p.m.
$5 preview performance on Wednesday, Oct. 14 at 7:30 p.m.
No show on Sunday, Oct. 18.
Venue: Timms Centre for the Arts, University of Alberta
Single show tickets: $12 student, $25 adult, $22 senior, available online now at TIX on the Square and at the Timms Centre box office one hour before each performance.
For full cast, creative and production team details see: https://uofa.ualberta.ca/events/beyond-therapy
Previous articleWhy commission new piano music?Next article
In the Studio with Elizabeth Adlam