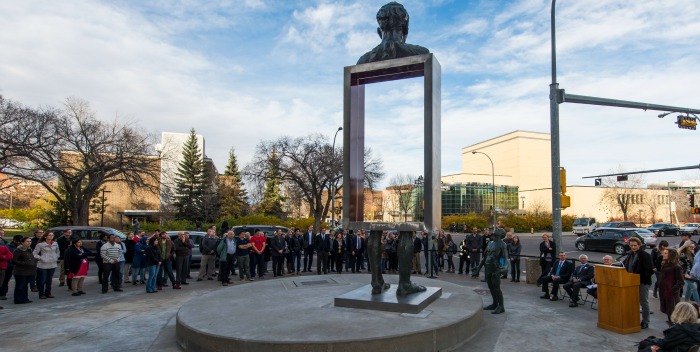 Public art in Edmonton is often connected to UAlberta art makers and patrons.
Public art is one of the most visible expressions of community values and engagement. To varying degrees, urban spaces are also art spaces, and in Edmonton, University of Alberta creators have made their mark on our city and continue to do so in fascinating ways.
Most recently, the Li Ka Shing Centre for Health and Research Innovation unveiled InScope by Dam de Nogales, situated on the corner of 112th street and 87th avenue.  At 22 feet, InScope is an imposing sculpture, blending figurative and abstract imagery in an allusion to the scientific and creative exploration that occurs behind the doors of the centre. According to Janine Andrews, Executive Director of the University of Alberta Museums, the Li Ka Shing Foundation stipulated that 1% of their generous donation go towards the acquisition of a work of art inspired by Mr. Li Ka-Shing. "After all the proposals were adjudicated," she says, "the jury chose InScope by Dam de Nogales for their imagination and thought-provoking work."
Photos by John Ulan
Royden Mills ('88 BFA, '90 MFA) will unveil Resonant Progression for the Terwillegar Park Footbridge in the summer of 2016. The artwork will consist of three interactive sculptures entitled Potential, Resonant Point, and Beyond Listening, which will be placed in conceptually linked sites within the park. "Multi-tonne stones held up by hand-made human forms and analogue sound collecting devices will draw surrounding natural sounds into these three sites," explains Mills. "People will find opportunity to listen and consider themselves witnesses to subtle natural sounds floating in the air around them – inviting contemplation about our relationship to natural surroundings."
With Mountain Brother, artists Sergio Serrano ('06 BDes) and Alexander Stewart ('10 BFA) used lenticular printing to create their mural for the Castledowns Park Pavilion. Lenticular printing produces a 3D-hologram-like image that shifts and changes depending on the position from which it is viewed.
Detail – Brother Mountain, Castledowns Park Pavilion, by Sergio Serrano and Alexander Stewart. Photos by Aspen Zettel Photography.
The mountain range is not identifiable, but an amalgam of peaks and valleys such as the Matterhorn, Jungfrau, and Mont Blanc. According to the Edmonton Arts Council, who commissioned the work, Mountain Brother explores the way depictions of landscape are affected by information overload, challenging viewers to "examine how they experience the world and information around them and how it is transformed by the lens through which they see it."
Earlier this spring, Threshold Collective, a group comprised of University of Alberta design students, Sebastian Sauve-Hoover, Brad Comis and Danielle Soneff, led by artist and U of A instructor Jesse Sherburne ('02 BFA, '08 MDes), installed three treehouses in and around Churchill Square.
Photo by TJ Jans.
The treehouses were designed to look like homes you might find in Edmonton neighbourhoods and installed just out of the reach of the public. The transitory public art project funded by the Edmonton Arts Council proved to be a delight to those passing by, sparking conversations about public and private spaces.
Supplied by Edmonton Arts Council.
This summer, Jeff Kulak ('07 BDes) and Mark Clintberg's digital high-pressure laminate artwork Water Vessels was installed at the Heritage Valley Fire Station. The artists drew upon classical still life and contemporary artistic references while considering the role of fire suppression in history. Vases, bowls, and other vessels used to store water are represented in the final design of the seven circular panels.
Supplied by the Edmonton Arts Council.
The Edmonton Arts Council will be installing Exotic Species – a new Marc Siegner mural at the Victoria Park Pavilion, which is set to open December 12th. The imagery is largely inspired by the idea of flight. "I feel that both skating and flying have much in common," says Siegner. "When I observe speed skaters in movement it reminds me of large birds, falcons, eagles, geese and owls, who's wing spans are considerable, allowing them a similar grace in movement." Siegner is a long-time printmaking technician for the U of A's Department of Art & Design and his print and installation work has been exhibited locally and  internationally. You can catch Siegner's work in 50th Anniversary exhibition Art & Design 2.0, a show opening in the FAB Gallery this week through November 28, 2015, featuring U of A Art & Design technicians who have contributed to the continued quality and success of the department.
Marc Siegner's Exotic Species mural
One thing is clear, wherever you venture in Edmonton, at some point you will experience the vision of UAlberta's creative innovators – past, present and future.
Previous articleSonic Masking Halloween ParadeNext article
ABBEDAM Productions: new Spring Awakening