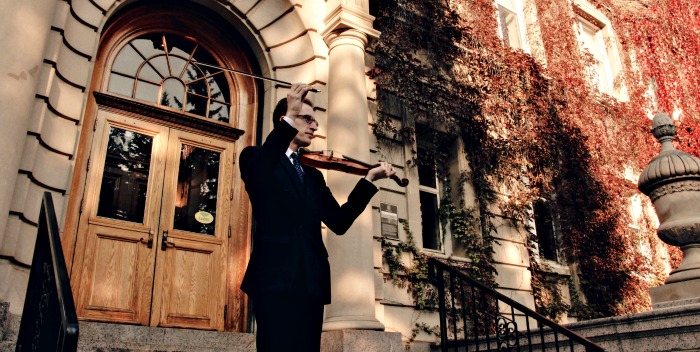 The catalogue of 19th century violinists is so extensive that U of A violinist Guillaume Tardif is serving up a second helping.
Following up on last season's Violinissimo concert, this Friday's mainstage concert, Violinissimo II, turns the Convocation Hall spotlight once again onto 19th century violin heroes including Heinrich Wilhelm Ernst, Jenő Hubay, Henri Viewxtemps, August Wilhelmj, Henryk Wieniawski, Leopold Auer and Antonio Bazzini. For the full program, see Violinissimo II show page.
"There are so many great violinists from the 19th century. It really is the Golden Age of the violin," says Tardif. "I'm filling in the holes in the history of the violin and presenting it to our crowd here at the U of A."
With the historical panorama of that violin era comes a great wealth of technical things going on between the strings, bow and brain, even before you bring in the heart. "You are playing with the moments, with the emotions and a sense of elegance. It is a challenging program in that way. With the romantic music we are going to play, there requires a level of engagement with the music that inspires some variance here and there."
Roger Admiral, joining on piano for Violinissimo II, concurs. The concert's repertoire offers both immense challenges and pay-offs for musicians and audience members alike.
Roger Admiral
"This music offers great virtuosity from the violin part, but also great excitement from the romantic harmonies and rhythmic intricacies inherent in the piano part," says Admiral.
The duo have played together for almost 10 years now and they describe their performing relationship as practically fraternal.
"Guillaume plays with great energy and precision," says Admiral admiringly.
"Roger is a very comfortable person to be with. He is highly reliable and you can count on him. As for his artistic abilities, he's like a sponge. He's a deep listener and he takes the work seriously. There is no detail in front of his eyes that he isn't going to try to put into his playing. His background and experience with contemporary music makes his sight reading skills one-in-a-million. He's not afraid by anything you throw at him," says Tardif.
Photos by TJ Jans.
Presenters: University of Alberta Department of Music
Event Title:Violinissimo II
Performed by: Guillaume Tardif (violin) and Roger Admiral (piano)
Date: Friday, January 15 at 8 p.m.
Venue: Convocation Hall, University of Alberta
Tickets: $10 student, $20 adult, $15 senior. Available at the door or in advance from Yeglive
For more details, see show page: https://uofa.ualberta.ca/events/violinissimo-ii
Previous articleVideo: Jacques Després on key rewards of teaching pianoNext article
Michael Feehan champions Edmonton's alternative arts scene