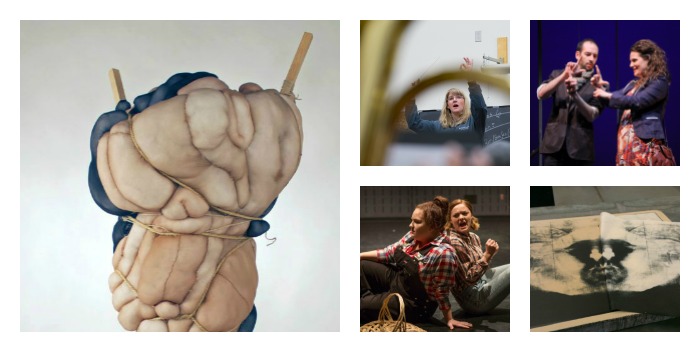 The early weeks of 2016 are jam-packed with UAlberta shows but I wanted to make sure we give 2015 a much deserved round of applause before we wade too far into the New Year. Here's to the curious people, creative projects and processes that intrigued us the most in 2015. Here are our top five Curious Arts stories of 2015:
Tribes rehearsals sheer velocity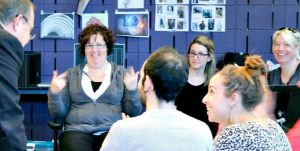 Tribes rehearsal at U of A Studio Theatre. April 2015. Photo by TJ Jans.
For U of A Studio Theatre's production of Tribes, MFA director Amanda Bergen cast Connor Yuzwenko-Martin ('14 BA), an Edmonton-based Deaf actor, to play Billy, a young deaf man who was raised to read lips and speak rather than sign to communicate. Connor graciously agreed to share his reflections throughout the rehearsal process and his second post in the series proved to be our most popular Curious Arts story of 2015.
Darian Goldin Stahl: HABITUS
Darian Goldin Stahl's "Restless" in progress.
UAlberta MFA printmaker Darian Goldin Stahl fused her sister's MRI scans with impressions of her own skin to create a series of prints intended to humanize a medical diagnosis of chronic illness. Darian's guest post previewing her MFA final exhibition HABITUS in the FAB Gallery deeply resonated with our readers. The show also earned a great deal of external media attention.
Sisters Devan Stahl (left) and Darian Goldin Stahl (right).
U of A Honour Band memories
U of A High School Honour Band members, 2015. Photo by Epic Photography.
In February 2015, a record number – more than 190 – of Alberta's most talented high school band students from across the province gathered in the U of A's Department of Music to rehearse and perform with faculty members as the University of Alberta High School Honour Band at the Winspear Centre. I caught up with current music students Crystal Kegler and Kelsey Getzinger, both alums of the U of A's High School Honour Band program, to reminisce about that one time at U of A band camp
Kasie Campbell: Scopophilia
In the Spring of 2015, for the second time in two years, a UAlberta student won the prestigious Outstanding Student Achievement in Contemporary Sculpture award from the International Sculpture Centre (ISC). Kasie Campbell's winning sculpture, Scopophilia, was selected out of 428 art students nominated from 158 universities, colleges and art school programs worldwide. No one walks by Kasie's art work without a second look and Donna McKinnon's feature about this award-winning artist drew many eyeballs. Kasie's Scopophilia was also featured in the October 2015 magazine issue of Sculpture and is on display now at the renowned Grounds for Sculpture in New Jersey until March 2016.
New Works Festival 2015
New Works Festival 2015 at the University of Alberta.
It was a bright feather in our Curious Arts cap to welcome Colleen Murphy, the U of A's Lee Playwright in Residence, as one of our regular Curious Arts contributors in 2015. Her guest series, Lee-On-Line, was widely read, especially the post where Colleen tipped her hat to all the gutsy UAlberta artists involved with New Works Festival 2015, a student-run, student-written, student-performed, student-designed and student-directed new play festival. Look for the New Works Festival again in February 2016.
UAlberta Lee Playwright in Residence, Colleen Murphy. Photo by TJ Jans.
Honourable Mentions:
Curious Curators of 2015
Rosiland Breen – Apex
A dystopia is not a welcoming place, nevertheless, Julie-Ann Mercer's Q & A with Heather Leier on Destabilizing Dystopia an exhibition curated at dc3 Art Projects by the Art & Design Graduate Student Association was one of our top stories in 2015.
Box Office Smash Hit of the Year
The Threepenny Opera ensemble. Photo by Ed Ellis.
U of A Studio Theatre welcomed Brian Deedrick, a proud UAlberta alumnus who stages operas all over the world, back to his alma mater as guest director of The Threepenny Opera in 2015. The production smashed attendance records, selling out 6/11 performances, thanks in no small part to a wonderful DR 622 (Bertolt Brecht: theory and practice of Brechtian theatre) class collaboration with Curious Arts with students contributing a series of Brecht-themed articles and dramaturgical essays.
Remembering Tanya Prochazka
Tanya Prochazka. Photo by John Ulan.
The whole Edmonton music community mourned the loss of U of A professor and cellist Tanya Prochazka in May 2015. Tanya was fondly remembered on the Curious Arts blog by former student and alumna Jennifer West.
Yue Deng: From China to Canada
Yue Deng
Violinist Yue Deng has performed with the likes of Michael Bublé and Randy Newman, in famed concert halls like Carnegie Hall. She's recorded with renowned French pianist Jean-Yves Thibaudet and performed on albums with Barbra Streisand, Dionne Warwick and Willie Nelson. And Yue loves to teach as much as she loves to perform. My Q & A with Yue Deng took readers on a musical journey from China to Convocation Hall.
BFA and BDes 2015 Grad Shows
Hypotrochroid Pendant (Light) by Amanda Nogier. Featuring in Running with Scissor, 2015 U of A Bachelor of Design show.
TJ Jans' candid interviews with the BFA and BDes classes of 2015 about their grad shows, By Risk and By Reckoning and Running with Scissors, were also favourite stories of the year.
What's on at UAlberta in 2016?
Make sure you bookmark www.ualberta.ca/artshows for upcoming concerts, exhibits and Studio Theatre performances. Be curious in 2016!
Previous articleArt & Design 3.0Next article
Video: Jacques Després on key rewards of teaching piano