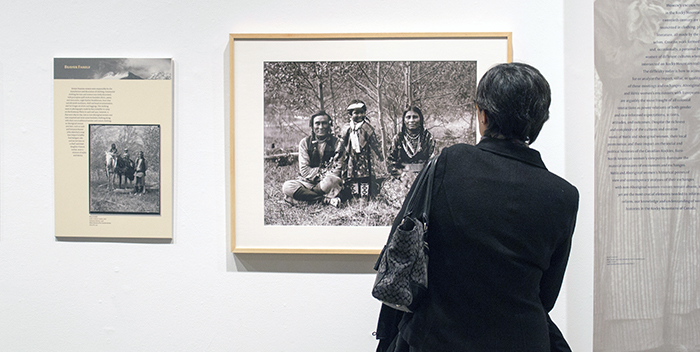 Interview with This Wild Spirit author and curator Colleen Skidmore.
You currently have an exhibition on at FAB Gallery calledThis Wild Spirit: Redux, which is based on your 2006 book,This Wild Spirit. How did this book originally come to be?
When I moved to Edmonton to join the University of Alberta in 1994, and began visiting the mountain regions, I frequently encountered references to a woman I had not heard of before named Mary Schäffer from Philadelphia. There is a ballroom at Jasper Park Lodge named after her and she is credited with a stunning, early 20th century photographic portrait of the Beaver Family of the Kootenay Plains region that has circulated for decades on a postcard (later on, in 2003, a new student residence at the U of A was named after her).
My research focus is the history of women and photography in the late 19th century, and so I began to explore Schäffer's work with the idea that there must be a book there*. I discovered two things very quickly: one, so little had been written about Schäffer and her time and place that I would need to do a lot of archival research to understand the context and impact of her work. And two, not only is there is a massive amount of material in archives in Canada and the eastern United States, but a great many other women travelled and worked in the mountains at the turn of the 20th century. These women crossed paths and often shared knowledge, collaborated, or competed with one another. And so, I had to first write This Wild Spirit about all of these women and their work so that I could understand Schäffer's world and work in the Rockies. Coincidentally, the University of Alberta Press (UAP) had just begun publishing a series of books focused on mountain research, called Mountain Cairns, and so they were the ideal publishers for this book in 2006. The book has proven popular with readers and it went to a third printing this year, just as the exhibition was revived.
Photo By Cindy Couldwell
Can you tell us more about the book? Why is it still so relevant today?
This Wild Spirit is a compendium of creative work by women, and popular images about women, in the Canadian Rockies. To help readers experience a bit of the feeling of discovery that I had working in various archives, I wrote introductory essays for each of six sections that gather the works by themes that emerged, and then reproduce excerpts from original texts and images made by the women. There are American, British, Canadian, and Indigenous women in the collection, and their work ranges from photography to painting; literary writing, such as novels and poetry; science writing, such as botany and glaciology; and private writing, such as letters and diaries; as well as buckskin clothing design and decoration. There are also photographs of women of Hollywood who made films there, and posters made by well-known Canadian graphic artists that used images of women to lure tourists to the Rockies on the Canadian Pacific Railway.
How did the book become an exhibition in 2008?
A number of special events were held in 2008 to celebrate the centenary of the University of Alberta. My colleague Betsy Boone, who at the time was Chair of the Department of Art and Design, suggested it would make a fine exhibition and attracted funding for it as a centenary event. Another colleague, designer Bernd Hildebrandt, agreed to collaborate, and with his imagination and talent, and the inspired work of Cybil Stephens, our undergraduate research assistant, the exhibition emerged. CBC Radio picked up on it and, following the exhibition, produced and broadcast a series of readings from the book .
What lead to theReduxexhibition this year?
In early 2016, the Jasper-Yellowhead Museum and Archives contacted Blair Brennan, Manager of the FAB Gallery. They had heard about the exhibition and wondered if it was possible to remount it in Jasper over the summer. Blair had always hoped the exhibition would travel and had kept in storage the photos, graphics, and explanatory panels that had not been on loan from elsewhere (buckskin clothing, paintings, cameras, first editions of some of the books that women had written, the typescript of a play, and so on had all returned to their home collections). At the same time, Blair had an opening in his exhibition schedule which happened to coincide with the launch of the Mountain Festival on campus in December.
I curated a much smaller version to fit the exhibition space that Jasper had to offer and Blair oversaw the conservation and preparatory work and transfer of the materials to and from Jasper. As it turned out, the exhibition was very well received in Jasper and extended into late fall, running from July to November this year. On its return to Edmonton, we added many of the pieces that did not travel to Jasper, and with the help of Blair's excellent team of graduate student assistants, installed it during the last week of classes.
Photo By Cindy Couldwell
What can viewers expect to see?
There are about 40 images and text panels, in colour and black-and-white. They range from photographs of a Metis homesteader and buckskin clothing artisan Suzette Swift to photographs of American women climbing mountains and studying glaciers; photos and watercolours of alpine flowers; a humorous passage from an article written by Lady Agnes Macdonald (wife of the first Prime Minister, about riding the cowcatcher on the front of the train travelling westbound through the Rockies); Mary Schäffer's photos and survey map of Maligne Lake in Jasper National Park; and a sampling of CPR historic posters.
What do you hope gallery visitors leave with? Or leave feeling?
I hope visitors will feel a sense of immersion in the physical and cultural environments of the Canadian Rockies at the turn of the 20th century, and appreciate the women's sense of humour, physical stamina, creativity, and intellect that pervade the work they made in response to their mountain experiences.  
*P.S. That book about Schäffer that started it all? It is now finished, and forthcoming from UAP in 2017, titled Searching for Mary Schäffer: Women Wilderness Photography
Presenter: FAB Gallery
Event Title:  This Wild Spirit: Redux
Date: December 6-22, 2016 and January 3-7, 2017
Venue: FAB Gallery (1-1 Fine Arts Building, University of Alberta)
Admission: Free
Previous articleAuditioning for Stage vs. Auditioning for ScreenNext article
Playing With Fire