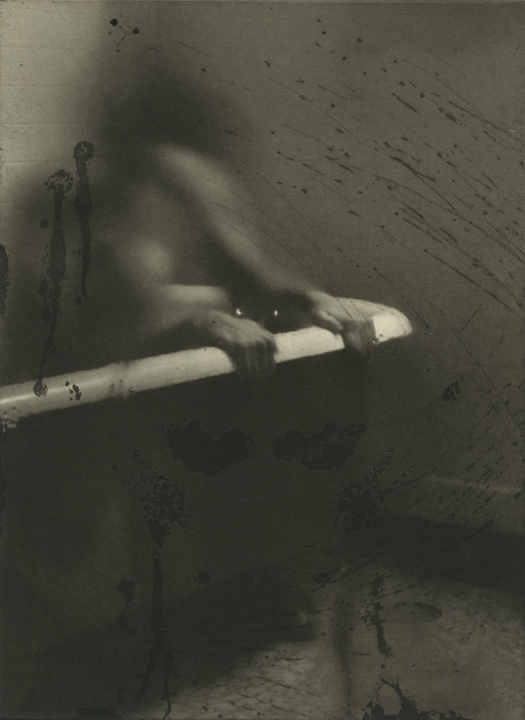 Last chance to see Grace Sippy's MFA Printmaking Final Show in FAB Gallery
Schism, the collective body of work on view at the University of Alberta's FAB Gallery until February 15, 2014, is the culmination of Grace Sippy's creative development as an MFA candidate at the University of Alberta in the Art and Design Department's renowned printmaking program. The imagery in this exhibition is both figurative and gestural. As a series of 'portraits' that tread the liminal space between self and psyche, each work is a revealing of sorts that hints at a primal, unexplored 'other' laying latent and explored betwixt the artist's chosen mediums. Much as each work embodies a hybrid of self and other, so too each combines printmaking with photography and mark making, layering identity with process to create a subtle and compelling body of work that speaks to the unknown or perhaps unacknowledged, but ever-present.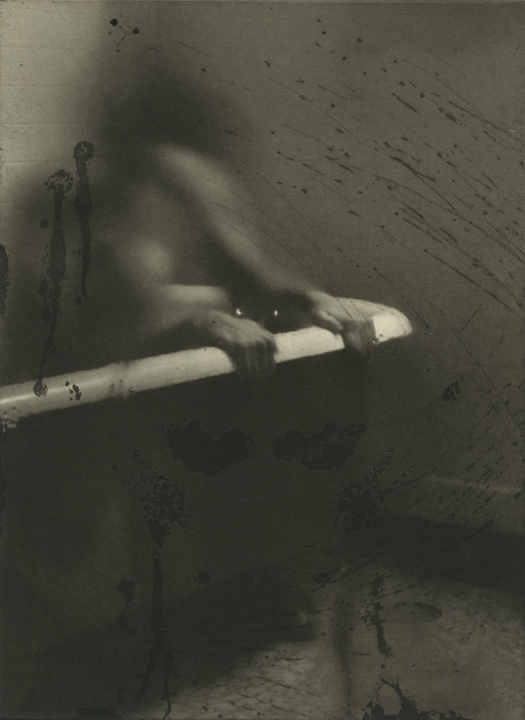 Bracing (2013) by Grace Sippy. Digital inkjet, etching, aquatint, drypoint, softground, and chine-collé,
5.5″ x 7.5". Digital scan courtesy the artist.
~ Jacques Talbot (MA Art History candidate)
Mauricio Lasansky
"Mauricio Lasansky was perhaps my biggest influence in how I developed my printmaking style and part of my approach (he was a printmaker who built the program at the University of Iowa, not during my lifetime, but that is how I discovered him). When he made his greatest works he was using intaglio as his printmaking discipline and combined several techniques together to create a rich image with lots of visual vocabulary. He might use engraving, etching, extensive scraping and burnishing, aquatint, chine-collé, as well as several plates in order to create one print. You can see how I have worked similarly with the Mirror series — each print uses digital inkjet but is combined with etching, aquatint, non-traditional mezzotint, drypoint, etc. Most prints used at least three or four different intaglio techniques to achieve what I wanted in the image."
The Doppelgänger
"Conceptually I drew from numerous ideas and various representations of the self in cultures around the world and throughout history, for instance the Doppelgänger, Freud's idea of the other and his essay "Das Unheimliche" (The Uncanny), and literary representations such as Joseph Conrad's The Secret Sharer and Robert Louis Stevenson's Dr. Jekyll and Mr. Hyde."
The Shadow
I am particularly interested in C.G. Jung's concept of the persona shadow. In Jung's theory, during the development of our identity we are taught to hide certain aspects of our self at an early age, depending on societal and cultural standards. It is a part of our psyche that often remains repressed and hidden for many, but will come out at different times or moments in our lives. The figures in the works speak to psychological spaces, but also prompt glimpses of psyches overtaken by their shadow selves.
The Others (2013) by Grace Sippy. Installation photo courtesy the artist.
"My MFA studies at the University of Alberta have changed my entire artistic practice for the better and I am grateful for the opportunity and faith the program gave me. My future is not yet determined but there are many possibilities, which is exciting and terrifying. I will be returning to the United States and have applied for teaching positions, but also positions at artist run centers, printshops, and exhibition opportunities. Doing an artist residency is another possibility; it depends perhaps on what happens first. I can't wait for the next stage" – Grace Sippy
Grace Sippy
Grace Sippy graduated from the University of Iowa (Iowa City) with a BFA in Printmaking and Honors in Studio Arts before attending the MFA Printmaking program at the University of Alberta. Sippy has exhibited both in North America and abroad and has taught both introductory and technical classes in printmaking between the United States and Canada. She has also been the recipient of numerous awards including the Howard and Ruth Schumacher Scholarship and Guanlan International Print Prize. Sippy is an artist and curator currently residing in Edmonton, Alberta.
To learn more about Grace Sippy's practice, and to view earlier print series in her oeuvre, visit: www.gracesippy.com
Schism is on view at the FAB Gallery until Saturday February 15th. The Gallery is open from Tuesday to Friday from 10 a.m. – 5 p.m., and on Saturdays from 2 p.m. – 5 p.m.
Jacques Talbot
Presently an MA candidate in the History of Art, Design and Visual Culture program at the University of Alberta, Jacques Talbot's research looks to methods and aesthetics of museum display and how these change in light of technological innovations and applications in the arts. Specifically, he is interested in how a critical interpretation of museum display and procedure, and the medium of photography in particular, can inform the manner in which works are framed and received in a particular exhibition environment. He considers both older trends of display and emerging technologies that allow new modes of vision in the unique architectural context of the museum. These interests have come to light as a result of investigations into his own creative practice and the practice of others as a BA honours student and subsequently as an installer of contemporary art in both museum (Massachusetts Museum of Contemporary Art) and auction (Christie's South Kensington, London) contexts.
Previous articleLove's Labour's LostNext article
Video: Let's talk Sax