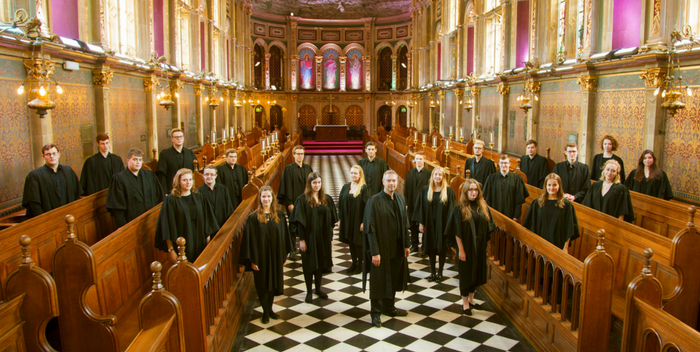 Once a year, the U of A's Department of Music invites a world renowned musician or ensemble to perform at the Kilburn Memorial Concert.
This concert series, which exists thanks to the generous donations made by the Kilburn family, aims to provide students and the community with access to inspirational performances given by extremely accomplished musicians.
The featured guest for this year's concert, travelling all the way from London, England, is the Choir of Royal Holloway!
Dr. Leonard Ratzlaff, a music professor at the U of A and active member of the Edmonton choral community, has described this vocal ensemble as "one of the finest university mixed choirs in the world!"
To learn more about this impressive choral group, we interviewed two members from the Choir of Royal Holloway; Emily Chapman (soprano) and Chloe Wedlake (alto).
Emily is in her second year of a music degree at the University of London, while Chloe started her first year at the University of London in September. Both have been members of The Choir of Royal Holloway since beginning their studies.
How do you balance being a student and being part of such a prominent choral group?
Emily Chapman: "As I major in Music, taking part in the choir really compliments my academic studies and has enriched my musical and academic life at university. It is a busy schedule, but the choir and my degree are both so rewarding that it never feels like too much work!"
Chloe Wedlake: "It is a big commitment, but it does compliment my degree in areas, especially performance. It's important to stay up to date with work throughout the academic year because, whilst the choir enables us to prioritize our academia, there are still choir engagements throughout exam periods."
What has it been like preparing for an international tour?
Emily: "Preparing for this tour has been a year-long project, as it is the absolute highlight of our calendar this year. The weekly lunchtime concerts at our university have been an excellent platform to practice some of our tour repertoire in a professional concert setting."
Chloe: "It has been very exciting! It's fun to think that when we eventually perform the pieces we've been working on, we will be abroad."
Are there any tour stops you're especially excited about?
Emily: "We are in Canada for one week, performing in Edmonton, Victoria and Vancouver, before flying to Texas for further concerts in San Antonio, Dallas and Houston. I have personally never been to Canada or Texas, so I am very excited to explore all of the locations in between concerts!"
Chloe: "I'm particularly excited to visit Edmonton and Houston. We will be going from temperatures of around -9 to +30, so that variation is definitely something to look forward to!"
What has been the most challenging aspect of preparing for this tour?
Emily: "The theme for the tour concert programme is 'Around the world in 80 minutes.' This means the choir will be singing in several different languages including German, Estonian, Russian and Finnish. These are languages some of us have never sung in before, so we've been working really hard to make sure that all the pronunciations are authentic."
Chloe: "The most challenging part about the tour has actually been the wait! I've never been to Texas or Canada, and when you you've got something so exciting to look forward to, time feels like it goes by very slowly!"
What activities do you enjoy in your spare time?
Emily: "Along with my music degree I am also training as an opera singer and outside of music I am an avid skier!"
Chloe: "I am actually a principle study flautist, and as part of my degree I am preparing for a solo flute recital. I also enjoy swimming, walking and spending time with friends and family."
We are only a few days away from this year's Kilburn Concert, which will take place on April 8th at the Winspear Centre
You can purchase your tickets either online or at the door the day of the concert (cash only).
Previous articleFavourite Kilburn Concert Memories with Dr. Street, Dr. Ratzlaff and Dr. Després!Next article
Greg Mulyk: Student Composer and SOCAN Award Winner