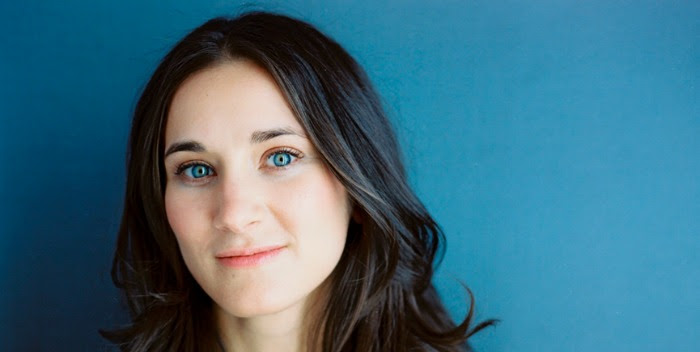 Reason 23/50 to go see a play
Studio Theatre patrons will be the first audiences to see The Kaufman Kabaret by Hannah Moscovitch (March 24 – April 2, 2016), the story of A.R. Kaufman, the first entrepreneur to introduce birth control devices to married working-class women in Canada. Rehearsals are in full swing and with it being International Women's Day, there's no better occasion to celebrate playwright Hannah Moscovitch as reason number 23 in our 50 Reasons to Go See A Play series.
Hannah Moscovitch
Biography adapted fromplaywrightsguild.ca

Hannah Moscovitch
Hannah Moscovitch has been dubbed "an indie sensation" by Toronto Life Magazine; "the wunderkind of Canadian theatre" by CBC Radio; "irritatingly talented" by Eye Weekly; and the "dark angel of Toronto theatre" by Toronto Star. The National Post, The Globe and Mail, and Now Magazine have all hailed Hannah as "Canada's Hottest Young Playwright".
Hannah possesses a unique ability to combine the tragic, the humorous and the shocking while also delivering an intellectually and emotionally complex work. The Globe and Mail hailed The Russian Play as "that rarest of all theatrical experiments: a clever satire with a beating heart", while Variety Magazine's review of East of Berlin noted that "[Moscovitch is] not afraid to plunge right through areas that others might consider poor taste in order to come out the other side in search of a deeper truth."
Last month, Hannah became the first Canadian playwright and also the first Canadian woman to win the $150,000 Windham-Campbell Literature Prize, administered by Yale University. In 2014, she was also the first playwright to win the Trillium Book Award. She's earned the Toronto Critic's Award for Best Canadian Play, the Dora Mavor Moore Award for Outstanding New Play, and the SummerWorks Prize for Best Production.
Hannah's writing for the stage includes Infinity, What a Young Wife Ought to Know, East of Berlin, This is War, Little One, Other People's Children, The Russian Play, The Huron Bride (a ghost story) and In This World (for young audiences). Hannah's plays have been produced across Canada and internationally.
Hannah's opera with award-winning composer Lembit Beecher, I have no stories to tell you, commissioned by the Gotham Chamber Opera, premiered at the Metropolitan Museum of Art in New York in February of 2014.
As part of the 2015/2016 season, Hannah is premiering her new play Bunny at the Stratford Theatre Festival. She is a playwright-in-residence at Canada's leading new works company, Tarragon Theatre
For more background about The Kaufman Kabaret, read Hannah Moscovitch's Curious Arts guest post from June, 2015
Follow Hannah Moscovitch on Twitter: @moscotweets
About the commission of The Kaufman Kabaret
The commission of The Kaufman Kabaret was made possible by a donation from University of Alberta alumnus Mr. William Campbell ('65 BA) and his Campbell Family Foundation. An Edmonton-native, Mr. Campbell is now based in New York. He has long been impressed by the U of A's Department of Drama and is proud to support his love of the arts by investing in the creation of a new theatrical work at his alma mater so that it may continue to attract top talent.
Presenter: U of A Studio Theatre
Event Title: The Kaufman Kabaret
Dates: Mar. 24 – Apr. 2, 2016 at 7:30 p.m.
Matinee Thursday, Mar. 31  at 12:30 p.m.
$5 preview performance on Wednesday, Mar 23 at 7:30 p.m.
No show on Sunday, Mar. 27.
Venue: Timms Centre for the Arts, University of Alberta
Single show tickets: $12 student, $25 adult, $22 senior, available online now at TIX on the Square and at the Timms Centre box office one hour before each performance.
For more details see: https://uofa.ualberta.ca/events/the-kaufman-kabaret
Previous articleLaura Kerslake: Saxophonist and people personNext article
Elsa Robinson: (Un) Masking Spirit