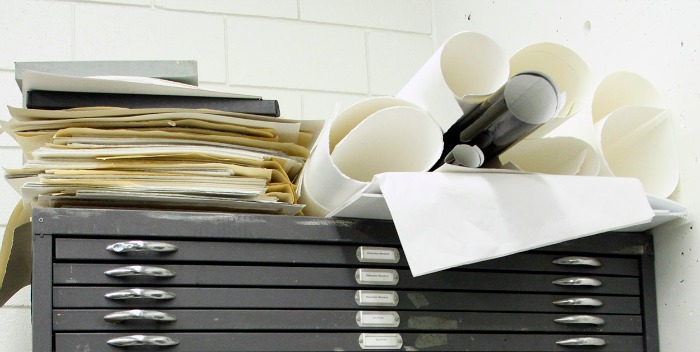 Tips from UAlberta Art & Design experts on what it takes to get into our BFA or BDes programs
Guest post by Joanna Manchur, Student Recruitment and Engagement Coordinator
The BFA (Bachelor of Fine Arts) in Art & Design, and BDes (Bachelor of Design) programs at the University of Alberta are rigorous and competitive. Each year over a hundred students apply for each program – so having a good portfolio that demonstrates your skills (and your potential!) is a crucial component of your application. Three experts from the Department of Art & Design weigh in with answers to the most common questions about how to best prepare a portfolio to gain admission into art and design school.
Caitlin Wells, MFA Printmaking, is the Undergraduate Advisor for the Department of Art & Design. She holds this administrative role while maintaining a diverse studio practice including drawing, video work, and various forms of printmaking.  Aidan Rowe, MA Hypermedia Arts, is an Associate Professor and teaches design theory, research and practice. Sean Caulfield, MFA Printmaking, is a Centennial Professor and teaches Studio Art with a focus in Printmaking, Drawing, Artist's Books and Intermedia.
Why should my portfolio include observational drawing (especially if I'm only applying to the BDes program)?
CW: We recommend that your portfolio include at least one or two examples of observational drawing, which is a common recommendation for all kinds of Art and Design programs throughout Canada.  This can include line drawings, tonal (light and shadow) drawings, perspective drawings, with all kinds of subject matter – portraits, still life, landscape, architectural drawings, etc.  Observational drawing tells us a lot about you and how you see the world: are you able to concentrate, look carefully and measure what you see, in order to translate that three-dimensional reality onto a two-dimensional surface?
AR: The portfolio does not need to include observational drawings. That being said observational drawings serve as a strong indicator of your ability to observe and draw. Additionally they are something that is fairly standard and also possible for a student to work on independently. As a general rule they are a great thing to include.
SC: Observational drawing is a strong indication of your ability to deal with all the fundamentals of visual art including composition, proportion, space and creative problem solving. For all these reasons, having strong observational drawing skills is helpful no matter what area of visual art and design you are hoping to pursue.
Can I include anime, cartoon, comic book or fantasy style drawings?
CW: These types of work are certainly important aspects of contemporary art, design and visual culture, and may play a role in your work once you enter the program.  We don't recommend that this type of work make up the majority of your portfolio because, generally speaking, these types of drawings borrow heavily from decisions that someone else made – the original creator of the characters, or the conventions associated with these genres. If this is a major focus for you, then you could include a few examples, but please include work that includes your own original visual decision-making.
AR: You can. We want to see any exciting and interesting expression of you work. That being said the work should seriously and appropriately showcase your talents, work, and hopeful future direction. Context is always important, so it makes sense to explain why you are exploring these formats for your work.
SC: The contemporary art world is very pluralistic today, with anime, cartoons, and comic books influencing a wide range of creative practices; therefore, including some cartoons in your portfolio is fine. With this said, the portfolio review committee needs to see a diversity of approaches in your portfolio so it would be a good idea to limit the number of 'cartoon' type works to two or three at the most. This is particularly true if these drawings are based on copying other artists.
I'd like to include photographs. Is that allowed?
CW: If you mean your own original photography, yes, of course!  As with all the pieces in your portfolio, they should be helping you put your best foot forward, so when it comes to photography we of course want to see excellent compositions as well as compelling subject matter.  We recommend that do not limit your portfolio to 100% photography.  Perhaps three to for photographs, or 5 – 7 if they are all really outstanding!
AR: Yes photographs are allowed. As always please consider how you are showing the work and whether they need any further information or context, perhaps included on the back of the mounted work.
SC: Including photographs in your portfolio is no problem as many students use photography in intermediate and senior level studio classes. Once again, however, it is important to have a diversity of approaches in your portfolio so be sure to balance photographs with drawing and/or painting and mixed-media works.
Should I send original pieces or copies?
AR: While it is always beneficial for the reviewing team to look at original pieces sometimes this is not practical (e.g. due to distance, etc). If submitting copies or a digital portfolio please supply supplemental information to help us better understand the work, for example original size and media choices, as indicated on our website.
SC: It is helpful for the committee to see original artworks as we can tell a lot more about your work by seeing it in person. However, we understand that this might not be possible for everyone to submit original work; so digital portfolios are also welcome. If you are submitting a digital portfolio be sure to take the highest quality photographs (or scans) of your work as possible and to label the work well (media, size, and date).
How should I arrange my portfolio? What order do I put everything in?
AR: I think it always makes sense to edit a portfolio. You want to remove any work that is weaker or unconsidered. It also makes sense to start with a stronger piece or two, then to show the range of work that you are capable of, then to end strongly with a successful piece or two.
SC: When the committee considers a portfolio they are often looking for a balance between a student's ability to produce a focused cohesive series of works (such as a series of related observational drawings), alongside a diversity of approaches that demonstrates a willingness to experiment. When putting together your portfolio it is good to have images that demonstrate both of these qualities – focus and discipline alongside experimentation.
What are some common things applicants overlook?
AR: Often students do not fully consider the presentation and order of submission. While you are highly familiar with your work, do try imagining someone that has never seen your work trying to go through it. Additionally it is useful to tailor your work if possible, for example if you are applying to the BDes program, have your work reflect this direction.
SC: It is important to consider how your works are presented. The portfolio should be clean and well organized in a manner that demonstrates that you care about your work. At the same time don't 'over design' your portfolio either by having excessive labelling or matting. Clean and simple is best.
Any other tips?
AR: Really consider how you organize your portfolio. It is always a good idea to provide an image list with further information as needed. Once you think things are organized test it with a teacher, friend or family member that is not fully familiar with your submission. Do they understand it? Does it make sense to them?
SC: Remember that if you are not successful in your first application to the BFA or BDes program you can always enter the U of A through the general BA program and take art fundamentals courses. This is a great way to build up your portfolio and many students then apply to the program in the second year at university.
Featured photos were shot in the U of A's printmaking and painting studios by TJ Jans.
The Application and Portfolio Deadline for the BFA and BDes programs is May 1, 2016.
Read more about the Application Process for the BFA and BDES programs on the Art & Design website.
Want some feedback on your work before you actually submit a portfolio?
Come to Portfolio Day on January 16, 2016 (10 am – 3 pm).
Pre-register or drop in.
All prospective BFA and BDes students are welcome to attend and receive feedback on your work.
Previous articleMassive Musical UndertakingNext article
Video: Len Ratzlaff teaching to the choir